$2 Tuesday | Bigwave's 2009 Gopher Dunes National | Photo Report
By Billy Rainford
With the 2017 Gopher Dunes National coming up this weekend, I figured we'd go back in time to when I was posting my Photo Reports up on MX Forum. Here's a look back at that weekend.
---
Here is Gopher Dunes as I saw it. There was quite a bit of rain in the area the couple days preceding the racing on Sunday but, as we all know, Gopher is the one track on the circuit that can handle a ton of rain. We actually got a little bit Saturday night but were luck Sunday as it remained overcast and about 22 degrees throughout the day. The sun was actually shining bright in the morning.
http://www.youtube.com/watch?v=Ya5ICVKUERg&mode=related&search=
I liked how they have these tents set up in the mechanics area.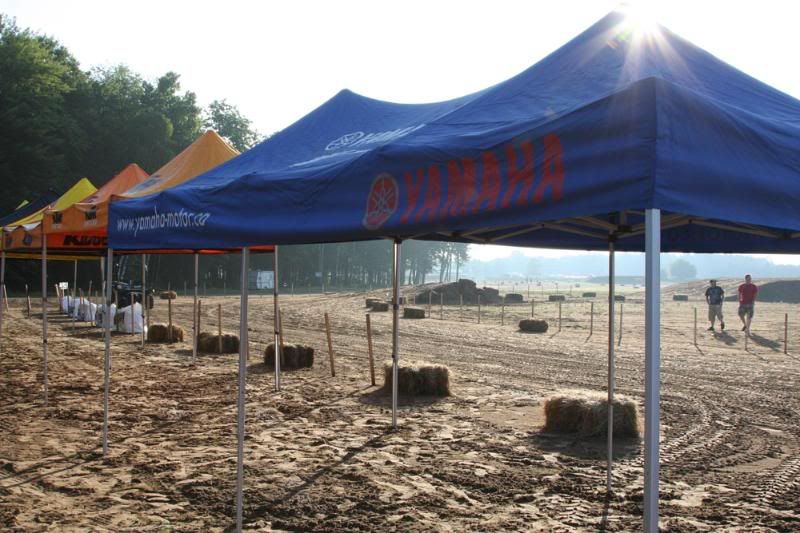 We had a perfect spot on top of the CMRC Admin trailer to do our webcast. People have mentioned Mitch Cooke's beautiful whips while leading the first few laps. Unfortunately, I had the headset on for the webcast and didn't get any pics of them. His back wheel almost hit me in the face so I could describe them to you, if you like.
As usual, Derek "Digger" Schuster worked hard all day keeping things running smoothly all over the track. He also lent me all my gear for the Legends Race on Saturday so thanks Derek.

They pre-lined some of the corners this year. I liked it. There were at least three lines in every one. Some riders weren't huge fans but I thought it made for way more options. This is the "Kawasaki Monster Sweeper of Death" before the finish line. PS 'Jody the track worked' coined that one.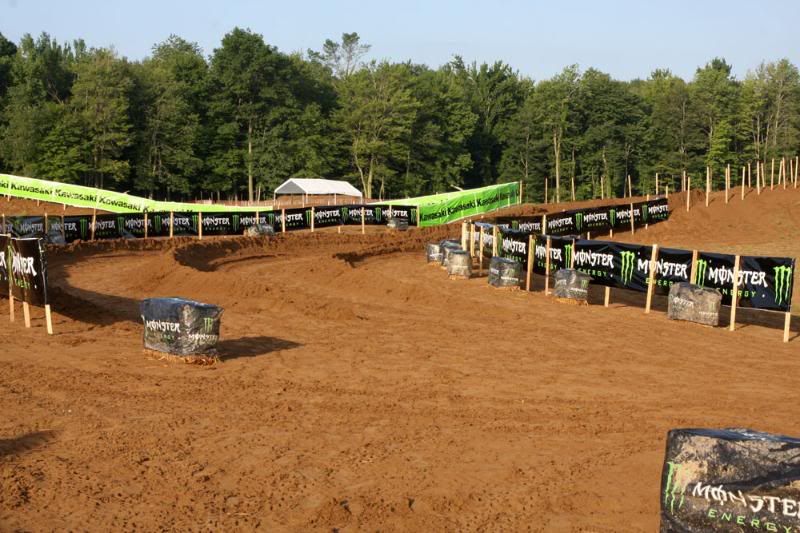 They made a couple major changes in the track design too. The coolest was this Weston Super Mare-style sand turn section behind the first turn. You can see the back side of the first turn in this pic. You then came around the back of it and had to climb your way back up it and onto the regular track. I liked it.

Here's a shot of Pennsylvanian rider #907 Jeff Curry working his was 'off the beach.' He showed up in a van with his lady and two boxers. 14-15 in MX1 put him 13th overall. Someone said he's around 42 years old.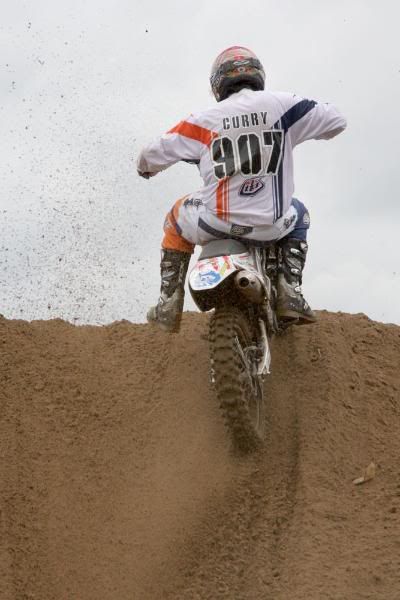 It was great to see Jay Burke hanging around at the races. He only used the cane later in the day on Sunday so that's a pretty good sign, I'd say. Oh, and yes I called him 'Sean' yet again. Dammit! #-o

It was also good to see Danny Brault at the track again. Even with his new duties with Yamaha, he says he's still living the 'Giv'er Lifestyle' so that's good.

This wasn't so good to see. This is young Nathan Bles showing off his 'leg-sized' cast on his arm. He said he received a 'boxer's break' in his left hand the week before. I told him that I once received a 'gamekeepers break' in my left thumb. It's called that because farmers used to get it from breaking the necks of chickens. True story.

Dan 'majordanage' Stenning was in charge of the 'Factory Rider for a Day' program at Gopher Dunes. They had a nice pit set up in the pro section full of drinks and sandwiches. I believe they used the Ignition Racing box van.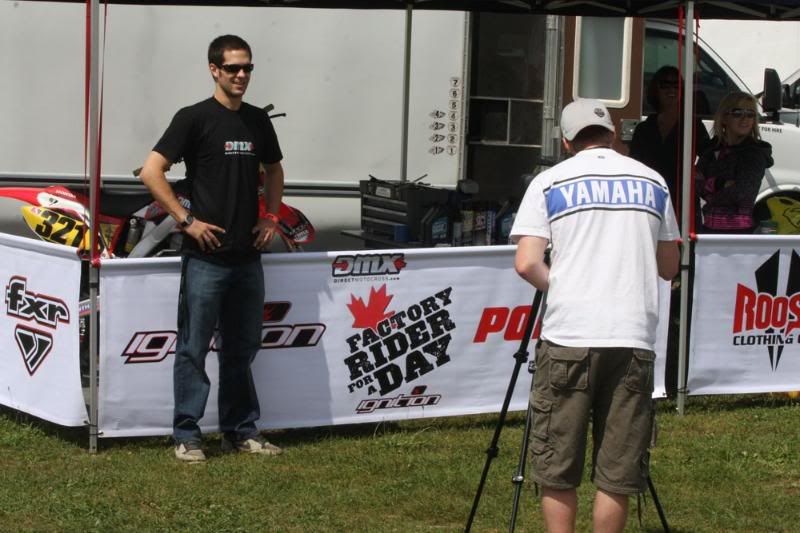 The FRFRAD for Gopher Dunes was #321 Kyle Ward. Here he is 'leading' #1 Eric Nye..or is that me? aaahahaha
Kyle ended up going 19-DNF for 23rd overall. He got his first National points.

They were also collecting empties to collect money for Team Canada. I know I added a few to that.

I keep mentioning how #22 Leading Edge Kawasaki rider Brock Hoyer needs some luck. I'm sure he feels he can still do better but 7-8 finishes gave him 9th place on the day. He's still the best 'fireworks fighter' I've ever seen.

How about #324 Dylan Kaelin's weekend! Super fast practice time set on Saturday and then backing it up with a 10th place in the second MX2 moto. He ended up 13th overall!

#443 is Brandon Phinney. He scored 9 points and got 17th on the day.
This pic is the first corner just after you jump back on the track from the new section.

I don't know if you guys heard but there was also a bit of a story involving Jeremy Medaglia. Suffice it to say, he only raced the MX2 class and that's how the rest of the season will go for him. Ok, the exposure in this pic is about as off as you can get but I had to post it for obvious reasons. I'll be sure to get Jeremy up on the webcast for a few words this weekend. He said he'd do it so now he's committed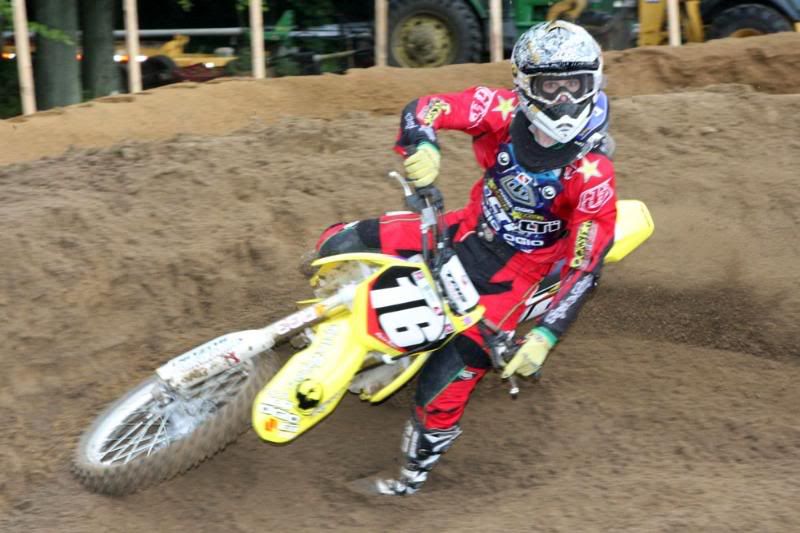 He came from back in the field on a relatively stock bike they put together on Friday night to get 5-3 finishes for 4th overall.
This is probably the most stock-looking plastic EVER up on the podium!

#12 Blackfoot's Kyle Beaton got out in the lead in the first moto and appeared to be on the verge of checking out but he fell.
He scored no points in the second after going down HARD (but didn't quit) and ended up in 16th overall.

These next guys went 5,6,7 overall in the MX2 class (I apologize for the terrible photo quality. Didn't realize I had the flash still on). How about the year #32 Kyle McGlynn is having?! This kid is a threat every weekend. #19 Kerim Fitz-Gerald had a great 4th place in the first moto. #27 is Kaven Benoit. Too bad he wasn't able to hit the first three rounds because he would also be way up there in the standings.
Yup, these pics are pretty bad too but they're in the new 'supercross style' 180 berm at the end of the weeping left after the finish line table so I put them in here.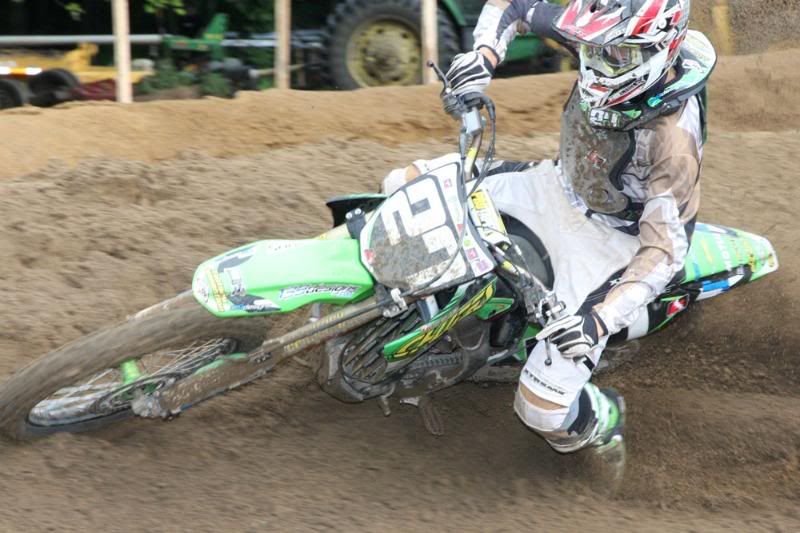 Ok, last crappy pic from this corner. #1 KTM rider Eric Nye went 3-2 for 2nd overall. Travers called him the 'Silent Assassin' or something like that up on the podium. He just quietly gets it done out there on the track.

The MX2 day belonged to #14 Teddy Maier. He's gotten himself on a roll and I'm not sure anyone can put an end to it. We'll see…
He finished 1-1 again at Gopher.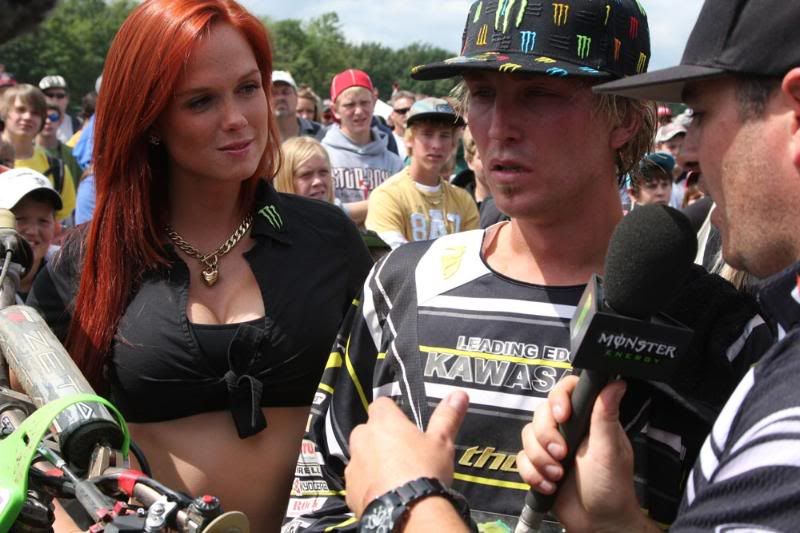 Kyle Carruthers from Roost Clothing came up to chat on the live webcast and also hosted the 2010 Yamaha Ride Day yesterday a his home track.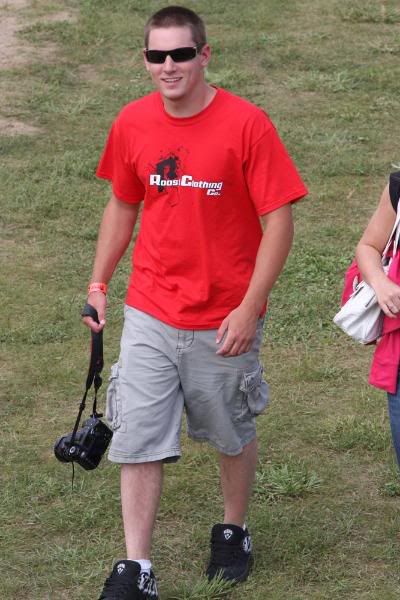 The other big news on the day was the return of Hungarian big-man Kornel Nemeth. He is touted as a great sand rider so we were all anxious to see if he had anything for #1, #2, or #101. He fell in the first turn of moto 1 and came all the way back up to 2nd which is where he was overall. Here he is doing his best 'Hacksaw Jim Duggin' impression.

So you're wondering if he really is as big as we keep saying he is, are you? Have a look at this…yes, that's a grown-up on the right.

OTSFF Suzuki's Kyle Keast had a rough weekend. He had some issues Saturday (shown here) but then went out, lead for a while, and finished 4th in the first MX1 moto. He crashed so hard and fast over the finish line in the second that I couldn't believe he just hopped back on his bike! Sister Crystal (not http://www.youtube.com/watch?v=w1FeEezee4s) is reporting a fractured radius bone…Google it! He ended up 12th OA.

The other OTSFF rider #3 Tyler Medaglia kept looking down at his bike but still pulled of a solid 8-5 for 7th. I have no idea how these guys hit this rutted right-hander as fast as they do. It's impressive!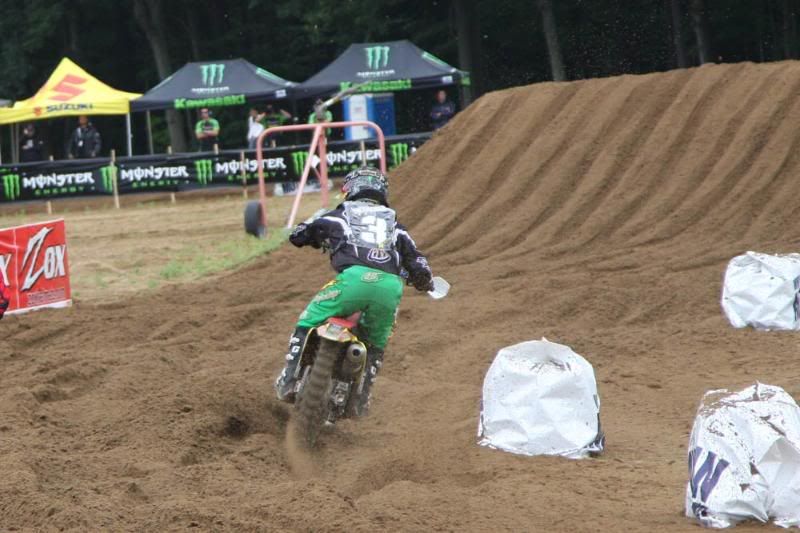 Gopher Dunes saw the return of the big #6 Honda of Simon Homans. I think he gives great podium speeches so I'll see if I can get him up on the webcast at Ste Thecle this weekend. He ended up getting 12-12 for 11th. Look for him to get faster as the series heads east.

Another big news item was the appearance of #811 American Josh Lichtle. We were all very curious to see what kind of finish he could come up with. He got 10th in the first moto but had troubles in the second. 17th overall.

#15 Mason Phillips had a hard fall in practice and rung his bell pretty good. He was unable to race but we finally got him to wear the headset and say a few words on the webcast. Hey, if you're a fast guy and you watch the races from our 'broadcast booth,' be prepared to speak live over the WWW. 😀

#28 Orange Motorsports' Liam O'Farrell had a good day. Although he fell in the first turn of the first moto, he raced back up to 7th. He got 4th in the second and got 5th on the day.

I think I saw #25 Chuck Mesley in second place for a while! For points he got 2-0 for 23rd overall.

How about #126 out there on the track! That's Chis 'Elbows Up' Pomeroy racing a national.

Here's Frank Schuster posing for pics with the Julies while Derek works away off to the left.

Cernics Kawasaki's #101 Paul Carpenter was back in 11th in the first but won the second getting 4th overall.

#1 Colton Facciotti won the first moto and then tried to pull a Kornel Nemeth in the second. He went from last to 6th getting 4th overall. It sure would have been interesting if all 4 of the top guys got out there together at the start.

The overall went to #2 Dusty Klatt. He got 3rd and 2nd. The MX1 class is going to be great the next four weeks!

Here's NKOTB photog Sean Bowker. He's quickly making a name for himself around the races this summer.

Next stop, Ste Thecle.
See you at the races…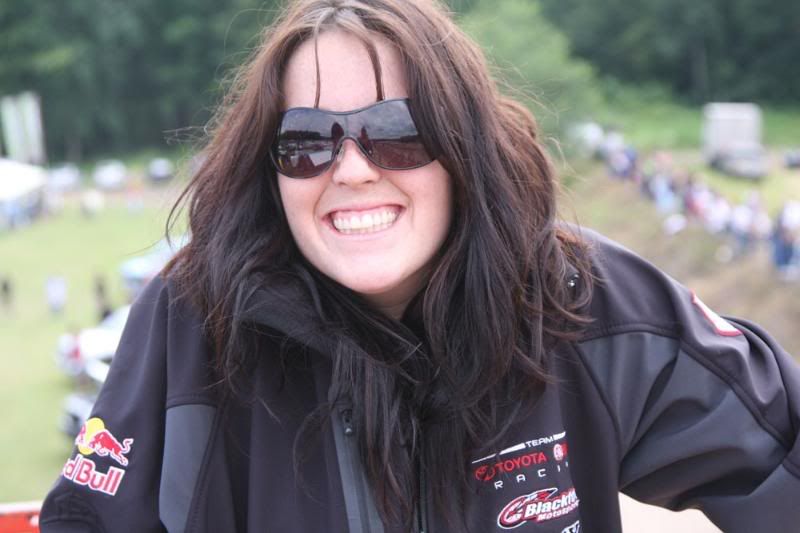 Thanks to our sponsors:
http://www.arson.ca