Frid'Eh Update #25 Presented by FXR
By Jeff McConkey and Billy Rainford
Hello, and welcome to Week #25 of the DMX Frid'Eh Update Presented by FXR. It's been a long month and I just finally stepped foot into my house again for the first time since late May. It feels great! Like I always say, I'm always happy to return from these extended #mxroadtrips, but, no sooner than I'm getting reacquainted with my own bed, I'm always looking for the next adventure. My portion of the Update will be a little all over the place, as I typed some from home and some from the passenger seat of the #DMXVan.
Week #25 belongs to the rider we watched grow up and progress through the ranks in my home province of Ontario. Nathan Bles was that likeable kid who could really rip on a dirt bike. You just knew that, if he could stay focused and interested, he was destined for good things.
With a very solid family backing him, Nathan moved up and up and eventually turned Pro. Injuries have plagued his movement toward championships, but he's always been right there when he was healthy.
His life has changed direction this past year, as he is now a turkey farm owner and working the long hours that it demands of him. Also, he had a pretty scary crash recently that we'll talk to him about that had him a little nervous when first spoke to him after it.
So, let's get right to our interview with the affable rider from Bayfield (ish), Ontario, Nathan Bles:
Direct Motocross: Hello Nathan. I always like to start with asking how you got started riding and racing in the first place?
Nathan Bles: Hey, Billy. Started riding when I was 3 around the farm but didn't start racing till I was 10. I asked my dad to race and he was all for it then he took me to a local TVR race. Looking back, I sucked but it didn't matter at the time. I just loved it.
You've had many numbers over the years but how did you choose your first racing number when you started?
Yes, I have had plenty of different numbers. It's kinda cool but also a pain. I wish I could have had one number for my Pro career. I will say my favourite Pro number was #10. My first real number was 218 and I still use it for snobikes and will go back to it after my national number expires. I honestly don't know how I got that number, I think when I first signed up for CMRC back in the day they just gave me it.
Let's talk about last summer. How did your series go? What were some of your highlights?
Last summer was awesome! I had a blast. The team was great and the bikes were fast. The highlight would have been Pleasant Valley. Got great start and led for awhile. Also had my buddy Justin (Roney) as my mechanic that weekend and it was just a fun weekend. The series didn't end well for me. Ended up crashing and hitting my head at the next round in New Brunswick. Wasn't able to race after that incident till I was cleared by the doctor and that was right before I left for the ISDE in France but I was able to enjoy it for what it was.
What did you get up to when the series ended last summer?
So, after the racing was over I had a month to get ready for the ISDE in France. That was an epic time! It was a great time with some big lows (Laughs)…luggage being lost for 80% of the trip to making it 4 days in to have my frame snap. That is two ISDE events not finished due to bike issues. But having great friends made the trip enjoyable. I still laugh thinking about that trip. Once I came back it was straight into snobikes! The X Games was also a amazing.
Now, I know you're a new farm owner. Can you tell us a little bit about your turkey farm and what you're doing these days?
Yes, I bought the farm in January. It's been extremely busy but also rewarding in a way. Everyday is a struggle but I am learning so much and now having a few months under my belt I have it somewhat figured out (Laughs). Turkeys are funny birds and they can be finicky. I raise them from day old babies till they are old enough to lay an egg. From there I move them to my layer barn where they lay eggs. In total I have around 11000 birds to take care of. And 5000 of them lay eggs. The turkey eggs are not for consumption, they go to a hatchery.
I'm guessing this means some pretty early mornings? Is it a lot of work?
Yes, up and at it early every day. Makes for long days but it isn't hard labour work just time consuming and you need to pay attention to detail with eggs and also the birds. You have to keep the birds happy so they lay those eggs.
Let's talk about your recent crash and injury. What the heck happened?
Oh boy… hmm, well, I broke my T9 and T12 vertebrae. Was at a local race in Walton where I was racing Jay Burke. I was going for a pass down the gullies and was getting roosted bad. Had my head down and held it wide open trying to push through the pain of the roost. As I crested the top of the first single/gully, I looked up and realized I was going way too fast. Jumped it all the way to the bottom or actually on the upward side of the next single/gully. Pretty much casing the next single. I saved it and rode off to the side of the track where I noticed my back was hurting and tingling.
I got a lot of help from friends and medics to get off the bike. At that time, I felt my back get real week and the pain really started to kick in. By the time I got into the helicopter I started to lose the tingling feeling in my feet which scared the shit out of me!
Once in the hospital, they got my swelling down and I was able to feel everything again. By far the scariest moment of my life. I was lucky and will have full recovery and even now I am walking and already working again in small doses. Luckily I have a good employee and family to help at the farm.
How are you feeling now?
I am doing great considering what I went through. Still wake up sore and have to take it easy but I will be back later in the year enjoying riding again.
Is your plan to get back so you can race the 6 Days again?
Yes, I need to complete one (Laughs). Never underestimate a ISDE event. They are tough. Hopefully, next year we can put together a team to compete again. Last year we had killer team and would like to ride with Tyler (Medaglia) and Phil (Chaine) again.
Is that the toughest event you've ever done? And you say you'll do it again?
By far the toughest event I have been in. It's 6 days of 8 hours of riding. And in between you race 6 stages, each having there unique challenges. Then having to do your own bike work at the end of the day with only 15 minutes. Ask Tyler, it's tough! I think I am addicted to it so, yes, I will do it again if given the chance.
Will we see you out watching at Gopher Dunes in a few weeks? What do you think of the Pro season so far? Anyone impressing you?
Yes, I will be at Gopher's but this time with a cold beverage watching. The season is pretty sweet as a spectator. The top guys in each class are all so fast and I think we will see some more different winners on the east cost rounds. I am impressed with Tyler being the bulldog. He is staying up front each weekend and it's rad to see. But I gotta give it up to Colt (Facciotti). That guy just has raw speed and, given a start, he will be very tough to beat.
In the MX2, (Jess) Pettis is fast and has some confidence to him that will make him hard to beat. But Muff (Shawn Maffenbeier) and (Josh) Osby have raw speed and experience of their own to match. I feel if (Dylan) Wright can get starts and minus bike issues he will be a beast in the east.
Lemme also ask you where you see your racing going. Will we see you on the line again somewhere?
Racing, for me, has taken me so far from where I started on the farm, I couldn't have predicted where it has taken me. That being said, I will be slowing down and won't be racing many Canadian national events. I am looking towards the off road more and more. It's fun and challenging, so I think you can see me there in the future. I will still be out at the local events and maybe at one or two MRC national event in future. So, yes, I will be lining up at a gate somewhere.
OK, thanks for taking the time with us today. Good luck and is there anyone you'd like to thank?
Thanks, Billy. I will see you all at the DUNES. Honestly, I just want to thank my family and friends for all the help and good times over the years Also, the small group that gets me set up to ride: Xtreme Toys, Country Corners, ad FXR.
---
---
JEFF McCONKEY
---
Happy Friday, Guys.
Rockstar MX Tour
450 Class
Well, the west is already over, and luckily we haven't really lost anyone to injury and we've had some great racing. In the 450 class we had Colton Facciotti dominate rounds 1 and 2. It's been "The Kaven Benoit Show," going 1-1 at rounds 3 and 4. Matt Goerke hasn't been dominant yet, but he's been very good and heads East with the points lead. No disrespect to the West, but the real championship chase starts in the east.
In the East we have Gopher Dunes. Ya ya, you've all heard how rough it is, but you truly need to see it to appreciate it. It's a different beast. How many times do we hear riders from either America or elsewhere say it's no big deal and that they can ride sand.
A few years back American Kyle Partridge was brought in by the OTSFF team and Kyle said some things to the effect that it wasn't an issue and he'd be fine. Well, I believe there are still a few puddles of his tears around the Dunes as Partridge honestly got his ass kicked by it.
Anyway, I feel like Gopher is almost like Daytona SX. Daytona is a race that is so different from the rest of the series, that it can either break you and ruin your season, or propel you as you are one of the very few that excel in the nasty rough sand.
Looking at the 450 class, it's actually pretty surprising to see that all of our top guys are very good at Gopher. Obviously, Goerke is licking his chops just thinking about the Dunes, but he's not the only one. Mike Alessi claimed the overall there last season, the KTM duo of Benoit and Cole Thompson can both go 1-1 there. Tyler Medaglia has a 450 overall there, and Colton absolutely flies at his hometown track. Add in Dillan Epstein and Jeremy Medaglia and you've got an absolute brawl for a top 5 overall.
My point being, when the series arrives in Courtland, ON for round 6, I feel it is the most crucial race for the championship contenders. Guys will be able to steal points and help themselves claw back into contention or sneak away from the rest of the pack. But Gopher can also bite the riders and their bikes, causing some serious points loss and put anyone's championship run in the toilet.
Before we hit the Dunes, I and many others have got to be excited that we are finally going back racing to San Del Lee. We all know how great the facility is and how much work Kevin Tyler, Johnny Grant and their amazing crew puts in. SDL is sand, but not like Gopher. There is some clay and definitely a base. It will get rough and gnarly, but a different rough. It will serve as a good warm up for the sand as it's the first of 3 on the East.
250 Class
In the 250 class, Dylan Wright has really stepped up his game as of late. Unfortunately, the bad luck still continues to linger around 'Smiley' and the #12. He's got the talent and he has the work ethic, and to top it all off he has the bike and the team behind him. I can't wait to see Wright move to the 450 class. I've seen him on the 450, and it just looked better. On the 250, he has to ride it on the jagged edge to go fast. Sometimes it works, but then sometimes it leads to crashes or mechanicals. On the 450 he can use the power and let the bike do the work, and I think long term he will be more successful. Definitely not bagging on Dylan as he has been very good as of late.
As I mentioned when I was talking about the 450 class, I really do feel that the Gopher Dunes result will really have the biggest say on the outcome of the 250 championship. Jess Pettis has been great everywhere so far, but can the BC native transfer all of that confidence into East Coast Success? Shawn Maffenbeier will be rock solid every moto, and we know Josh Osby and Joey Crown are picking up steam. One guy we haven't talked about enough is Tanner Ward. Tanner is an East Coast kid with a ton of laps on all of the East tracks, minus Moncton. He jumped into the series as a B rider at Gopher last season and showed everyone that he was for real. He made some mistakes along the way, but no doubt learned a lot. Heading into the softer East tracks, don't be surprised to see the #27 Red Bull KTM on the podium. Only time will tell, but I think we will see more 250 pilots in the East, and I expect the talent pool to be quite a bit deeper.
Women's East
For the women heading into the East, is there anyone that will even be on the lead lap with Eve Brodeur? I think the talent will be lacking. Yes, new girls will step up, but there won't be a Canadian girl anywhere near Brodeur.
Big news for the Women, it's been announced that they are now allowed to compete on both coasts. I'm not sure that we will see many West girls take advantage of this as the ruling came out very late.
---
That's all for me this week. A very big congratulations to Mike Alessi and wife Danielle on the arrival of there beautiful little girl. Maybe now, Mike will get that much needed haircut. Sorry, Mikey. Have a great weekend off and #smileforBC.
---
BILLY RAINFORD
---
Thanks, Jeff. I'll tell you what, it's going to feel really nice to sleep in my own bed tonight! I've been on the road for a month now and, although I enjoy everything about traveling the circuit, it's just nice to be at home to regroup. I'll be able to go to the gym, cycle my known routes, and eat from my own fridge and cupboards.
I always say I'm ready for a break when we get to the couple weeks between the west and east portions of the series, but then I always find myself looking for races on the "off" weekends.
This weekend, I could have headed south to Tennessee to catch a round of the Lucas Oil AMA Pro Nationals, but it looks like I won't be home in time to catch a lift with the Sniders in their motorhome, and I'm kind of happy about it. If the weather is nice, I think a little beach time is called for to recharge the old batteries.
The Club MX Redemption Racing KTM team is making the journey south to Tennessee with Josh Osby and Joey Crown to race. Joey tweaked his knee in Manitoba but said he was planning to race this weekend anyway. Hopefully, they both have a great showing in what should be a hot, steamy mess of a race.
Jeff has the brand new KTM Factory Edition 450SXF and some new Fox gear to try out, so I'll be meeting him at Gopher Dunes this coming Tuesday to shoot some photos and video of them. Gopher Dunes is a tough place for a softie like Jeff to test a bike out, but being that it's not a national day, the track will be smooth for even him to enjoy!
Remember last summer when #377 Christophe Pourcel looked at GD owner Derek Schuster and said, "Your track is shit!"? That was hilarious. He did not enjoy how rough the track got. He said it's one thing to have a rough and tough race track, but he didn't think what they were doing out there could be classified as "racing." He figured it was more about survival than anything. I'm OL with that. It keeps the Gopher Dunes mystic growing. You want a tough track? Come to The Dunes for round 6.
Before we get to Courtland, Ontario, we'll be making a return visit to one of my favourite tracks in Canada: Sand Del Lee. It's got just the right amount of sand, but it actually has a bottom, unlike Gopher Dunes.
The last time I rode there was to compare the KTM 350 and 450's a few years back. I don't very often let myself "get up to speed" these days, but that track just made me feel like I could. It was fun and I really enjoyed my laps there.
It's also on the outskirts of Canada's capital city, Ottawa. Of course we need to be at Sand Del Lee! It was a purely personal reason that we weren't at either Sand Del Lee or Ottawa the past couple years.
Remember the Allied Promoter's Group (APG) that was started a few years back? It was a group of track owners and promoters who wanted a little more say in what happened at their tracks with regards to hosting a national. They wanted to know how many years they were contracted for so they could see the value in sinking some cash into their facilities etc. They also wanted more say in what actually happened on their property during these races.
There's lots more, but the bottom line is that former CMRC owner, Mark Stallybrass, didn't like where he saw things going, so he clipped their nationals and we ended up at pleasant Valley and RJ's.
Well, both tracks are back and as David Attenborough would say, "Once again, peace has returned to the delta."
We'll be in Ottawa for round 5 and the series will wrap up with the Walton TransCan and the Pro National.
The only thing the organizers will need to match are the awards banquets we had the last couple years in Barrie. Those were definitely a nice touch and took place in a clean and civilized hotel banquet room. Does Matt Lee have room for us at the Blythe Inn?
Emily is driving through the brutal traffic of the Greater Toronto Area, so this gives me time to blather on while she stresses out.
Jeff mentioned it earlier, but the women who competed in the Women's West MX Nationals will be allowed to race the east series this year.
From CDNWMX Facebook page:
**BIG NEWS** Do you have a boyfriend or a brother racing the whole @triplecrownseries series and wish you could race not only the West Women's Series but also the East? Or maybe you want to have an epic moto-filled summer! WELL NOW YOU CAN!!
Confirmed this morning (sorry for the late notice) but west ladies – if you are heading east sign up for CDNWMX and get those gates filled!! If you have a top 10 WEST number you won't be able to run it but otherwise you're good to go!
🤗#MXCanada #CDNWMX #LetsBuildWMX
It was a decision that was only made recently and it seems to be causing a bit of controversy in the country.
Obviously, there are some riders in the east who would have enjoyed the chance to head west and race that series, but they were told they had to choose a coast. Now this gives the west ladies the opportunity the east riders never had. I get that it may upset several riders, but this can only help the series in the long run.
It's a step in the right direction. Who cares if it came late and meant things are unfair for the handful of riders who may have chosen to ride both coasts. The powers that be were willing to take a closer look at the series and make a decision that will have lasting effects for WMX in Canada. Let's not bicker and let this have any negative feelings.
I've been speaking with John Wernsdorfer from MPH in the Sates a little over the past few weeks and it looks like we're going to have another former Women's Champion in the mix when the gate drops at Sand Del Lee.
Taylor Miller will be making her return to Canada to take a run at Eve Brodeur this summer. Taylor was definitely fast a few years ago, but I don't think she'll have the pace of Eve. But, guess what? That's why we hold the races! Depending on who else decided to hit our eastern series, I think it shold be these two setting the pace out front.
As I type this, we are bth regretting not taking the 407 toll road and missing this ridiculousness called Toronto Traffic. It's 11:30am and we are stop-and-gong here through the city. It sucks.
I actually just read in the Sun newspaper (a newspaper is a thing old people look at instead of staring at their phones) that Toronto has the 6th worst morning commute in the entire world! To be honest, I can't believe it's that far down the list. Only capital cities in Central America have worse traffic! Los Angeles wasn't even in the top 10, that's how bad this is. And great, now I have to go to the bathroom…
---
Team Canada MXON
So, the plan was to maybe introduce the Team Canada MXON selection at round 5. It seemed appropriate since we'd be in Ottawa and we could hype it up that way. Unfortunately, that's not how it's going down.
I spoke with Team Canada Manager Kourtney Lloyd this morning and she said the team will be announced at Gopher Dunes.
She's actually got a pretty difficult decision to make this year. She could go with Colton Facciotti, Kaven Benoit, and Cole Thompson and be done with it. Wait, Tyler Medaglia is riding like he belongs there! But wait again, none of them are riding 250's this year!
Who do you choose between Shawn Maffenbeier, Jess Pettis, and Dylan Wright?!
Looking back at those two lists, you wouldn't go wrong with any combination of those 7 riders mentioned! Crap, now what?
I guess all you can do is look at the names, see who's leading whom in the standings, weigh out past performances at the MXON and choose…
Easier said than done, huh.
Red Bud is a huge track made for serious racers. Does that help our decision? Kaven Benoit is a shoe-in. There's one choice made. The guy led the race in Italy, for goodness sake!
Colton is our most experienced at the event, but didn't seem like he was 100% into it last year. This is probably his last year racing and he has won a few motos by 40 seconds this year! Did that help? Maybe a little?
Cole has a ton of experience racing in the USA and he goes very fast at Red Bud. He loves the track but he's currently behind Colton in points (199 to 188).
Tyler pushed it to his limit last year in England and I liked his attitude. Actually, I always like his attitude. He's the kind of personality that other riders will rally around, so I like this choice.
As far as 250 riders go, I think all we can do is go with who is leading the points when the time to decide comes around.
Shawn is leading by 5 points right now, but Jess had that DNF that erased a possible 27 or 30 points! Did that help? No.
Dylan has shown he has the speed to win every moto I've watched since Popkum! His issues weren't his fault, so does he get the opportunity or are we afraid of bike durability?
If the decision were up to me, I'd go with:
MX1: Kaven Benoit
MX2: Shawn Maffenbeier/Jess Pettis/Dylan Wright – whoever wins at Sand Del Lee, straight up.
Open: Tyler Medaglia/Colton Facciotti/Cole Thompson – whoever wins Sand Del Lee, straight up.
Ask me again tomorrow, and you may get a different answer. I think the bottom line is that we have 7 very qualified riders to choose from. All we can do is put the pressure on their shoulders and call Sand Del Lee "THE TRYOUT." If someone folds under the pressure, well then, that seals their fate as someone who doesn't perform well under pressure and boom we're off to the races.
We need a team of riders who want to be there and are willing to push it on race day. Our country's moral just can't take a mediocre effort at this event. No excuses, we need to harden up and do well here. Our guys are top 10 riders and we could be in the Elite 8 with performances equal to our riders' skills. It's that simple.
If we go there and someone has a long face after a tough race, we chose the wrong rider. This is a team event and we need team players. Team players have great attitudes and pull the rest of the squad up, not bring them down. You walk around that pit with your head held high and an attitude that shows you are proud to be a Canadian at the MXON. Period.
Whoever Kourtney choses for the team, I will support. However, if we go to Red Bud and a rider is moping around and not carrying themselves like a true professional, I am going to call them out. I mean that. All you can do is your best. If something happens on the track that is out of your control then so be it. Pick yourself up and transfer your positive energy on to your teammates. The entire country is rooting for you, remember that. It's not pressure, it's support, and there is a difference, so use that.
I could go on and on about this, but I think it may deserve its own column on the site. Good luck, Kourtney. No pressure, only support! Lol
---
Walton TransCan Registration NOW OPEN
2018 Walton TransCan registration is open.  August 14-17, 2018 #transcan18
Go to: https://waltontranscan.ca/ for more information
---
How to Watch: Tennessee National
The Lucas Oil Pro Motocross Championship makes its lone visit to the Southeast this weekend for the Tennessee National, Round 5 of the season.
Whether you prefer to watch online or through your television, here's a rundown on how to see all the action from Muddy Creek.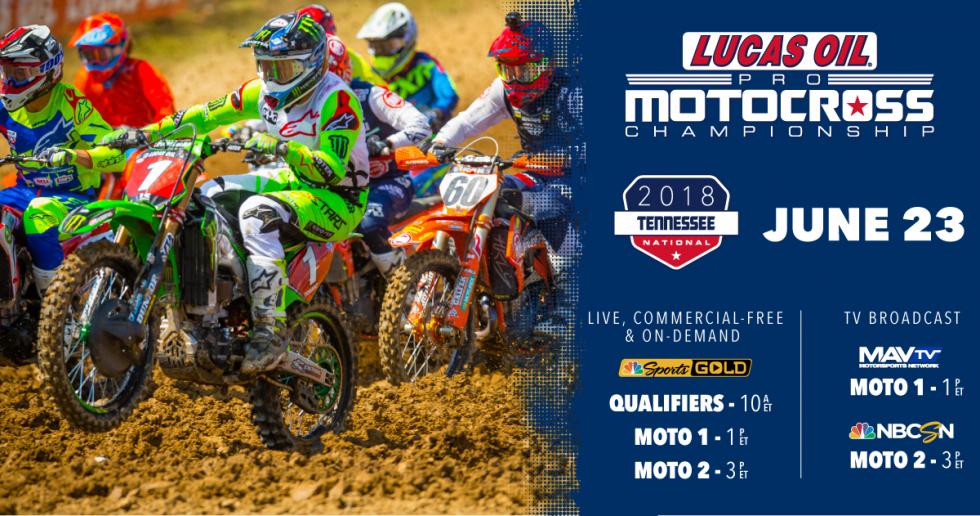 NBC SPORTS GOLD
Saturday, June 23
Qualifiers | 10:10 – 11 a.m. ET
All Motos | 1 – 5 p.m. ET
For the second straight season, NBC Sports Gold will provide the live streaming for all 12 rounds of the Lucas Oil Pro Motocross Championship. Every single moto can be seen live and commercial-free for subscribers who purchase the Pro Motocross Pass, and each race will be available on-demand for subscribers to watch later.
Exclusive to NBC Sports Gold will be live coverage of qualifiers – specifically, the second practice sessions for the 450 A and 250 A groups – at each round.
NBC Sports Gold is available to residents of the following countries: the United States, the United Kingdom, Germany, Sweden, Canada, Ireland, Denmark, Switzerland, the Netherlands, Austria, Spain, Italy, Luxembourg and Japan.
TELEVISION
For American fans, television coverage of all 12 rounds can be found on MAVTV and the networks of NBC. MAVTV will show the first motos in each class live each week, while NBCSN will typically have coverage of the second motos.
The U.S. television schedule for Muddy Creek is below.
Saturday, June 23
Moto 1 | 1 – 3 p.m. ET | MAVTV | LIVE
Moto 2 | 3 – 5 p.m. ET | NBCSN | LIVE
Thursday, June 28
Highlight Show | 2 – 3 a.m. ET | NBCSN
For fans outside the U.S. who don't have access to NBC Sports Gold, the Nationals will be simulcast to various countries across the globe. Check your local TV listings for the time and network in your area.
For information about the Lucas Oil Pro Motocross Championship, please visit ProMotocross.com and be sure to follow all of the Pro Motocross social media channels for exclusive content and additional information on the latest news:
---
EVERYTHING YOU NEED TO KNOW: JUNE 23/24 TAG METALS ONTARIO PROVINCIALS RD5 AT WALTON –
SERIES ENDING SPRING CLASSIC/SWO ANQ RD5
Weekend Info:
Friday
– Gates Open at
4pm
Saturday
– (run by WALTON) Practice 10am – 4pm Cost $30 at Walton Front Gate
Saturday
Night –
4pm-8pm
Race sign in at AMO trailer
Sunday
– Sign in
7am
–
8:15am
Sign in at AMO trailer
Gate Fees for
Sunday
– $10 (8 and under free)
*if you come
Friday
/
Saturday
and don't race
Sunday
you will still pay gate, receive a band and bring it back for refund when leaving
Saturday
.
Camping – $25 for the weekend, $15 per night
Saturday
Practice Schedule- 12 MINUTE SESSIONS then rotate
1.     JUN/BEG
2.     INT/PRO
3.     85/65
4.     VET/LADIES
5.     50CC
RACE Class Cost – 1st Class $40, 2nd Class $20, 3rd Class $20
Non-MRC membership – 1st Class $60, 2nd Class $30, 3rd Class $30
Vintage/Hertiage/Evo – $25 per class (no transponder required)
Sunday
Riders Meeting –
8:15am
Sunday
Practice Starts at
8:30am
sharp
Transponder Info:
Transponders $25 for rental. Make sure your transponder is CHARGED for the weekend.
Transponders are required to be scored
Practice Schedule for
Sunday
:
1.     Yam/Suz/Kaw
2.     KTM/Honda/Husky
3.     65/85
4.     Vet 30,40,50/ladies
5.     Int/Pro
6.     50's (Shortened Track)
Race Schedule for
Sunday
:
POSTED
SUNDAY
AM BEFORE END OF PRACTICE
Have you gotten your 2018 MRC Membership yet (the required membership for all points, provincial and national awards)? If not go
HERE
2018 Complete SWO AMO Race Schedule –
HERE
2018 AMO Class Structure –
HERE
---
---
Jimmy Decotis on a 1997 Suzuki RM125 at the FXR Ride Day
OK, this off weekend for us is going to give me the chance to go into my hard drive and post some stuff from this past week that I haven't had time to tackle, yet. Have a great weekend, and we'll see you in a couple weeks for round 5 in Ottawa!