Frid'Eh Update #25 Presented by OTSFF
By Jeff McConkey and Billy Rainford
Welcome to Week #25 of the Frid'Eh Update Presented by OTSFF. It's hard to believe we're this close to the halfway point of 2017, but that's the reality. In 2017, #25 belongs to the rider we got to know a few years ago when he won the Bronze Boot at the Parts Canada TransCan.
Taylor Arsenault has been a fixture at the races for a long time and is really finding a home in the top 10 in the Pro class. In 2016, Taylor finished strong and earned #25 for this season.
When we spoke with his before the season started, there seemed to be some question as to whether or not he'd be traveling the series again this summer, but he's here and he's doing very well.
We grabbed him for a chat while in Calgary for round 3 of the Rockstar Energy MX Nationals at the Wild Rose MX Park here in the downtown.
Direct Motocross: Hello, Taylor. Let's back it up for a minute to let people get to know you a little better. Can you tell us about yourself?
Taylor Arsenault: Hey guys, I am from a little town just outside the Ottawa, Ontario, area called Carleton Place. I am 22 years old. My dad bought me a PW 50 when I was young and as I grew older me and the little bro proceeded to make jumps out of plywood in the driveway (Laughs), so dad thought it was time to get us a bike with suspension and get on a track ASAP.
My biggest influence is my dad. Whether I have a good moto or bad, he is always there to tell me if I did great or if I didn't. We bash heads sometimes at the track but I wouldn't have it any other way. I wouldn't be where I am today without all of his track tips and help with everything involved in my life.
My first number was 257 because I loved watching James Stewart when I was young and I didn't want to choose his number (259) so I changed the 9 to a 7 because that's one of my lucky numbers and I continued to use it throughout my amateur career until getting a top 100 Pro number.
You won the Bronze Boot a few years ago. Who were you up against that year at the TransCan?
Yes, I was lucky enough to win the Bronze Boot. That year I was up against Dylan Wright, Tyler Duffy, Matt Davenport, Taylor Ciampichini and the list goes on. I didn't win a moto but kept things consistent and ended up taking it home.
What year did you turn Pro?
That I'm not sure. I want to say 2014. I raced a couple of Pro rounds here and there as an Intermediate and never really set the world on fire, but I think my best was 19th which gave me a couple Pro points to give me national number 99. Unfortunately, I was side-lined due to an injury, so I came back the following year with #257.
Last year, you wound up with #25. What was your highlight from the 2016 season?
My highlight was the entire ten rounds. I learned a lot about all of the tracks and how different they get on Amateur Day compared to Pro Day. I also met a bunch of new people and saw some amazing things. A couple good finishes left me wanting more coming into this season.
You chose to ride the 2-stroke again this year. Can you tell us why you did that?
I chose to ride a 2-stroke because I think they have a big advantage in the MX2 class. Being a heavier guy, it works perfectly and gives me the opportunity to mix it up with the some of the fastest guys in the country. It also makes it all that much more enjoyable.
OK, let's get to this season. Can you tell us how round 1 in Kamloops went for you?
It went awesome; I couldn't have asked for anything better. I knew if I got a decent start I could run with these guys. I worked my butt off all year and it's good to see that all paying off in the end.
Last weekend in Prince George, you were in the same battle both motos. By that, I mean you were with Casey Keast , Hayden Halstead, and Tallon LaFountaine both times. How did your day go, and was that fun to be going at it like that with those guys?
Definitely was a good time. Hayden handed me a gift the first moto (Laughs). Keast, LaFountaine and I have found each other on the track every moto so far which is good because we respect each other on and off the track. It's always good clean racing when lining up with these guys.
What did you get up to this week here in Calgary?
This week we rode Wild Rose on Tuesday, and we have just been hanging out in Canmore enjoying the scenery and visiting Lake Moraine along with Lake Louise. We don't get to see this kind of stuff too often so it's always a good time being here.
What are your goals for the rest of the season? What number are you shooting for?
I want to get top tens at every single round this year. I'd like to get as close as I can to the front as possible and opefully break top five at some point. I would like to get a national number in the teens and that's what I'm going to shoot for.
I saw you come off the track Sunday, offer your dad a lift back to the pits, and get waved off. Was he letting you know he wasn't happy with your riding? Has he always been a motivator like that in your racing?
(Laughs) Well, I have always been one of those guys who can't seem to put in one fast lap. I strive on my endurance in a moto. I feel I don't have the intensity when trying to qualify (for some odd reason). So when I qualify I don't generally end up where I should be. He knows me better than anyone and knows what I'm capable of. All he asks is that I give 100% when I'm on my bike. When he knows I don't give 100%, he's not afraid to tell me. Which gives me that little bit of motivation come gate drop. But last weekend was not one of those cases (laughs). Our RV wasn't too far from the start so he wanted to walk.
 Are you a fan of the Wild Rose MX track in Calgary?
Absolutely, one of the best tracks on the circuit. Amazing view of Calgary plus an awesome facility with big jumps and lots of elevation changes with lots of passing opportunities and great racing.
OK, thanks for chatting with us and good luck this week. Who would you like to thank?
I'd like to thank my parents, brother and girlfriend, Wheelsport Racing, Fox Head Canada, Shift MX, Imperial Motion, Moto Seat, Flo Motorsports, Nihilo Concepts, KTM Canada, Kutvek, Mika Metals, Factory Connection, MX101, MTF, and of course everyone back home for supporting and cheering for me.
Thanks for having me, guys.
Taylor Arsenault #25
Be sure to cheer for the #25 on the KTM 250 2-stroke this weekend in downtown Calgary!
---
OTSFF Services Include
Global freight logistics
International ocean container freight forwarding
International air freight forwarding
Truck transportation
Transshipment cargo services
Door-to-door transport services
Air freight import consolidation
Ocean freight import consolidation
Project management consulting services
Customs clearance
Customs brokerage and freight audit
Tradeshows/Exhibitions consulting & management
Contact OTSFF®/ OTS® today. 1-800-668-4473 – Contact Us.
---
JEFF McCONKEY
---
Happy Friday, everyone. We are 2 rounds deep into the 2017 season and it's already heating up. I'll start with the big boys this week.
ROCKSTAR ENERGY MX NATIONALS
So how about Matt Goerke and Christophe Pourcel?! Wow! Yes, Christophe is a former World Champion, a 2-time 250 SX champion, and he narrowly missed out on two 250 National Championships in the US. But, Matt Goerke and most of the MX1 field aren't phased. Pourcel could possibly win the championship, but I'm willing to bet the farm that the title fight goes all of the way right to RJ's.
And let's not forget Colton Facciotti. You can never count him out, and I think he likes not having all eyes on him. He's so good, he's almost sneaky. He isn't a big social media guy, so what he does is simple. He puts in the work at home with the fam, and then he makes the training time and practice laps count. I'm saying he is sneaky because before you know it, he's catching fire and battling up front. I still have Goerke for the title, but I wouldn't be surprised, one bit, if it was a 3-horse race with Goerke, Pourcel and Facciotti.
As for the action at round 2…. like I said in our pre-season podcast, there will be zero easy motos in the top 10 all season long. The class is too stacked. We are still waiting for guys to figure things out and get going. Paging Cade Clason, Tim Tremblay, Kyle Swanson and Nathan Bles. Once these guys get settled, there is no reason why they shouldn't be easily battling for top 10's and inching closer to the top 5-6.
One guy I have honestly been surprised and impressed with is PRMX's Scott Champion. No doubt he has some serious skill indoors as he has shown in 250 West SX over the years, and even 450 SX this season, but I doubted his outdoor skills. I hope he doesn't get butt hurt, but I thought he just worked on his tan and hair in the off-season. Anyway, he's riding very well to start the season in the West, let's hope he likes the sand when we head East.
I think this weekend's track in Calgary will give us some very good racing, and I believe the 800, I mean 5 of Mike Alessi should be within the top 5.  It's hard not to forget his amazing  rides in both motos there last season. If it wasn't for that Davi guy, we'd be talking about how Mike put it to the rest of the field. He showed last week that he can start on the Kawi, and I think he will put it together in Cowtown. Here are my Calgary predictions:
MX1 Class
1st Matt Goerke
2nd Christophe Pourcel
3rd Colton Facciotti
4th Dylan Epstein
5th Mike Alessi
In MX2 action, I really look for Shawn Maffenbeier to be fired up and looking to start getting back those points he lost last week when a rock to the water pump ended his moto and stole his red plates. GDR  Dylan Wright is due for a good weekend after starting the season off on the wrong foot. The starts and good luck just haven't been there. He's a hard worker on a great bike and team, and I think we will see a holeshot from the 14 and 2 good motos.
And we still haven't seen the pure dominance from reigning champion Cole Thompson. Cole is still the favourite in most people's eyes, but it may be a bit more of a challenge in 2017. What's nice about the MX2 class this season is the depth. Last year it was pretty weak outside the top 5. This year it is much better and we have many guys that look like they can podium and even win races.
Once again, Jess Pettis has stepped up his game, and I don't see his improvement stopping anytime soon. I feel Jacob Hayes is close to getting his outdoor legs under him and he will keep getting better as we go east. Newcomer Josh Osby is looking good and right around where I expected him.
The one guy who has impressed me the most would have to be Maffenbeier. Yes, he finished 2nd o/a last season, but I didn't expect him to be this fired up and hungry. It looks like he put in the hard work once again, and he's actually upped his game. Good luck Kourtney Lloyd, you have a very tough decision in front of you on who to pick for the MX2 ride at Motocross of Nations for Team Canada this season. As tough as it is for Kourtney, it's also awesome that she has this many options. More on Team Canada and Kourtney later on. Let's take a look at my predictions for Calgary:
MX2 Class
1st Cole Thompson
2nd Shawn Maffenbeier
3rd Josh Osby
4th Jacob Hayes
5th Dylan Wright
---
WOMEN"S WEST MX NATIONALS
The Women's West has been 'The Shelby Turner Show,' so far this season. Yes, she is that good. Behind Shelby, Lexi Pechout has been very good, but I'm sure she wants more. I feel the Calgary track will be the stop where multiple girls will step up and fight for the spots behind the top 2.
The always- smiling Danika White finally put it together last week and got that 3-3 for 3rd, and showed everyone that she is still improving. I look for two other girls to really bring it in Calgary, and that would be Madi Watt and Dominique Daffé. These two will definitely be fighting with White for that 3rd spot on the box behind Turner and Pechout. The numbers have been great in the first two rounds for the ladies and I'm willing to bet that Calgary will be close to 40 riders, if not better. Here are my Calgary predictions for the women.
Women's West
1st Lexi Pechout
2nd Shelby Turner
3rd Dominique Daffé
4th Madi Watt
5th Danika White
---
2018 MONSTER ENERGY AMA SUPERCROSS SCHEDULE
Now to the bad news. The 2018 Monster Energy AMA Supercross Series has been announced, and the big news is that Toronto and Detroit have not made the cut. Yes, it is a very sad announcement for us Canadian fans, but before you get too mad, think about a few things.
First, it is very hard for teams to cross the border, and requires the team to do quite a bit more work. Everything that comes across has to be accounted for. Everything. Next, not everyone can cross the border. Whether it be immigration issues or trouble with the law, not everybody can come. Then you add in the insane costs to drive from Atlanta, Georgia, only to have to drive back down to Daytona Beach, Florida, the following week. It just didn't make sense.
I have also heard rumours over the years that the Rogers Center or 'Skydome' (for you old folks) is switching to natural grass for 2018. Those are just a few of the possible reasons for no Toronto stop in 2018, but you are going to hear the truth here first. Ready? Here it is….
The real reason for Toronto being left off the schedule is due to the fact that the annual Direct Motocross pre-party and after-party at the Houston had been cancelled. It was like not having the peanut butter to go along with the jam on your PB & J sandwich. It probably all makes sense now, and you can quietly cry yourself to sleep. Sorry Kuli, there is now no reasonable reason to wear those hideous shirts with pearl snap buttons ever again. Ladies, you are now safe. All jokes aside, (minus the shirt thing, I was serious) the event will be surely missed. It all just means a few more flights and a whole lot more driving for the DMX crew.
---
LUCAS OIL PRO MOTOCROSS CHAMPIONSHIP
South of the border, AMA Outdoors returns after a week off. This week the series will be at High Point in Pennsylvania. Like always, a weekend off allows for riders to get caught up on testing and heal those nagging injuries. It is a long season. Here are my predictions for High Point:
250 Class
1st Zach Osborne
2nd Alex Martin
3rd Jeremy Martin
4th Joey Savatgy
5th  Dylan Ferrandis
450 Class
1st Blake Baggett
2nd Eli Tomac
3rd Marvin Musquin
4th Dean Wilson
5th Christian Craig
---
That's it for me today. It's time to go for a tour of Fox Head Canada with the Honda Canada GDR Fox Racing squad and our good friend Jason Moore. If you can't make it out to the race, be sure to follow us on Twitter @DirectMX, Instagram @Direct Motocross and Facebook @Direct Motocross as we have the full team out for Round 3. Have a great weekend and #smileforBC and #liftforscott.
---
BILLY RAINFORD
---
Thanks, Jeff. What a week this has been! We've now come through the mountains and find ourselves in downtown Calgary, Alberta, for round 3. I always find it a little sad when I look in the rearview mirror and see the Rocky Mountains disappearing in the distance.
This year, we got to head to a new city – Prince George – and then drive east to Jasper and then south down Glacier Parkway to Lake Louise, Banff, Canmore, and eventually Calgary. That is definitely one of the nicest drives you're going to find in Canada.
There are always a lot of questions and concerns with a first-time location, and the PGMA in Prince George were not immune to them. Would anyone show up in the northern BC town to watch the races? Would the track be worthy of a Pro National? Is there any parking for the team rigs? Are the bugs really as bad as they say up there in June?
They answered all of these questions with almost perfection. Aside from the change in the way people were parked, the other concerns just melted away, and when the racing started on the track, we all came to realize we had a little unpolished gem in PG.
I spoke with 11 riders after the race in our post-race podcasts and every single one said the track was amazing. That's pretty good because we normally have riders who mention their concerns with how the tracks shaped up on race day. They all seem to have loved what the track became throughout the day last Sunday.
With big up and downhills, passing options were plentiful. I didn't think they got enough water into the track when first practice went out, but they proved me wrong. The corners all rutted up nicely and that lent itself to some great racing.
All in all, aside from feeling a little isolated up in the dead centre of the province, I think the first-year event was a very positive experience. Race Director Kourtney Lloyd told me they have several permits being looked at that would see them able to expand the upper parking lots and accommodate all the necessary vehicles next year. That was my only complaint because I, of course, forgot something in my van after being shuttled to the top and had to find a way back down to get it before the racing started.
As for the bugs, Emily and I coated ourselves in bug spray and neither of us had any welts to speak of when the day was done. With a bald head available for them, not being bothered is a pretty big positive!
So, now we find ourselves in the familiar setting of downtown Calgary. I think we can all agree that the location and layout of this track make it the crown jewel of our 10-round series. I can't think of another track that makes accessibility so easy. You can literally stare at the Calgary skyline from the specatator grandstands.
Also, there were some problems with intermittent cell service at both Kamloops and Prince George. This will not be an issue this week. If you were frustrated with the live broadcast on ConX2Share last week, please give it another chance this week and I'm sure you'll find it runs smoothly with no drops in service.
Although there were problems with the streaming last week, the archives of the events run smoothly. If you haven't seen the races from either Kamloops or Prince George, check them both out in their entirety right here:
KAMLOOPS
PRINCE GEORGE
If you don't have time to watch the whole show, we are putting Highlight Videos up on our site to show you the gist of what went down. Our goal is to have these up for you on Monday mornings but after I had my laptop hard drive crap out on me, it left us chasing our goals this week. Sorry about that.
Here is the Highlight Video from Prince George. I have to apologize for the announcer…he's just getting his feet wet at this.
---
LUCAS OIL PRO MOTOCROSS
The Lucas Oil Pro Motocross Championship gets back at it this week at the famed High Point Raceway. They took a week off in the schedule last week so get ready for a full dose of outdoor motocross this week!
How To Watch: Red Bull High Point National
Don't miss the television or online coverage of the fourth round of the Lucas Oil Pro Motocross Championship, the Red Bull High Point National. Get the rundown below on how to watch qualifiers and all four motos on Saturday, June 17th.
If you miss a race, full replays will be available on-demand with the NBC Sports Gold Pro Motocross Pass.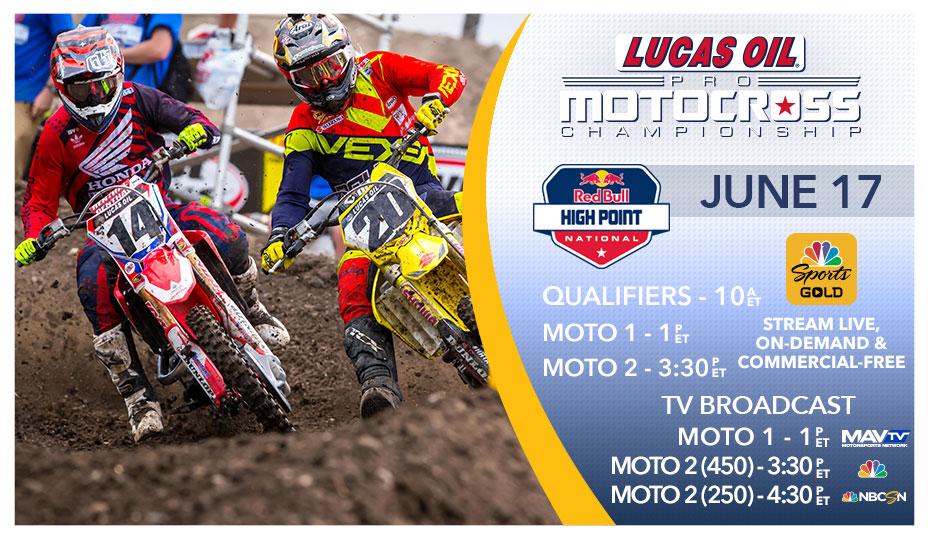 New this year, the entire season streams live, on-demand and commercial-free with the NBC Sports Gold Pro Motocross Pass.
Qualifiers
Online: 10 a.m. ET, ProMotocross.com and NBC Sports Gold app (LIVE & COMMERCIAL-FREE)
Access the stream at ProMotocross.com and NBC Sports Gold app available on iOS, Android, Amazon Fire, Apple TV and Chromecast.
Moto 1
Online: 1 p.m. ET, ProMotocross.com and NBC Sports Gold app (LIVE & COMMERCIAL-FREE)
Access the stream at ProMotocross.com and NBC Sports Gold app available on iOS, Android, Amazon Fire, Apple TV and Chromecast.
TV: 1 p.m. ET, MAVTV (LIVE)
Once again this year, MAVTV will air first motos from all 12 rounds live. Use the MAVTV channel finder to see if you currently get MAVTV. You can also use that link to request that your cable provider carry MAVTV if they currently do not.
450 Moto 2
Online: 3:30 p.m. ET, ProMotocross.com and NBC Sports Gold app (LIVE & COMMERCIAL-FREE)
Access the stream at ProMotocross.com and NBC Sports Gold app available on iOS, Android, Amazon Fire, Apple TV and Chromecast.
TV: 3:30 p.m. ET, NBC (LIVE) 
NBC will have live coverage of the 450 class second motos this week.
250 Moto 2
Online: 4:30 p.m. ET, ProMotocross.com and NBC Sports Gold app (LIVE & COMMERCIAL-FREE)
Access the stream at ProMotocross.com and NBC Sports Gold app available on iOS, Android, Amazon Fire, Apple TV and Chromecast.
TV: 4:30 p.m. ET, NBCSN (LIVE)
NBCSN will have live coverage of the 250 class second motos this week. Use the NBCSN channel finder to see if you currently get NBCSN in your area.
Highlight Show
TV: Friday 6/23, 2 a.m. ET, NBCSN
NBCSN will have a one-hour show the week after each race recapping the action.
INTERNATIONAL

New this year, the entire season streams live, on-demand and commercial-free with the NBC Sports Gold Pro Motocross Pass, available in Canada, UK, Germany, Sweden, Ireland, Denmark, Switzerland, Netherlands, Austria, Spain, Italy, Luxembourg and Japan.
Qualifiers
Online: 10 a.m. ET, ProMotocross.com (LIVE)
Access the stream at ProMotocross.com and NBC Sports Gold app available on iOS and Android  in Canada, UK, Germany, Sweden, Ireland, Denmark, Switzerland, Netherlands, Austria, Spain, Italy, Luxembourg and Japan.
Moto 1 + Moto 2
Online: 1 p.m. ET, ProMotocross.com (LIVE)
Access the stream at ProMotocross.com and NBC Sports Gold app available on iOS and Android  in Canada, UK, Germany, Sweden, Ireland, Denmark, Switzerland, Netherlands, Austria, Spain, Italy, Luxembourg and Japan.
TV: The Nationals will be simulcast to various countries across the globe. Check the TV listings for for the time in your area.
TV Networks: FOX Sports Australia, FOX Sports Asia, Sky TV New Zealand, ESPN Latin America, MCS France, Star Times Africa
Highlight Show
TV: A one-hour highlight show recapping the race will air in various countries across the globe. Check the TV listings for the time in your area.
TV Networks: FOX Sports Australia, FOX Sports Asia, Sky TV New Zealand, ESPN Latin America, MCS France, Star Times Africa
For information about the Lucas Oil Pro Motocross Championship, please visit ProMotocross.comand be sure to follow all of the Pro Motocross social media channels for exclusive content and additional information on the latest news:
2017 Lucas Oil Pro Motocross Championship Point Standings
---
THE RUMOUR MILL
There were 3 stories floating around the pits this week that fall into the RUMOUR MILL category. We haven't been able to get many answers here, but the stories are fun to think about, regardless.
1. Mike Alessi was rumoured to be needing some time off after hurting his knee this week. In fact, we heard that up until late Thursday afternoon, Mike was going to miss this round in Calgary. We've been told that Mike has decided to line up here in Calgary and make the best of it. We'll let you know when we see him in the pits here this weekend or when we chat with a team member for confirmation.
2. Is Monster Energy pulling out of Canadian Motocross? We've heard that they will no longer be backing their long-time team run by Jason Hughes out of Kamloops. Word on the street is that Nut Up will step up and take the lead with this team. Either way, it sounds like the team will move forward.
3. Was there or wasn't there a protest last week? We heard the Honda guys weren't too happy with what someone saw up at the front of the final MX1 race between Christophe Pourcel and Matt Goerke, who ran 1-2 in the moto. The rumor is that the lead 2 riders "cut the track" in a spot that went unseen by the officials and the TV cameras.
When I spoke with Daryl Murphy at the end of the day, he was quick to say there was no official protest logged but that there was a discussion. Having said that, I've received several messages asking me about the situation, so we have to assume there is something here. GDR's Derek Schuster was flying when we tried to contact him for this Update, so we'll try to find out when we get a chance later today.
Either way, the positions from last Sunday seem to be staying put, so obviously nothing came from the non-protest.
---
OK, we're at the Fox Head Canada Distribution Centre here in Calgary and are about to go on a tour with Taylor and Connor Arsenault, and the GDR riders, Dylan Wright and Colton Facciotti.
Be sure to check in this weekend as we bring you some live interviews from the track on our Facebook page (THERE'S CELL SERVICE HERE!!) and on Twitter and Instgram.
Thanks for reading and have a great weekend.