Frid'Eh Update #26 Presented by Race Tech
By Jeff McConkey and Billy Rainford
Welcome to the halfway mark of the year! Yep, according to the official keeper of the calendar, the Frid'Eh Update, we're half way to the final 52nd week of the year. Where does the time go?
Oddly enough, 2016 #26 was the older brother of the 2017 #26. That can't happen very often! In Canadian moto history, maybe only the Allison Brothers have done something like that.
It happened again this year, as younger brother, McCoy Brough, took his older brother, Riley Brough's, number for this season.
I doubt we'll see McCoy in Canada this season, as he's been racing the Lucas Oil Motocross Championship down south.
Hangtown: 34th (41-24)
Glen Helen: 27th (28-23)
Thunder Valley: 30th (31-26)
We haven't been able to get in touch with McCoy in time for this Update, so we will be sure to snag him for a chat as soon as we can. We've watched this youngster go from battling the Supermini class in Canada as Riley raced the Pro motos to becoming a potential point scorer in the toughest series in the world.
Keep working hard, McCoy, and we'll talk to you soon.
---
You have questions, Race Tech has the answers:
TECH SUPPORT

Find many answers in our book, "►Race Tech's Motorcycle Suspension Bible" –  Add to Cart
If you have a tech question please contact Tech Support at (951) 279-6655 ext 109
---

FORKS

—- —- ALL FORKS —- —-
—- —- DAMPING ROD FORKS – EMULATORS —- —-
►Setting Oil Level on KYB and WP Upside-down Forks
---
SHOCKS

►SMGV – SHOCK GOLD VALVE KIT INSTRUCTIONS – ALL
    ►Shock Rebuild – Standard Reservoir
►Shock Rebuild – WP PDS
►SMSA – SHOCK SHAFT ASSEMBLY INSTALLATION INSTRUCTIONS – ALL
►G3-S SHOCK INSTALLATION INSTRUCTIONS – ALL
►Measuring Swingarm Geometry for G3-S Custom Shocks – "non-standard" dual shocks

►Race Sag
    ►Lowering 
►Shock Spring Fitting Data Sheet
►SPNV 0512 – Installing Nitrogen Charging Bolt on "non-rebuildable" Shocks
►SPNV 0512 – Installing Nitrogen Charging Bolt on WP Shocks
---
CHASSIS
►Maintaining Floating Rear Brakes – Vintage
►Lowering
---
OTHER
►How to Choose Suspension Upgrades
►How to Shop on racetech.com
►How to Ship Your Suspension to Race Tech
---
JEFF McCONKEY
---
Hey, guys. Happy Friday. It was a busy week for us, but that's exactly what we look forward to all off-season long. I'll start with Round 3 of the CMRC Rockstar Energy MX Nationals in Calgary. This round is a favourite round for many riders and teams. Where else can you walk from the hotel to the track and view the amazing city in the background? I can't think of anywhere else.
My Calgary started when my flight arrived around noon on Friday. My driver, Bigwave, picked me up at the airport and we headed straight for Fox Head Canada to meet up with the gang. The Fox crew let us post up in their JSR Conference Room to finish up our Frid'Eh Update.
After that, I joined Ontario racers, Connor Arsenault and big bro Taylor Arsenault, for a tour of the amazing facility by Fox's Jason Moore. You'd be amazed by how much product went through there, and how dialed the Fox system is. We were then joined by Derek Schuster and Dylan Wright from the GDR team. It was a real fun time to get to check out the new Fox/Shift products and catch up with the gang.
Later on Friday evening, we headed over the the Blackfoot Inn to catch up with Team Canada's Kourtney Lloyd and her trusty assistant, Summer Knowles. The girls were there selling tickets and having a silent auction to raise money for our 2017 Motocross of Nations team. There were some fantastic items up for grabs, and it was a great cause.
---
Women's West MX nationals
Saturday belonged to the women. It was sad to hear that #7 Kate Lees from Saskatchewan was on her way to the hospital with a broken wrist from an early crash in practice. Kate had been riding well and we were expecting Calgary to be no different. Heal up soon, Kate. Back to the action..
Was anyone going to get into the mix with Shelby Turner or Lexi Pechout? Not a chance, but that didn't mean the racing wasn't good. I'm willing to bet that women's moto 1 in Calgary will by the most exciting of the season. Shelby and Lexi went at it all moto. These two both wanted that moto win bad and it showed as they went back and forth all race long. With two corners to go on the last lap, Lexi performed a picture perfect aggressive pass, and Turner just ran out of room and was forced off the track and finished 2nd in the moto.
For moto 2, Turner quickly took the lead from Pechout and rode the perfect race taking the win and the overall. The biggest surprise for me had to be #10 Danika White. Danika has always been solid, but she really stepped up her game and is no doubt our 'Most Improved Rider' for 2017.
Almost as impressive as White, was the #11 of Tamala Whiteside. She looked good both motos as she also improved immensely over the off-season. Regina is the 4th and final round for the women in the West, so I'm expecting great racing like always. Here are my predictions:
Women's West Regina
1st Shelby Turner
2nd Lexi Pechout
3rd Danika White
4th Dominique Daffé
5th Madi Watt
2017 Western Canadian Women's National
Place – Name
Number – Hometown
6/3/2017
Finish
6/10/2017
Finish
6/17/2017
Finish
Total Points
1st – SHELBY TURNER


#1 – BARONS, AB

1st
1st
1st
147
2nd – LEXI PECHOUT


#3 – CALGARY, AB

2nd
2nd
2nd
135 

(-12)

3rd – DANIKA WHITE


#10 – CALGARY, AB

7th
3rd
3rd
109 

(-38)

4th – DOMINIQUE DAFFE


#4 – CALGARY, AB

6th
4th
4th
100 

(-47)

5th – KRISTIN TSE


#9 – WEST KELOWNA, BC

3rd
12th
7th
87 

(-60)

6th – MADI WATT


#6 – ST PAUL, AB

4th
9th
6th
85 

(-62)

7th – TAMALA WHITESIDE


#11 – BLACK DIAMOND, AB

9th
10th
5th
77 

(-70)

8th – ORIANA FRASER


#49 – LADYSMITH, BC

8th
6th
10th
75 

(-72)

9th – NICOLE GAUDERN


#44 – , 

10th
7th
9th
73 

(-74)

10th – KATE LEES


#7 – CARLYLE, SK

5th
5th
DNS
64 

(-83)

11th – TAY ESSELINK


#88 – TERRACE, BC

14th
8th
17th
45 

(-102)

12th – CHELAN MERWIN


#147 – , 

18th
15th
11th
35 

(-112)

13th – MYAH HJORTELAND


#414 – , 

12th
16th
15th
34 

(-113)

14th – SAMANTHA BARTLETT


#24 – , 

16th
18th
14th
31 

(-116)

15th – SAM PUKY


#17 – , 

8th
26 

(-121)

16th – KASSEE MORRISON


#328 – QUESNEL, 

20th
14th
21st
22 

(-125)

17th – SUMMER KNOWLES


#397 – NEW WESTMINSTER, 

11th
11th
21 

(-126)

18th – BRIE DAY


#137 – LAKECOUNTRY, BC

13th
19th
19 

(-128)

18th – ZOEY SHAMLEY


#37 – LYTTON, BC

13th
19 

(-128)

18th – MICHELLE MCCARTHY


#412 – CALGARY, AB

17th
17th
19th
19 

(-128)

21st – ASHLEY FREEMAN


#923 – , 

12th
17 

(-130)

22nd – CASSEE QUANTZ


#335 – CALGARY , AB

13th
15 

(-132)

22nd – JACEY MCQUEEN


#141 – WEST KELOWNA, BC

15th
22nd
23rd
15 

(-132)

24th – CARLENE JOHNSON


#18 – WAINWRIGHT, AB

16th
9 

(-138)

25th – ALEXANDRA SHARROCK


#119 – , 

18th
7 

(-140)
---
Rockstar MX Nationals
In the MX2  class, I have received a lot of flak about not choosing #12 Shawn Maffenbeier in my top 10 pre-season predictions. I consider Shawn a good buddy, and respect him on and off the bike. He is probably the funniest rider in the pits. When we were doing our predictions, I left Shawn out of my top 10. Reason being, riders get hurt. Shawn has been relatively healthy to my knowledge since breaking a collarbone going into 2013. I didn't want to jinx Maff by saying I think he will "get hurt," I was just thinking that he has had a really good run, and that maybe this was the year for some bad luck. By no means do I wish it come true, like you all know…my predictions don't come true too often.
To make it worse, Shawn absolutely worked his ass off during the off-season and has improved on what were already championship skills and speed. He has started the season on fire, and to be honest, it's not going to slow. He's in everyone's mind, and he is the guy to watch. But, you have to remember that #1 Cole Thompson has the points lead, Cole is the defending champion, and that nobody hates losing as much as Cole does. He has all of the tools and is known to pick it up in the East and really turn it on all of the way to RJ's. Whether it be Cole or Maff, you can bet the championship battle will be very exciting all of the way to the 20th and final moto. Here are my predictions for Regina:
MX2 Class
1st Shawn Maffenbeier
2nd Josh Osby
3rd Cole Thompson
4th Jess Pettis
5th Ryan Surratt
The MX1 class has been pretty darn solid, 3 rounds in. Most people assumed that former World Champion #377 Christophe Pourcel was going to "Davi" the competition. Well, as amazing as Pourcel has been, the rest of the 450 class has stepped it up. #2 Matt Goerke was real good last year. Unfortunately, the problem was, Matt was on the ground off the start quite a bit. He dug deep all season long and rode his butt off and fought back, but Davi Millsaps was gone.
This season, Goerke seems to be starting a lot better and he wants this title bad! But then you have #10 Colton Facciotti starting to look like his old self. Like I have said before, he is sneaky good. His style is smooth, so you rarely look at him and think that he is pushing hard or hanging it out. He looked great in Calgary, and I really think he's back and it will continue all season long.
Maybe the rider overlooked the most, #108 Dillan Epstein, has surprised a ton of people. If it hadn't been for a minor tip over in moto 2, Dillan would have easily been our overall winner with a perfect 1-1 score. He was fast, calm, and very smooth. Here are my prediction for the final round in the West:
MX1 Class
1st Dillan Epstein
2nd Christophe Pourcel
3rd Matt Goerke
4th Colton Facciotti
5th Mike Alessi
2017 Rockstar Energy Drink MX Nationals
Place – Name
Number – Hometown
6/4/2017
Finish
6/11/2017
Finish
6/18/2017
Finish
Total Points
1st – COLE THOMPSON


#1 – BRIGDEN, ON

2nd
1st
2nd
164
2nd – SHAWN MAFFENBEIER


#12 – SWIFT CURRENT, SK

1st
14th
1st
145 

(-19)

3rd – JOSH OSBY


#787 – VALPRAISIO, IN

3rd
5th
3rd
139 

(-25)

4th – JACOB HAYES


#100 – GREENSBOUROGH, NC

5th
3rd
4th
134 

(-30)

5th – RYAN SURRATT


#338 – CORONA, CA

6th
4th
5th
127 

(-37)

6th – JESSE PETTIS


#16 – PRINCE GEORGE, BC

4th
2nd
14th
125 

(-39)

7th – TALLON LA FOUNTAINE


#47 – REDLANDS, CA

8th
9th
6th
106 

(-58)

8th – HAYDEN HALSTEAD


#19 – WATERFORD, ON

11th
8th
9th
96 

(-68)

9th – DYLAN WRIGHT


#14 – OTTAWA, ON

10th
6th
12th
95 

(-69)

10th – CASEY KEAST


#33 – KELOWNA, BC

12th
10th
11th
93 

(-71)

11th – TAYLOR ARSENAULT


#25 – PERTH, ON

7th
7th
15th
90 

(-74)

12th – CHRISTOPER FORTIER


#266 – QUEBEC CITY, 

14th
12th
10th
86 

(-78)

13th – DAVEY FRASER


#21 – HALIFAX, NS

13th
13th
13th
78 

(-86)

14th – JARED PETRUSKA


#119 – CALGARY, AB

18th
17th
7th
65 

(-99)

15th – GERAN STAPLETON


#614 – MELBORNE, AU

9th
11th
38th
61 

(-103)

16th – RYAN LALONDE


#24 – VICTORIA, BC

16th
15th
16th
58 

(-106)

17th – DJ BURMEY


#59 – WINNIPEG, MB

19th
18th
17th
44 

(-120)

17th – KEIN DENZLER


#194 – GARRETTSVILLE, OH

20th
8th
44 

(-120)

19th – QUINTIN ROBIN


#274 – ECKVILLE, AB

15th
21st
22nd
37 

(-127)

20th – TEREN GERBER


#126 – CORONATION, AB

17th
16th
40th
35 

(-129)
Place – Name
Number – Hometown
6/4/2017
Finish
6/11/2017
Finish
6/18/2017
Finish
Total Points
1st – MATT GOERKE


#2 – PANAMA CITY, FL

5th
2nd
1st
162
2nd – CHRISTOPHE POURCEL


#377 – MARSELLE, FR

1st
1st
5th
155 

(-7)

3rd – DILLAN EPSTEIN


#108 – THOUSAND OAKS, CA

2nd
4th
2nd
150 

(-12)

4th – COLTON FACCIOTTI


#10 – ALYMER, ON

4th
3rd
3rd
146 

(-16)

5th – TYLER MEDAGLIA


#6 – TURO, NS

3rd
6th
4th
134 

(-28)

6th – MIKE ALESSI


#5 – VICTORVILLE, CA

8th
5th
6th
122 

(-40)

7th – KYLE CHISHOLM


#111 – ST.PETERSBURG, FL

7th
7th
7th
114 

(-48)

8th – CADE CLASON


#7 – CHESTERFIELD, SC

9th
10th
9th
98 

(-64)

9th – SCOTT CHAMPION


#195 – MARYETTA, CA

13th
9th
10th
88 

(-74)

10th – TIM TREMBLAY


#38 – DRUMMONDVILLE, QC

18th
8th
8th
87 

(-75)

11th – KEYLAN MESTON


#8 – CALGARY, AB

10th
12th
17th
75 

(-87)

12th – NATHAN BLES


#77 – BAYFIELD, ON

11th
11th
19th
72 

(-90)

13th – BROCK LEITNER


#56 – SUMMERLAND, BC

14th
15th
14th
62 

(-100)

14th – RYAN MILLAR


#501 – MIAMI, SK

16th
20th
13th
55 

(-107)

15th – JEAN CHRISTOPHE BUJOLD


#29 – ST-HUBERT, QC

17th
17th
15th
52 

(-110)

16th – GRAHAM SCOTT


#72 – VICTORIA, BC

12th
14th
46 

(-116)

17th – JEREMY MEDAGLIA


#58 – KEMPTVILLE, ON

19th
16th
20th
44 

(-118)

18th – KYLE SWANSON


#20 – SAN ANTONIO, TX

19th
11th
43 

(-119)

19th – MICHAEL FOWLER


#41 – BEECH CREEK, PA

15th
21st
18th
41 

(-121)

20th – KAVEN BENOIT


#3 – BON CONSEIL, QC

6th
39 

(-123)

21st – JOSH ALLEN


#396 – KAMLOOPS, BC

22nd
18th
23rd
31 

(-131)

22nd – BROCK HOYER


#96 – WILLIAMS LAKE, BC

13th
25 

(-137)

22nd – MORGAN BURGER


#9 – IDAHO, ID

12th
25 

(-137)

24th – PARKER EALES


#526 – MAPLE RIDGE , BC

20th
24th
27th
23 

(-139)

25th – DYLAN HANSEN


#92 – PORT ALBERNI, BC

21st
38th
24th
21 

(-141)

26th – COLE KELLY


#631 – GREENWOOD, BC

24th
22nd
25th
19 

(-143)

27th – BRYANT HUMISTON


#499 – , 

16th
16 

(-146)

28th – DYLAN DELAPLACE


#45 – LANGLEY, BC

23rd
32nd
13 

(-149)

29th – ADAM PFEIFFER


#491 – CALGARY, AB

21st
12 

(-150)

30th – KYLE SPRINGMAN


#50 – ABBOTSFORD, BC

23rd
29th
11 

(-151)
---
Cade Clason Provisionally Suspended
The news broke early in the week. Redemption Racing's #7 Cade Clason has been provisionally suspended from all FIM competition effective immediately for violating Article 7.9 of the FIM Anti-doping code. Long story short, Cade was prescribed medication that was on the banned substances list. Cade then filled out all of the proper paperwork and sent it in. Here is where the issue is – he never received conformation, and assumed he was clear to continue racing.
Cade was tested at the East Rutherford, NJ round and he tested positive. Fast forward to now, and Cade is obviously upset and embarrassed about the entire incident. He will be lining up in Regina, and is trying to get things sorted as we speak. Let's hope the FIM takes it easy on our close friend and we are able to cheer for Cade come A1.  #freeCade
---
That is it for me this week. Have a great weekend, and I'll see you next week. #smileforBC and #liftwithscott.
---
BILLY RAINFORD
---
Thanks, Jeff. I'm currently sitting in a Tim Horton's in the middle of Crowsnest Pass at the border between BC and Alberta, down in the south. I've pretty much got one foot in each province.
James Lissimore has made this an annual trip, so I finally decided to see what all the fuss in Fernie, BC was a bout. After stopping into a mall parking lot to get a small crack in my windshield fixed, I kept heading south and west from Calgary into the Kootenays.
There is something very pleasing with the spacing of the giant Rocky Mountains in this area. I can't really put my finger on what it is, but you feel it when you see it.
I got there late Monday night and headed to the Mount Fernie Campground where we were to call home for the next three nights. If you have time after the Calgary round, I would strongly suggest bringing your mountain bike and spending a few days before heading to Saskatchewan for round 4. Yes, it's a little out of the way (3 hours southwest of Calgary) but it is totally worth it.
Fernie seems to be purpose-built to accommodate cycling. I brought both bikes with me – road and MTB – but the road bike never made it out of the DMX Van. I'll save the road stuff for when the mountains are long behind me.
I will say this, make sure you've done some serious riding before coming here. I looked on the Trail Forks app map to check for a green route, after dragging my tongue in the spokes the previous day. It turned out that WAS a green run! There really are no "easy" route to the top of a mountain.
Fortunately, things seemed to get better quickly on the second day and I was able to push up the climbs much better. It also had to do with the fact that I had my seat at the completely wrong angle on Day 1. Moving it forward and tipped down at the front makes all the difference.
I'll leave the Rockies behind and make my way to the flatlands of Saskatchewan. An annual stop at the Maffenbeier's in Swift Current is the destination for today's portion of the journey. 6 hours to go and that will leave an easy 2 hours to Regina in the morning. It's been a great week, and if we come this way in 2018, this will be where you'll find me after Calgary.
---
How to Watch: Tennessee National
How To Watch: Tennessee National
Don't miss the television or online coverage of the fifth round of the Lucas Oil Pro Motocross Championship, the Tennessee National. Get the rundown below on how to watch qualifiers and all four motos on Saturday, June 24th.
If you miss a race, full replays will be available on-demand with the NBC Sports Gold Pro Motocross Pass.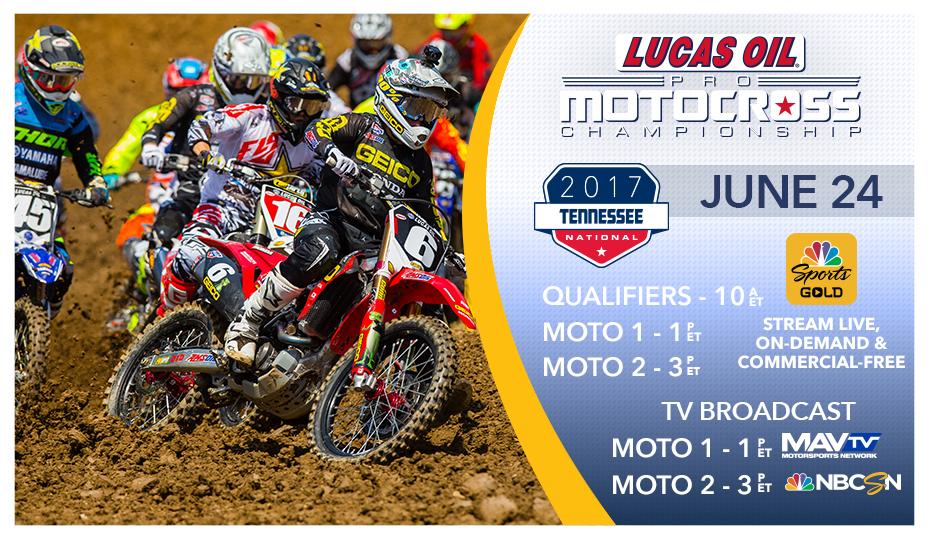 New this year, the entire season streams live, on-demand and commercial-free with the NBC Sports Gold Pro Motocross Pass.
Qualifiers
Online: 10 a.m. ET, ProMotocross.com and NBC Sports Gold app (LIVE & COMMERCIAL-FREE)
Access the stream at ProMotocross.com and NBC Sports Gold app available on iOS, Android, Amazon Fire, Apple TV and Chromecast.
Moto 1
Online: 1 p.m. ET, ProMotocross.com and NBC Sports Gold app (LIVE & COMMERCIAL-FREE)
Access the stream at ProMotocross.com and NBC Sports Gold app available on iOS, Android, Amazon Fire, Apple TV and Chromecast.
TV: 1 p.m. ET, MAVTV (LIVE)
Once again this year, MAVTV will air first motos from all 12 rounds live. Use the MAVTV channel finder to see if you currently get MAVTV. You can also use that link to request that your cable provider carry MAVTV if they currently do not.
Moto 2
Online: 3:00 p.m. ET, ProMotocross.com and NBC Sports Gold app (LIVE & COMMERCIAL-FREE)
Access the stream at ProMotocross.com and NBC Sports Gold app available on iOS, Android, Amazon Fire, Apple TV and Chromecast.
TV: 3:00 p.m. ET, NBCSN (LIVE)
NBCSN will have live coverage of second motos in both classes this week. Use the NBCSN channel finder to see if you currently get NBCSN in your area.
Highlight Show
TV: Friday 6/29, 2 a.m. ET, NBCSN
NBCSN will have a one-hour show the week after each race recapping the action.
New this year, the entire season streams live, on-demand and commercial-free with the NBC Sports Gold Pro Motocross Pass, available in Canada, UK, Germany, Sweden, Ireland, Denmark, Switzerland, Netherlands, Austria, Spain, Italy, Luxembourg and Japan.
Qualifiers
Online: 10 a.m. ET, ProMotocross.com (LIVE)
Access the stream at ProMotocross.com and NBC Sports Gold app available on iOS and Android  in Canada, UK, Germany, Sweden, Ireland, Denmark, Switzerland, Netherlands, Austria, Spain, Italy, Luxembourg and Japan.
Moto 1 + Moto 2
Online: 1 p.m. ET, ProMotocross.com (LIVE)
Access the stream at ProMotocross.com and NBC Sports Gold app available on iOS and Android  in Canada, UK, Germany, Sweden, Ireland, Denmark, Switzerland, Netherlands, Austria, Spain, Italy, Luxembourg and Japan.
TV: The Nationals will be simulcast to various countries across the globe. Check the TV listings for for the time in your area.
TV Networks: FOX Sports Australia, FOX Sports Asia, Sky TV New Zealand, ESPN Latin America, MCS France, Star Times Africa
Highlight Show
TV: A one-hour highlight show recapping the race will air in various countries across the globe. Check the TV listings for the time in your area.
TV Networks: FOX Sports Australia, FOX Sports Asia, Sky TV New Zealand, ESPN Latin America, MCS France, Star Times Africa
For information about the Lucas Oil Pro Motocross Championship, please visit ProMotocross.comand be sure to follow all of the Pro Motocross social media channels for exclusive content and additional information on the latest news:
---
Brett Metcalfe Joins a New Team in Australia
Former Canadian champion, Brett Metcalfe, has landed on a new team to continue racing in his homeland. Here is the press release as found on www.fullnoise.com.au:
Brett Metcalfe has signed up with the MEGA Bulk Fuels Monster Energy Kawasaki Racing Team and will take on the second half of the 2017 MX Nationals series with his factory Kawasaki KX450F.
The proven motocross veteran is confident that he will maximize on the new partnership to deliver podium level results saying, "Signing up with the team gives me an opportunity to continue racing in Australia as I planned and to finish the series out with a professional race team. Troy has been running an awesome team for a long time, he knows what it takes so to have the support of Kawasaki, MEGA Bulk Fuels, Monster Energy and the rest of the sponsors is a very good feeling."
Metcalfe joins the team currently in 9th place on this year's MX Nationals leader board and with a podium to his name courtesy of a third place overall result at the last round in Murray Bridge.
"For me to jump onto this ride when this opportunity came up was a good fit. We were both half way through the season and I needed a ride so it matched up very well!" said the 33 year old from Mannum in South Australia who has seen his fair share of success with Kawasaki machinery throughout his professional racing career.
"I raced a Kawasaki from 2013 to 2015 and I also rode for the Monster Energy Pro Circuit team in the U.S. for two years (2007 – 2008), so I'm familiar with the Kawasaki brand and some of the sponsors. I've lived in California for the last 14 years, racing AMA then Canada to race in the Nationals and I decided I wanted to push to come down to Australia and potentially ride my remaining years here."
Brett Metcalfe is yet to experience the latest iteration of the lighter, faster and more powerful KX450F, with formal training scheduled to begin right away.
"I haven't ridden the current KX450F model so I'm excited to learn about the improvements and how they are going to benefit me. The challenge will be getting up to race speed as quick as we can and from there we will contend for race wins. In that sense the competition has some momentum under their wings and I'll be playing catch up, but I'll have a professional race team behind me so I'm confident that I will pull some good results by the end of the season."
The South Australian native will ride his KX450F alongside teammate, Nathan Crawford who has established himself as the quickest rookie MX1 rider in the paddock.
Team Manager, Troy Carroll is delighted with the team's newest acquisition saying "It is fantastic to bring a rider like Brett Metcalfe to the team and we are looking forward to securing the results that the MEGA Bulk Fuels Monster Energy Kawasaki Racing Team deserves. With Brett's experience and the history he has had with Kawasaki in United States, we are sure he will be achieving big things with us in the last five rounds of the outdoor (motocross) series this year."
Metcalfe will make his MEGA Bulk Fuels Monster Energy Kawasaki Racing Team debut at the next round on the 2017 MX Nationals Calendar (round 6) to be held in Nowra, NSW on 2nd July.
---
Red Bull Rocks and Logs Hits Calgary This Weekend
Canada's first Urban EnduroCross event makes it's return to Calgary's Wild Rose MX Park on June 24 and 25. Watch over 264 local and global motocross athletes charge a newly designed course packed with highly technical obstacles. Built from the imagination of pro rider and course director Shane Cuthbertson.
Red Bull Rocks & Logs follows a head-to-head, knock-out format where riders take to the track divided by class, and race for the fastest time. Wild Rose MX Park will also host a variety of local food vendors, beer gardens, merch tent, Sunday Trials Showcase, Sunday Pit Bike Race and much more.
Admission to Rocks and Logs is free throughout the entire weekend.
SCHEDULE:
Friday June 23
8pm – 9pm: Red Bull Media House Movie Night at the track (free admission)

Saturday, June 24
9am-4pm (Qualifiers): +30A, +30B, +40A, +40B, Under 30B, Ladies, Beginner, Intermediate & Expert Classes
4pm-5pm (Finals): Beginner, Under 30B, +30B, +40B Classes
Sunday, June 25
11am-5pm: (Practice/Heats/LCQ/Finals): Pro Class, Expert, Intermediate, +30A, +40A & Ladies Classes
12pm-5pm: Trials riding showcase
1pm: Pit Bike Race
LOCATION:
Wild Rose MX Park
FOOD & BEVERAGES:
Beer Garden (Saturday & Sunday): 11am – 5pm
Food Trucks (Saturday & Sunday): 1030am – 5pm
VENDOR AREA:
Red Bull Rocks & Logs Merchandise Booth
CycleWorks Merchandise Booth
Make sure to follow @RedBullCanada on Twitter and @RedBullCanada on Instagram to stay updated with everything #RedBullRocksAndLogs.
More info at:  www.redbull.com/ca-en/rocks-logs-2017
---
Catching Up with…Shane Cuthbertson
With the Red Bull Rocks and Logs heading to Wild Rose MX Park in Calgary for its 5th time, we wanted to see what Race Director and marauding off-road legend, Shane Cuthbertson, has in store for the competitors. Here is our conversation from Thursday afternoon:
Direct Motocross: Hello, Shane. Perhaps to get started you could give us a little bit of your background. How and when did you get into off-road and motocross?
Shane Cuthbertson: Originally, I used to be a BMX racer when I was younger, and I kind of got burnt out on that when I was about 13 years old. Eventually, I thought I needed to get back on two wheels again so I decided I needed a motor and I've been racing dirt bikes ever since.
I got into off-roading by just going camping with my family in the mountains and doing all that kind of stuff. I progressed through the ranks pretty quickly. I was a Pro when I was 17 and been racing ever since. I'm 41 years old, so this year I just started laying back a little bit from racing Pro. It was getting a little harder in the off-road world as the younger guys got a lot more serious about their training. I find it a little more difficult to find the time and the commitment to do that. I'm just kind of hanging back now and having some fun.
Over the years, I've raced a lot in Canada, obviously, a lot regionally, and then I've done a bunch of international competition, like the International Six Days Enduro (ISDE) three times, and I've done a lot of hard enduros. I've done Red Bull Romaniacs, Erzberg, Last Man Standing, I've dabbled in a little bit of Endurocross in the US, which is closely related to this Red Bull Rocks and Logs, so I've had a pretty good run.
Comparing motocross to off-road, was there a time when you did both? How did you make the decision to specialize in off-road?
I was full-on off-road guy. When I went to my first ISDE, I came home and realized I needed another skill set, which was motocross. I delved heavily into motocross and actually to this day, that's what I use mainly for training and just for riding. I really enjoy it so I have the best of both worlds now, I've been riding a lot of motocross and a lot of off-road now.
You mentioned some of the other events you've done. What has been the toughest event you've done? We all think of Erzberg as the pinnacle.
Erzberg was an experience for me. I've been there a couple times. I've raced it twice. I had a mechanical issue the one year when I think I was probably the best prepared and I wasn't able to finish. And then the last time I went was in 2014. It's a tough event. I wasn't able to qualify on the very front row so I ended up in the second row and I had a few crashes at the start. At that point, you're kind of ten grand down because you've had a rough 5 minutes to the start and there are just so many riders there. They pack in about 500 riders and there's only one line up a lot of stuff so you end up with a lot of bottlenecks. You just eventually time out. It's probably one of the hardest single-day enduros.
The one that stands out the most for me is Red Bull Romaniacs. I raced Pro in that event and finished 9th there twice, in 2008 and 2009. I really had to dig pretty deep within myself to be able to finish those. It was 4 really grueling days. Especially the first one, it was raining the entire time we were there. The tracks were way beyond my skill level…and I think most guys (Laughs)!
I teamed up with another gentleman form Croatia – we were both about the same skill set – and we never left each other's side for about 4 days (Laughs). Mentally and physically, I'm very proud of that accomplishment.
Being 41, I'm sure there are a lot of events to choose from, but if you had to pick a highlight what would you pick, or is that it?
That's definitely a highlight, for sure, and then in 2013 I did the ISDE in Italy and I won a gold medal there, which was a goal of mine ever since I started off-road racing. I'd been twice prior and I got silver medals, but this time I finally reached the pinnacle of achieving the gold medal, so I'm pretty proud of that.
OK, so Red Bull Rocks and Logs is coming back to Calgary this weekend. How did you get involved with this event?
It was kind of by fluke, actually. I got permission from Wild Rose MX Association to build a practice facility down where the track is now. It used to be sort of beat up kind of dump, so I asked if I could clean it up and put some obstacles down there and they agreed to do it. I got a whole bunch of volunteers together and built this little practice track down there.
One day, Red Bull was down there for a KTM demo or something like that and they saw the track and then they saw the Calgary skyline in the background and they said it looked like an awesome thing. They contacted me and asked if I'd be interesting in doing an event for them and it just snowballed from there.
What year would that have been? I saw Lexi (Pechout) on Global News this morning and she said it was 6 years ago?
Well, this year is going to be the 5th edition so I think the very first one was 2013.
Is this part of a series or is it one-off event?
It's a one-off event. It's the only motorsports event, that I'm aware of, that Red Bull sponsors in Canada.
Are you competing this year?
No, I'm not. I tried that the very first year and I found out that I needed to focus on one thing at a time. I decided I needed to focus on being the race director, which is what I need to do, especially as the event grows.
So, you've designed to course. Now what have you done to it this year? How tough are you trying to make this?
As far as Endurocross goes, there is a series in the US. Their tracks are all inside stadiums and they're pretty standard. It's kind of like Supercross where if you have a triple you know it's a certain length and it's a pretty standard design. Our track is obviously outdoors so we don't have control over the elements. Wind, rain, sun, you kind of get it all, especially here in Calgary, so that's a different thing.
As far as the elements, we make it just a little bit more difficult. I don't want to kill anybody or injure anybody. I actually want people to enjoy it while they're there, so we try to find the right balance between challenging the amateurs and challenging the Pros enough where they're getting a challenge also. That's my main challenge, for sure, is to make the track rideable for everyone.
I've done a few enduros/hare scrambles in my time, and I have to ask, do you find it fun trying to get over wet rocks and logs or is it more of an accomplishment to say you finished?
Ya, I think it is more of an accomplishment thing. We had another interview today with Breakfast Television and Melissa Harten is another lady that does a lot of racing and off-road riding and she said that was really the whole idea of what drew her to that form of racing is the accomplishment. You fail at it first but wanting to go back and figuring out how to properly do it and getting that skill set where you can do it. And finally doing it is an accomplishment for most people.
Now, I see names like Colton Haaker are coming. Who else is coming?
Ya, Colton Haaker's coming, Kyle Redman is coming down, we have Tara Geiger also attending, a gentleman named Mike Aranda is coming from the US and he's riding the Alta Motors electric bike in the Pro class. That should be pretty interesting.
We have Tristan Heart and Wyatt Heart, Bobby Prochnau, Philippe Chaine from Quebec, a whole slew of local Alberta Pros, and then everybody from your beginners to vet riders. I think we've got just about 200 riders this year.
Let's not forget to mention our #1 and #2 ranked West MX National riders, Shelby Turner and Lexi Pechout!
Yes, of course. Shelby Turner, Lexi Pechout, Tara Geiger, and Melissa Harten. She's just recently been selected to the ISDE team in France this year, so she's also a heavy-hitter. I think we have 12 or 13 ladies signed up this year. It's going to be a really good show.
I know you're the race director and maybe you shouldn't do this, but who's your money on this weekend?
I'd love to see someone from Canada win, I think Tristan or Wyatt would probably have the best chance as far as Canadians go, but it's hard to beat Colton Haaker. I know Kyle Redman is coming and he won the event in 2014, and he's riding really well this year. It should be pretty exciting to see who comes out on top.
What would you say is the most interesting obstacle waiting for the riders?
I would say…we've created sort of a hybrid waterfall feature. It's kind of our feature obstacle that we have. It looks like rock ledge steps coming up and there's a 20-foot pool of water which then spills out over top of the steep stepdown over the waterfall-type feature. That's going to be really cool. We have the beer gardens that are right there at that area and then a fairly interesting obstacle after that is just a myriad of rocks and logs and sand and stuff, so it should be a pretty exciting area to be.
And it's all free to watch, too, right?
Ya! Ya, I think that's a Red Bull thing. All their events are free admission, so it should be great event for families. The weather is looking great so I think we're going to have a really good weekend.
After this is all done, what will you do next?
I have two sons and they're busy doing dirt bikes and racing, so we'll just finish up the season, and just come up with the next best event. I love doing the off-road unique one-off events. We'll be planning for Red Bull Rocks and Logs, if it comes back, and planning for a few other events. We're kicking around a few other ideas, so hopefully we'll be able to bring another world class event to Canada.
What's your 9-5?
I'm a welding inspector. I do a lot of contract work for the oil and gas industry which is a pretty big industry here in Calgary. I do a lot of quality control type stuff for end users on oil and gas equipment.
Well, thanks for taking the time to chat with us today. Good luck with your event this weekend. Would you like to thank anyone, before we go?
I've been a Husqvarna rider for quite some time now, and most of my support is provided through A & E Racing Team in Brooks, Alberta. I've been using Riders' Edge Suspension for quite a long time also.
---
Follow along with the action at their website: https://www.redbull.com/ca-en/rocks-logs-2017
The event went live in 2016, so if you're wondering what it's all about, here's a little 4+-hour long video to get you acquainted…
---
How to Watch: Regina National
LIVE STREAMING VIDEO
Brian Koster and Marc Travers, one of the best motocross play-by-play teams in the world, will call the live broadcasts of the 2017 Rockstar Energy Drink Motocross Nationals.  The live broadcasts will be available on the Conx2share mobile app and on www.Conx2share.com.
Koster and Travers have been calling Canadian Pro Motocross races since 2000, and are widely appreciated as the industry's best.
By downloading the Conx2share app, you can now see all ten rounds of the national series via live streaming video on your mobile phone, or log on to http://www.conx2share.com to watch the coverage on your computer. The best part is it's free!
Once downloaded from the App or Google Play store, the app will open on the "Discover" tab on the menu. Tap "Groups" to search for "CMRC Racing" and follow us. This will be the platform to view the live streaming coverage throughout the summer. You will receive notifications on your phone when the live stream begins.  Missed the race live? Not a problem, the races will be archived the Wednesday following each respective event on the app or website.
For each round, the live television coverage will tentatively begin at 11:45am local time with the gate dropping at 12:10pm. You will now be able to watch the racing as it unfolds through the cameras of Hill's Video Productions, the national series' television production company. Podium and pre and post-race interviews will give you up-to-the-minute coverage of each round, in a series that will host the most talent-filled field of Pros ever to compete in Canada.
Dependable live streaming video coverage has been on the radar for some time and now we've found it through our partner, Conx2share. Not only will this allow Canadians to follow each lap of each race, motocross fans worldwide can now watch what the excitement is all about at the CMRC sanctioned Rockstar Energy Drink Motocross Nationals presented by Motovan. Take the time to download the app, join the CMRC Racing group, or sign up online.
---
NITRO WORLD GAMES TO AIR LIVE THIS SATURDAY, JUNE 24,
AT 8 P.M. ET/PT ON NBC
Event Returns for Second Year Featuring the World's Best Action Sports Athletes
Todd Richards to Host the Primetime Broadcast with Tony Hawk and Travis Pastrana to Co-Host
STAMFORD, Conn. – June 21, 2017 – NBC Sports will present Nitro World Games, the revolutionary action sports competition returning to Salt Lake City's Rice-Eccles Stadium for its second year. Showcasing the world's best athletes in the sports of FMX, BMX, Skate and Scooter, NBC will televise coverage of the Nitro World Games this Saturday, June 24, at 8 p.m. ET/PT.
Among the more than 80 athletes scheduled to compete are 2016 winners Gregg Duffy, Capron Funk, Levi Sherwood, Elliot Sloan, Colton Walker and Ryan Williams. Other competitors include FMX riders Josh Sheehan, Clinton Moore, Taka Higashino and Javier Villegas, BMX riders TJ Ellis, Kurtis Downs and Jacob Bailey, and skateboarders Jake Brown, Trey Wood and Mitchie Brusco. The scooter competition field also includes Corey Funk, Jordan Clark and Will Barlow.
Todd Richards will return to Salt Lake City to host NBC Sports' primetime Nitro World Games broadcast on NBC for the second year in a row. Richards will be joined by skateboard legend Tony Hawk, the competition's skate commentating expert, TJ Lavin who will serve as the competition's BMX expert, and Travis Pastrana focusing on all things moto.
NBCSports.com and the NBC Sports app – NBC Sports Group's live streaming product for desktops, mobile devices, tablets and connected TVs – will provide streaming coverage of the Nitro World Games.
In addition, further event coverage and highlights will be available on NitroWorldGames.com. follow Nitro World Games on Instagram and Facebook.
---
OK, I have to keep it short this week to make it to the next destination on this #MXRoadTrip. Have a great weekend. I'll be solo at the races this week, so we won't be tweeting much play-by-play for this round. We will, however, have the DMX/FXR Highlight Video up on Monday, so watch for that.