Frid'Eh Update #29 Presented by FXR
By Jeff McConkey and Billy Rainford
Hello and welcome to Week #29 here at the DMX Frid'Eh Update Presented by FXR. I was out for a mountain bike ride talking about the series and we couldn't believe how fast the summers go by when you live week to week chasing the races. I made the mistake of mentioning that it also means LIFE is flashing by! Enjoy it, folks, because you'll be shoveling your driveway again before you know it.
For 2018, #29 goes to the rider we often refer to as one of the most naturally talented rider we've ever seen here in Canada. He's a big 'kid' and has the most fluid style of anyone. He never looks to be out of control and is always fun to take photos of.
We've known him since he was a big kid on a mini bike and he have followed his progress up through the amateur ranks and into the Pros.
Ryan Millar's RV was always a regular stop on my morning wanderings for coffee. They were always very welcoming and served up a nice, hot cupper with a smile.
I've hung out with this family all across the continent and it was great to see them back at the races full-time in 2017. Ryan ended up with national number 29 for this season, but he hasn't hit a national yet in 2018.
I saw him at the FXR Ride Day out in Manitoba and he told me he's not ready to hang with the top guys for 30+2 and didn't want to race until he felt properly prepared.
We grabbed the big, laid back farm kid for a chat and here's how our conversation went:
Direct Motocross: Hello, Ryan. We've known you for a long time. Let's start at the beginning. How did you get started riding and racing motocross?
Ryan Millar: My dad and uncles always had bikes and told stories of hill climbs down in the valleys near our farm so I always wanted a bike. I finally talked my parents into getting me one when I was 8 and I started racing when I was 9.
What was your first race number and how did you choose it?
My first race number was 50. I remember picking the numbers at home before the race. My number choices were 15, 30, 25 and 1 but my dad thought I said 50 instead of 15 and that's what I got.
You hit all the big US amateur events coming up. What was your favourite one and who were you up against?
My last one at Loretta Lynn's was probably my favourite in 2011. It was record breaking heat that year and I got 9th overall in 450 A, after breaking my femur earlier that year.
We often refer to you as one of the most naturally talented riders out there. How did you get your fluid style naturally or did you have to work at it?
I was obsessed with Moto, all I did was ride. I'd ride in the mornings until the school bus was waiting for me and when I got home I'd ride until dark. When I wasn't riding I was looking at MX magazine or shoveling BMX jumps.
You took a step away from racing a couple years ago to start a family. How are things different for you these days?
With two kids, work, plus racing on the weekends the schedules definitely full but everything's good. I guess the biggest change is learning how to juggle everything.
What do you do for your 9-5? Are you involved in the family farm?
I work on our farm at the start of spring for seeding and come back at the end of summer for harvest. In the time between, I run an excavator for a drainage tile company installing weeping tile in fields. Both jobs shut down for winter, perfect timing to head south or maybe step back into some AX racing.
You came back and did the full series in 2017. How was it coming back and what was the highlight of your summer?
It was awesome traveling with FXR and completing the series. I think that was my highlight. I needed to get through the series healthy. My shoulder was still messed up from the year previous but I needed to complete the series for myself.
Were you happy with how you did?
Yes and no. I was happy to finish the series but in no way did I feel I rode my best. I had a couple good finishes but I was in survival mode. I think, in my head, I didn't want to mess my shoulder up worse and I needed to make it through all the rounds.
What did you get up to over the winter?
I went down to Texas and put some time in. Texas is my home away from home. I've spent a lot of time down their over the winters and I already can't wait to go back
What are your racing plans for this summer?
My plans for this summer is to take a shot at the #1 plate for Manitoba and get used to riding my new Husky 250 2-stroke.
Who do you think is going to win the 450 and 250 classes this summer in Canada?
Colt for MX1 and Jess for MX2, both are killing it this year!
Will you take another run at the entire series?
I would love to again, maybe back to MX2 for next year if they still allow 2-strokes. I haven't run that class since 2008 as an Intermediate
OK, thanks for talking today. Is there anyone you'd like to thank?
SAR Husqvarna for helping me with the new bike, FXR and FXR Adrenaline for keeping me in the best gear, Factory Ride Suspension, CTi2 knee braces and Rekluse and Direct Motocross for the opportunity.
---
---
JEFF McCONKEY
---
Happy Friday, guys.
Rockstar Triple Crown MX Tour
Well, most of us survived Gopher Dunes last weekend. It was honestly hard on all of us — the heat, the humidity and the nasty rough track. There were a few complaints about the very steep, very big jumps by quite a few riders. I, myself, would have been terrified.
On a track with conditions that rough, the added danger of the super-lipped booters just wasn't needed, as riders are going to pushed without the monster jumps. The event itself was a beauty like always. The Gopher Dunes crew had the place looking great. The new fences, signage and just everything involved looked great. You can tell that the crew put a lot of time and effort into this National, and I think it really paid off. I have been hearing whispers that the attendance was the highest yet, and the fans were treated to some really good racing in both classes.
250 Class
In the 250 class, it was 'The Jess Pettis Show.' Fastest qualifier, both holeshots, led every lap, and both moto wins. Add in that he walked away with the red plate as the new points lead, Jess Pettis is a pretty happy dude right now. But a happy Jess means that former points leader Shawn Maffenbeier may not be the happiest.
Shawn has been riding very good, consistent, and pretty smart along the way. Unfortunately, Shawn ran into a mechanical issue that forced a DNF and cost him the points lead. Shawn won the 250 championship last season with 4 DNF's and some good luck. So, it is possible, but with the way Pettis is riding, Shawn will have to be on his game.
Another rider picking up steam, and who has an outside chance, is Joey Crown. Joey came into the season fresh off of some injuries and has slowly been getting himself back to form. He looks good out there, but I don't think he is back to his old self 100% yet.
No matter what happens, I really do feel we are going to see some great racing in this class right up until the final moto at Walton. And how good does that feel to say?! Yes, Walton is back and all 3 of theses championship contenders ride the Walton track very well.
Place – Name
Number – Hometown
5/26/2018
Finish
6/2/2018
Finish
6/9/2018
Finish
6/16/2018
Finish
7/7/2018
Finish
7/14/2018
Finish
Total Points
1st – JESS PETTIS


#15 – PRINCE GEORGE, BC

1st
1st
10th
1st
11th
1st
291
2nd – SHAWN MAFFENBEIER


#1 – KAMLOOPS, BC

2nd
2nd
5th
2nd
3rd
22nd
283 

(-8)

3rd – JOEY CROWN


#335 – METAMORA, MI

3rd
4th
3rd
3rd
2nd
6th
281 

(-10)

4th – JOSH OSBY


#18 – VALPARAISO, IN

4th
3rd
2nd
16th
4th
2nd
262 

(-29)

5th – MARCO CANNELLA


#66 – WATERDOWN, ON

6th
5th
4th
4th
6th
7th
244 

(-47)

6th – DYLAN WRIGHT


#12 – OTTAWA, ON

14th
13th
1st
12th
1st
4th
230 

(-61)

7th – TANNER WARD


#27 – WOODSTOCK, ON

8th
6th
8th
5th
7th
3rd
227 

(-64)

8th – HAYDEN HALSTEAD


#19 – WATERFORD, ON

9th
19th
6th
17th
5th
5th
188 

(-103)

9th – JARED PETRUSKA


#483 – CALGARY, AB

5th
9th
17th
6th
10th
13th
179 

(-112)

10th – TEREN GERBER


#58 – CORONATION, AB

10th
10th
9th
7th
18th
18th
150 

(-141)
450 Class
In the 450 class, Colton Facciotti is in control. Colt is riding very smart this year. He is keeping himself out of bad situations. He is winning when it is there, but he is not taking the chances when not needed. He finds this speed that nobody can seem to match at some races, and then he at other races he may look at little off, but him being off could be a 3-3. He has won many championships in the past, so he is no stranger to the pressure. I think he is the safe bet to take it home.
However, we can never count out Matt Goerke. He has had some bad luck, but this guy works his ass off and will never give up. Goerke is the dream rider from a manager's stand point. No drama, no bullshit, just hard work and results. Matt will need some good luck on his side if he is going to win this title, but anything can happen.
Tyler Medaglia has been on fire as of late. This guy is a workhorse and continues to improve bit by bit over the years. I don't think there were many, if any, upset to see the lovable T-Dags win the 2nd moto and overall last weekend at Gopher. He may not always be the fastest, week in and week out, but he sure as heck will be in the mix and giving it his all.
Kaven Benoit is the final guy in my opinion that has an outside shot at this championship. He just has so much speed and talent, he could easily run off a string of wins and steal this championship. Like we always say, this is motocross and anything can happen whether it be mechanical or an injury and it's not over until the final moto.
Place – Name
Number – Hometown
5/26/2018
Finish
6/2/2018
Finish
6/9/2018
Finish
6/16/2018
Finish
7/7/2018
Finish
7/14/2018
Finish
Total Points
1st – COLTON FACCIOTTI


#45 – AYLMER, ON

1st
1st
7th
4th
1st
3rd
306
2nd – TYLER MEDAGLIA


#5 – BROOKFIELD, NS

3rd
6th
3rd
7th
2nd
1st
281 

(-25)

3rd – COLE THOMPSON


#16 – BRIGDEN, ON

4th
4th
4th
2nd
5th
4th
280 

(-26)

3rd – KAVEN BENOIT


#26 – BON CONSEIL, QC

7th
8th
1st
1st
4th
5th
280 

(-26)

5th – MATT GOERKE


#1 – PANAMA CITY BEACH, FL

2nd
2nd
2nd
3rd
3rd
11th
276 

(-30)

6th – DILLAN EPSTEIN


#7 – THOUSAND OAKS, CA

14th
7th
5th
6th
6th
2nd
238 

(-68)

7th – KEYLAN MESTON


#10 – CALGARY, AB

5th
10th
9th
10th
10th
10th
202 

(-104)

8th – CADE CLASON


#9 – CHESTERFIELD, SC

8th
17th
16th
8th
8th
8th
182 

(-124)

9th – MIKE ALESSI


#800 – HILLIARD, FL

6th
5th
6th
5th
165 

(-141)

10th – RYAN LALONDE


#21 – VICTORIA, BC

10th
20th
12th
14th
12th
12th
149 

(-157)
---
Short and sweet for me this week. Have a great off weekend and we will see you in New Brunswick. #smileforBC.
---
BILLY RAINFORD
---
Thanks, Jeff. Yes, it's another off week for us, as far as the Canadian Nationals go, but there are lots of things to keep riders busy. If you're still in Ontario, you can head over to Muttco Mountain and hit their MMRS Muttco Mountain National.
Here's everything you need to know about the event this weekend. Scroll through the pages.
everything you need to know race practice order muttco national 2018

If you've already made the trek to the maritimes, you're probably planing on riding the River Glade track on Monday. If you didn't know, they are hosting a FREE PRO PRACTICE day at River Glade on Monday, July 23rd, 10:00am-2:00pm.
You may also want to stop off in Deschambault to ride the track before we get there the following week. They are open as follows:
Lundi/Monday – Fermé/closed sauf jours fériés/except holidays (ouvert de 11h à 16h)
Mardi – Fermé
Mercredi – Ouvert/open de 13h à 20h
Jeudi – Ouvert de 13h à 20h
Vendredi – Ouvert de 13h à 16h30
Samedi/Saturday – Ouvert de 11h à 16h
Dimanche/Sunday – Ouvert de 11h à 16h
* La piste peut être fermée pour différentes raisons en fonction de la température même les journées d'ouverture prévues. Vérifiez l'entête du site le jour même avant de partir.
---
ECAN at Deschambault
Motocross Deschambault is more than ready to greet you for a sixth consecutive year! Presented by Shot Race Gear and in association with the Motosport Racing Corp (MRC), the GNA Ecan (Grand National Amateur Ecan), will be held from August 2nd to August 4th. Sunday August 5th will be dedicated to the Women's Pro National Championship and to the National Rockstar Energy Championship presented by Honda.
Deschambault is the one and only place in the province of Quebec to hold a round this season. This upcoming week of racing will attract over 700 pilots and will crown the best racers of eastern Canada.
The top three racers of the GNA Ecan Shot event to access the podium will receive giant trophies and the top 4-10 racers will be rewarded with medals.
There will be a total of 25 000$ in prizes awarded for the Honda National Rockstar Energy Championship.
The MRC membership card is not mandatory for the GNA Ecan Shot event and membership cards from all other associations will be accepted without any extra cost.
Investments Made to the Motocross Deschambault SiteMajor investments were made in order to improve installations this year. A new and much bigger front deck was built in front of the previous one. This made it possible to add extra bathrooms and dressing rooms. Dorms, showers and a laundry room were also built in order to welcome young pilots who participated in the 4-week summer camp.  Due to all of the investments and to excellent track maintenance, many schools decided to make Deschambault their home this season. Junior Red Riders by Honda as well as Cobra's Elite School are two of them.
Once again this year, Motocross Deschambault will host a Straight Rhythm Race! There will be a 1200 foot straight line with many close-set jumps to create a fast and furious rhythm! Qualifying rounds and the final round will all be held on Friday August 3rd from 7 pm to 8:30 pm. Intermediate and Pro racers are invited to sign up by sending an email to dantibo@motocrossdeschambault.com before July 30th.
As in previous years, many important trophies will be awarded during this week of racing:
The Jean-Sébastien Roy Trophy will be awarded to the best amateur pilot, being the pilot who stands out the most during the event.
The Frédérick Laflamme Trophy will be awarded to the most outstanding Supermini driver.
– A motorbike will be drawn during the As du guidon de Yamaha contest (refer to the website for contest details).
Schedule InformationMonday July 30th at noon: opening
Tuesday July 30th and Wednesday August 31st: « open practice » to all
*It is not mandatory for race participants to practice*
Wednesday at 8 pm: opening ceremony at the Shot / Honda scene.Wednesday evening and Thursday morning: GNA Ecan Shot race registration
Friday from 7 :00 pm to 8 :30 pm: qualifying and final rounds of the Straight Rhythm event
* The complete schedule for the GNA Ecan Shot event held on Thursday, Friday and Saturday is available on the website: www.motocrossdeschambault.com *
Saturday evening: prize/medal ceremony for the GNA Ecan Shot event
Sunday August 5th – National Rockstar Energy Championship presented by Honda and the National Pro Women's Championship:
8 am to 11 am: qualifying round + women's practice
11 am to 12 pm: National Pro Women's Championship (Bike 1)
1 pm: Opening Ceremony
1:05 pm: Pro races start
2:45 pm:  National Pro Women's Championship (Bike 2)
5 pm End of pro races
5:15 pm: prize/ medal ceremony
---
The 26th Canadian Amateur Grand National Championship is open to ALL amateur racers.
Amateur National Qualifiers have been completed and pre-entries seeded into their gate spots. Pre-entered racers have been confirmed. NOW the remaining gates will be filled on an as-received basis with non-qualified racers.
If you want to compete for the Yamaha Factory Ride, the Bronze Boot or a national title you need to get your entry in right away.
The Walton TransCan is the chance each year for amateurs from across the country to go head-to-head with a throng of spectators and a whos-who audience of industry, sponsors and media in attendance on one of the most revered tracks in the country. It happens once a year at Walton, Ontario, every August.
Camping pre-booking is open now for registered racers. If you want to get a group together to camp or arrive early, this is the way to do it.
… will you be there? … If you are considering, in even the most remote way, that you might compete in the GNC, then get signed up now. If for any reason you can't make it you can cancel your entry and get a refund. You wouldn't believe the painful emails and phone calls we get each year after the deadline that start with "I wish I hadda …
… How will your region be represented?… If you know someone who SHOULD represent their region at the GNC make sure they get this information, be a buddy, encourage them and help them if they need it!
Walton is meant to be the best of the best.
See you in Walton Ontario
August 14-18 2018
!
---
2018 Loretta Lynn's Amateur Championship
OK, it's officially called the 2018 Rocky Mountain ATV/MC AMA Amateur Motocross Championship at Loretta Lynn's but that's just too much for me to type every time I reference the race.
It looks like I'm going to make the trek south from Moncton to be at the event this year. I haven't been since 2010 and we have a lot of talented young riders attending this year.
In 2010, it was the hottest year they had ever seen. It was 116 degrees F with an unbearable percentage of humidity added in. It was absolutely the hottest weather I've ever seen in my life. Many Canadians wilted in the heat and I barely made it through each day without collapsing. Tennessee in August…who knew?
I also remember they canceled every other outdoor sporting event in the state except the motocross! It was like a scene out of a D Day movie as the riders crossed the checkered flag and then collapsed as they looked for water and some way to cool off.
I went back in the old MX Forum archives and found my final Canadian Results post. Check out some of these names:
From: www.mxforum.com:
Loretta Lynn's Wrap-Up 2010
Well, I have now, finally, been to Loretta Lynn's for the big championships! I can tell you it was just about exactly all I was thinking and hoping it would be. I won't get into too much on my overall thoughts on the event because I will be doing an article on just that for IMX's next magazine issue.
Bottom line is that most of the Canadians in attendance struggled with both the heat and the excitement that surrounds this whole place. Sure, there were several big, positive moments but, for the most part, I think those who were there will chalk this year's event up to experience.
I had to leave early on Saturday and tried to make it as far into the adjusted schedule as I could because I knew there were a few Canadians left to compete in their third motos in certain classes.
The internet connection made things a bit difficult but the people at the McDonald's at the side of the interstate became sort of like a second family for me and several other 'media types' that showed up nightly.
I would also like to thank all of the Canadian families who really took care of me this past week. Honestly, moto families are some of the best. I basically hunkered down with the DaSilvas all week long. They were always there with a cold drink, delicious meal, or a 'swim' in their pool; great family. Most of the other Canadian families were pitted up the hill which made it difficult for me to mooch off them as often as I would have liked. Lol. Thanks for all the kind offers of food, drinks, and anything else I may have needed last week.
Tim Cotter is a stand-up guy too. I think he gave me some slack because I was the only Canadian covering the event. I don't think you are supposed to 'double fist' with a still and a video camera but when I was in the main office and someone told me Tim needed to speak to "the guy in the red shirt" Tim saw that it was me and just said, "Oh, it's you. Never mind, you've done nothing wrong." I really appreciate all the help he gave me too.
I strongly suggest taking holidays next year at this event, even if you aren't racing. To be honest, just hanging out in the river and watching all the racing would make a great family vacation. They have everything there you would ever need.
Ok, on to how the Canadians did. I was actually surprised we had 15 riders there (If I've missed any, please let me know). Here's how they did, semi-chronologically:
#19 Nicholas Cryer Dunnville, ON COB
51 (7-8) Stock: 31-14-10=17th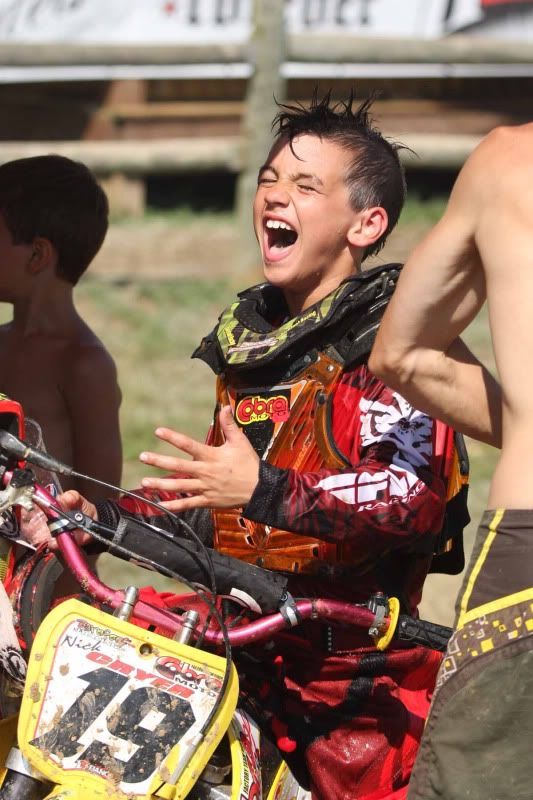 #40 Marco Cannella Waterdown, ON KTM
65 (7-9) Stock: 32-21-34=32nd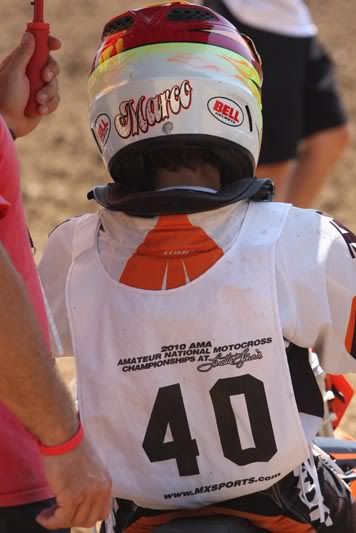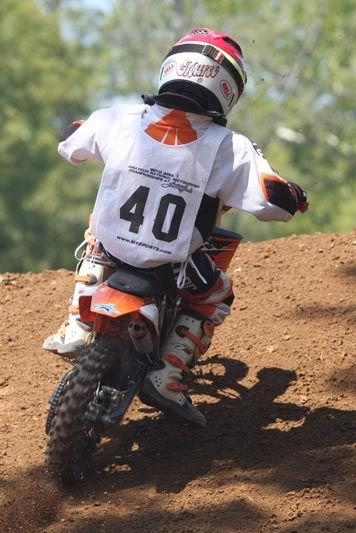 #17 Christopher DaSilva St Jean QC KTM
65 (7-9) Stock: 27-25-28=26th
65 (7-11) Mod: 41-37-DNF=42nd

#19 Nathan Cryer Dunnville, ON KTM
65 (10-11) Stock: 36-38-40=39th

#78 Westen Wrozyna Newtonville, ON HON
85 (12-14) Stock: 40-31-34=38th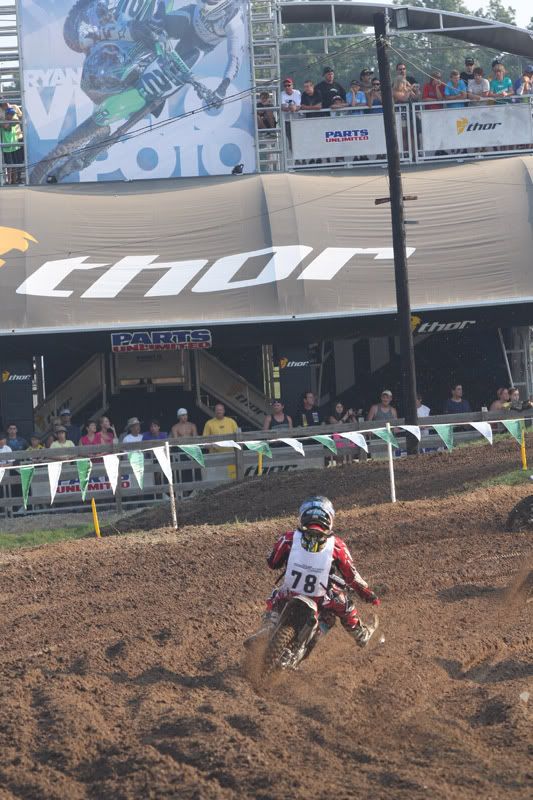 #51 Kade Walker 'Waldo, FLA' YAM
85 (12-14) Stock: 7-9-9=5th *Best Canadian overall
85 (12-14) Mod: 10-10-15=8th

#26 Cole Varty Edson, AB YAM
Schoolboy 1 (12-16): 35-28-32=34th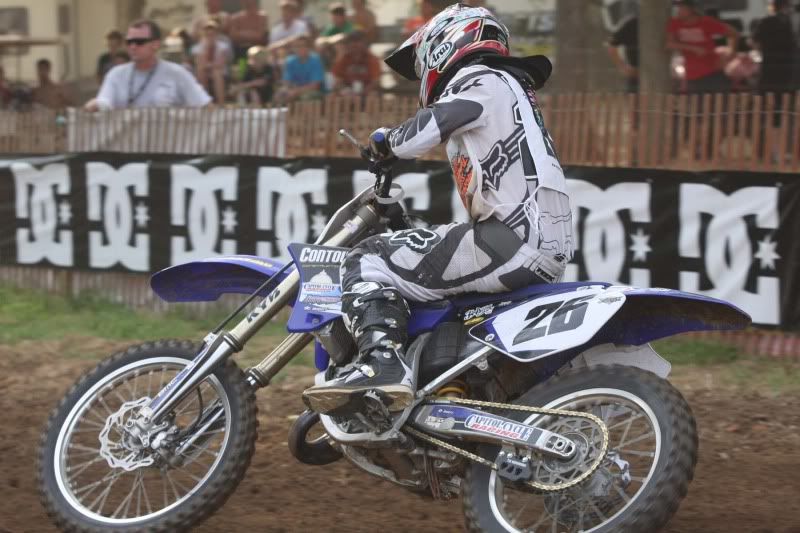 #18 Michael DaSilva St Jean, QC KTM
85 (12-14) Stock: DNF-17-18=26th
85 (12-14) Mod: 22-4-7=7th

#19 Cole Thompson Brigden, ON HON
Schoolboy 1 (12-16): 8-18-6=8th
Schoolboy 2 (13-16): 6-7-DNF=15th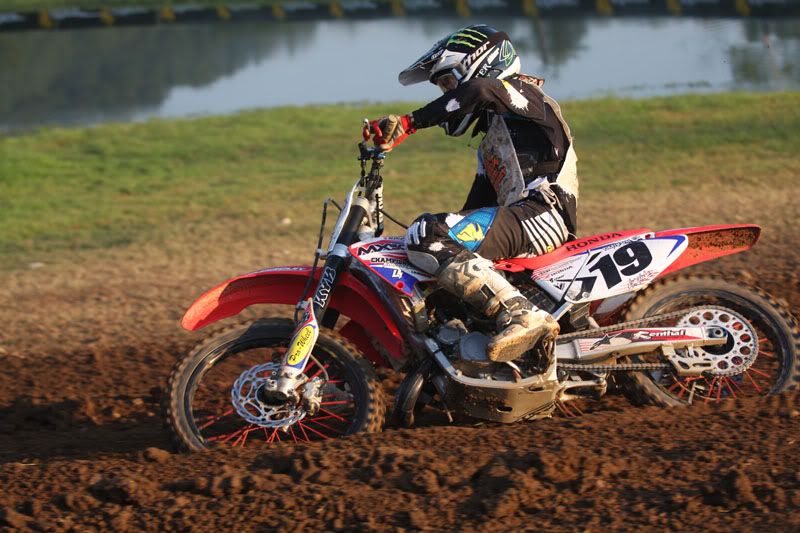 #24 Ben Toye Kitchener, ON HON
450 B Stock: 38-DNF-DNS=41st
College (17-24): DNF-DNS-DNS=DNF

#60 Myles Bartholomew Elora, ON HON
450 C: 27-5-3 Holeshot Award=9th *Best Canadian Moto Finish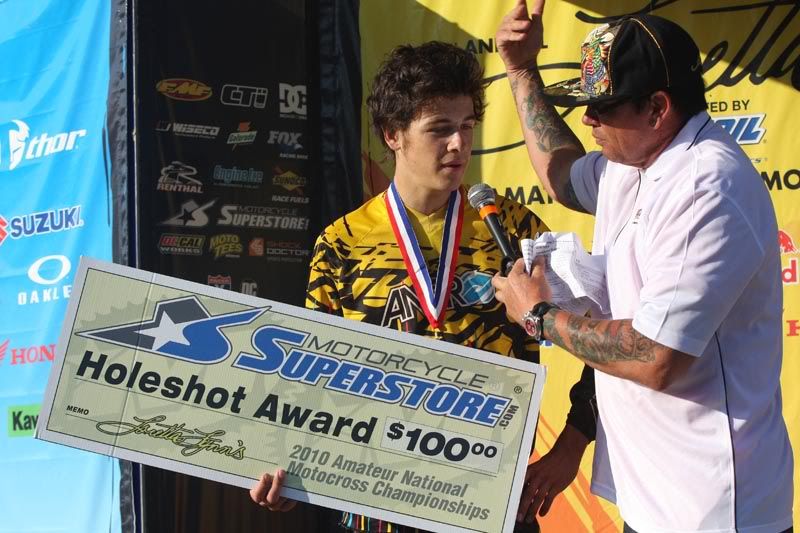 #57 John Pauk Arvada, CO KAW
450 B Stock: 10-11-12=7th
450 B Mod: 10-9-8=7th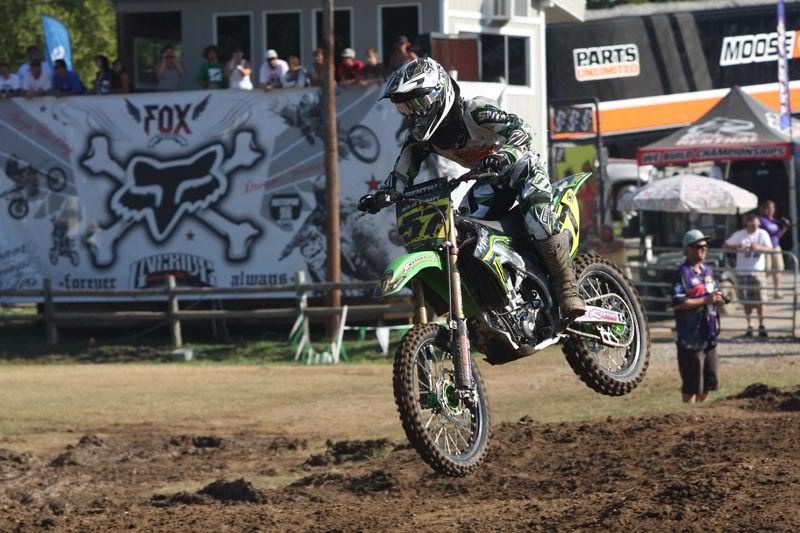 #33 Eric Jeffery Oshawa, ON HON
450 B Stock: 30-24-32=30th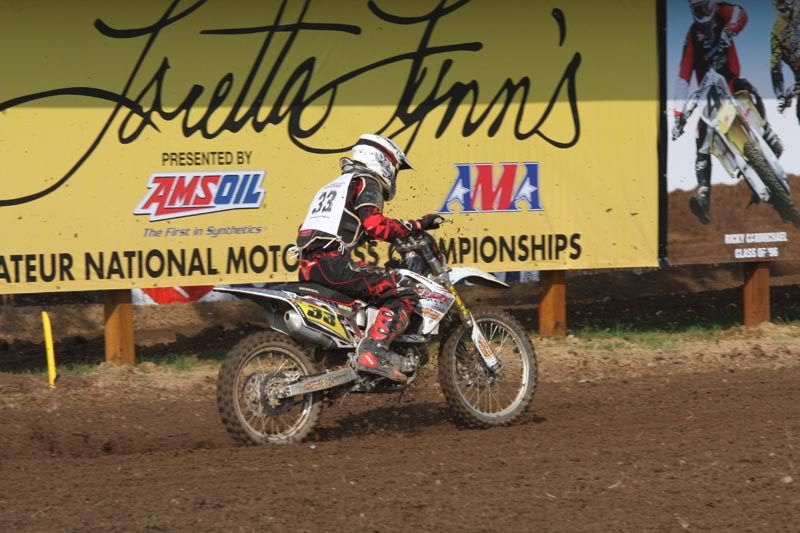 #88 Shane Colic Woodstock, ON HON
450 B Stock: 27-17-18=20th
450 B Mod: 27-DNF-26=33rd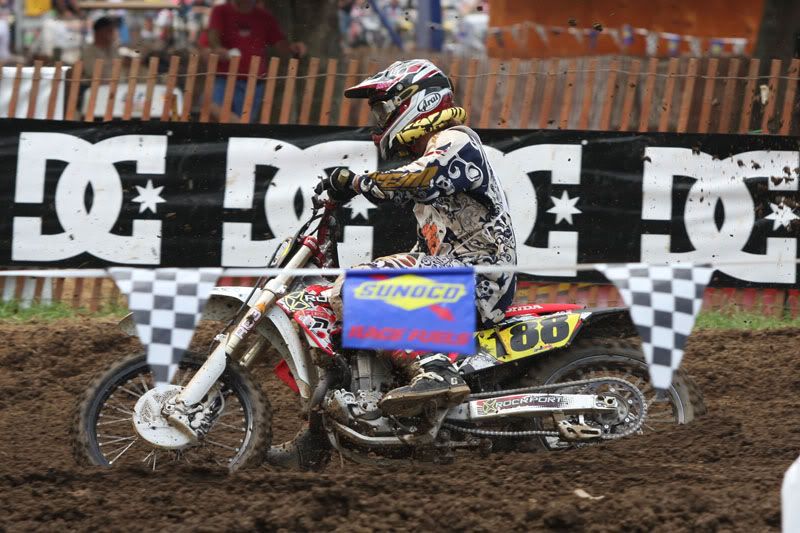 #11 Paul Kingsley Courtice, ON KTM
Senior 40+: 26-19-20=20th
Masters 50+: 7-16-7=10th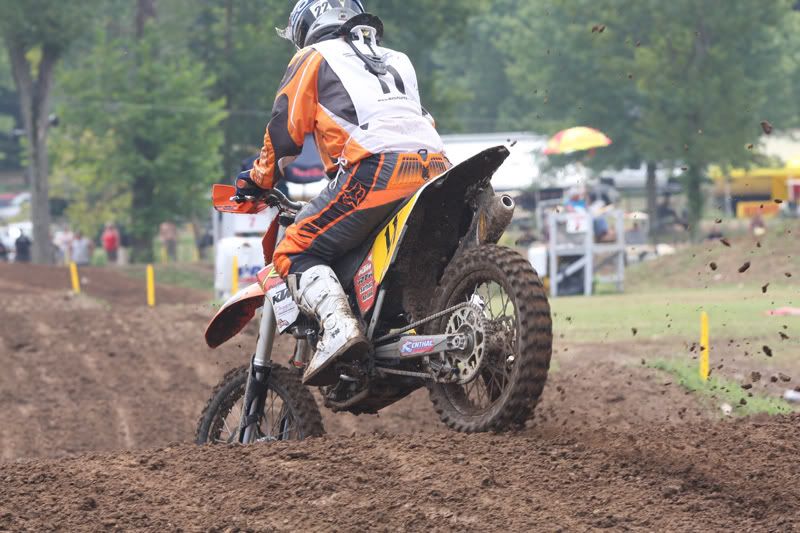 Those are the 'official' results but they definitely do not tell the story of what happened down in Tennessee. Most of these riders will be at Walton all this week at our version of Loretta's; the Walton TransCan GNC. If you see any of them walking around, ask them how it all went down. I'm sure they'll tell you a) it was ridiculously hot and b) it was an invaluable learning experience.
Practice those starts, 'fellers,' and we'll see you all lined up there next August ready to move up the result sheets with all the things you learned last week. It was great seeing the folks I already knew and meeting those I didn't.
Couldn't have happened without our sponsors, so, thank you very much!
Good times!
---
Canadians at Loretta Lynn's
Here's the list of Canadians competing at Loretta's this year ("tentative roster"):
125 C
250 B
250 B Limited
250 C
250 C Limited
250 C Jr. (12-17) Limited
450 B
450 B Limited
450 C
51cc (4-6) Special Limited
51cc (7-8) Limited
65cc (7-9) Limited
85cc (9-12)
Mini Sr 2 (12-14)
Supermini 2 (13-16)
---
SCOTT Prospect 2019 Collection
The SCOTT Prospect 2019 Collection is here!
Defend your Vision
After two years of incredible success, SCOTT is pushing the limits of goggle design again one step further. The
new Prospect 2019 line
is here and has everything what you are looking for: Perfected features such as the new 3 layer molded face foam, a maximum field of vision, fashionable and various color ways for your unmissable look and much more.
The new Prospect colorways will be officially launched during the weekend of 21st – 22nd of July 2018. The launch takes place on a global scale in the USA at the Lucas Oil Pro Motocross in Spring Creek and in Europe at the MXGP of Czech Republic in Loket. Our top international athletes will compete during this weekend with the new goggles.
PROSPECT FEATURES AT A GLANCE
Massive Field of Vision
We at SCOTT are proud to offer the largest field of vision on the market. The larger lens combined with a thin frame construction brings the lens closer to your eyes maximizing the overall field of vision.
Lens Lock System
The SCOTT Lens Lock System features 4 locking pins that go through the lens. No matter which impact, it guarantees that the lens is not popping out resulting in the safest lens retention on the market.
New 3-layer Molded Face Foam
The new 3-Layer Face Foam has two layers of foam and one layer of fleece. The first layer maximizes sweat retention, the second ensures a precise comfortable face fit and the third acts as barrier between the goggle and rider's face.
Pivoting Outriggers
The Prospect has two pivoting outriggers that adapt to any helmet shape and size. The resulting pressure created by the goggle on the rider's face provides a complete and consistent seal.
50mm Works Film System
The WFS50 is the best works film system SCOTT has ever produced and it is also the largest on the market. The view is wide open; the comfort beyond standard and the performance leaves other goggles scrambling for second place.
Click-on Canister
No need for tools, no need to waste time – simply click the canisters onto the WORKS pins and ride. This system is the ultimate in WORKS technology: Switching from roll offs to tear offs has never been that easy.
---
This Week in Lucas Oil Pro Motocross Championship: La Crescent Wine & Spirit Spring Creek National
It's always cool to pore over these stats for the upcoming round of the Lucas Oil Pro Motocross Championship. With no Canadian round this week, what else do you have to do?!
How to Watch: La Crescent Wine & Spirit Spring Creek National
Two weeks after a wild shakeup at RedBud caused the 450MX championship lead to change hands from Eli Tomac to Marvin Musquin, Lucas Oil Pro Motocross is back in action with a highly anticipated trip to Spring Creek Motocross Park in Millville, Minnesota for Round 8 of the season.
Whether you prefer to watch online or through your television, here's a rundown on how to see all the action.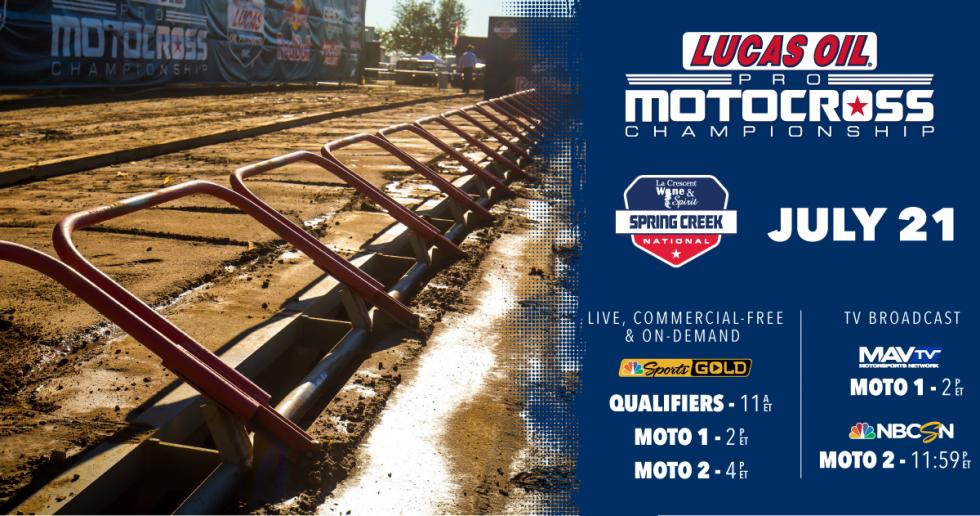 NBC SPORTS GOLD
Saturday, July 21
Qualifiers | 11:10 a.m. – 12 p.m. ET
All Motos | 2 – 6 p.m. ET
For the second straight season, NBC Sports Gold will provide the live streaming for all 12 rounds of the Lucas Oil Pro Motocross Championship. Every single moto can be seen live and commercial-free for subscribers who purchase the Pro Motocross Pass, and each race will be available on-demand for subscribers to watch later.
Exclusive to NBC Sports Gold will be live coverage of qualifiers – specifically, the second practice sessions for the 450 A and 250 A groups – at each round.
NBC Sports Gold is available to residents of the following countries: the United States, the United Kingdom, Germany, Sweden, Canada, Ireland, Denmark, Switzerland, the Netherlands, Austria, Spain, Italy, Luxembourg and Japan.
TELEVISION
For American fans, television coverage of all 12 rounds can be found on MAVTV and the networks of NBC. As always, MAVTV will show the first motos in each class live. For this week's race, NBCSN will air the second motos late at night on the same day.
The U.S. television schedule for Spring Creek is below.
Saturday, July 21
Moto 1 | 2 – 4 p.m. ET | MAVTV | LIVE
Moto 2 | 12 – 2 a.m. ET | NBCSN
Thursday, July 26
Highlight Show | 2 – 3 a.m. ET | NBCSN
For fans outside the U.S. who don't have access to NBC Sports Gold, the Nationals will be simulcast to various countries across the globe. Check your local TV listings for the time and network in your area.
For information about the Lucas Oil Pro Motocross Championship, please visit ProMotocross.com and be sure to follow all of the Pro Motocross social media channels for exclusive content and additional information on the latest news:
---
Gopher Dunes Strava Data
OK, there is not a chance in hell I was going to be able to get around the sandy Gopher Dunes track at the end of Pro Day last week on my regular Scott Spark 29-er. Step in Greg Poisson and Ryan Sweeney with the Shimano STePS system.
This was the closest you could get to riding it on a dirt bike as you can get while still getting a workout pedaling. It was amazing!
The guys were busy all day letting people head out for test rides around the grounds and everyone came back with ear-to-ear smiles on their faces.
They, of course, set the bikes up with the best of the best on them and the retail for the bikes as tested was around $16000! Ryan said they range between $3000-16000 but they brought the top of the line because people want to ride them like that and drool.
At the end of the day, feeling completely spent after 12 hours in the heat and humidity, Greg and I headed to the start gate and headed out for a lap. It was amazing and I can't believe how good I felt out there in the rolling chop. Here's a look at our loop from Strava.
Thanks again, guys, for the opportunity to ride one of these things. It may skew the results and make the Gopher Dunes track seem easier than some of the other tracks, but, believe me, it was 95% the bike!
---
Team Canada MXON
The selection has been made and the names on Team Canada's roster have been submitted to the CMA for approval. So, who do you hope is on there? Every time I have this conversation with someone, I flip flop a dozen times before raising my arms and conceding that any combination of the prospective riders would be a great team.
Of course, every fan has their favourite and has a team in mind. Let's just wait for the official release and support whoever Kourtney Lloyd has placed on the roster. We have a dozen combinations that would work great. There are factors that play into the choice, aside from simply who is leading the points series.
We did a poll on the site and here are the results as of today:
We forgot to add the option of Kaven Benoit, Shawn Maffenbeier, and Tyler Medaglia, so I'm guessing that is who the "other" votes are mostly for?
We spoke with Kourtney this afternoon and she gave us this statement:
"The selections for the team have been made and once the CMA and I feel like the time is right the announcement will be made.
"This decision was not an easy one and one I did not take lightly, as you can tell by the time I needed to make the proper selections.
"I hope riders, teams, and fans can uncerstand the selection and look forward to Red Bud! I am so proud of all the riders for making this such a tough decision and I respect the hard work and conversations this has taken between myself and them over the last few months."
For those of you who think I already know the team, I don't, but if I were a gambling man I'd bet on Kaven Benoit (MX1), Shawn Maffenbeier (MX2), and Tyler Medaglia (MX3). The Huber Motorsports rig would make the trip, save the team a ton of money, and that's a solid team, no matter how you slice it — 3 solid team riders with world class speed. Wait, what about…… (flip and flop)
---
Tyler Villopoto Whip at River Glade in 2012
I posted this Tyler Villopoto video up on our Facebook and Instagram pages and people can't get enough of it. It was something else, for sure. Check it out:
---
OK, let's leave it here for this week. We'll be sure to get in touch with some of the traveling Pro riders this coming week for a some podcasts and other articles.
I just wanted to wish everyone out in the Okanogan all the best with the crazy wild fires they're being forced to endure again. Brock Leitner is right in the path of a huge one out there in Summerland. Good luck and stay safe!