Frid'Eh Update #41 Presented by Yamaha Motor Canada
By Jeff McConkey and Billy Rainford
Welcome to Week #41 of the Direct Motocross Frid'Eh Update this week presented by OTSFF. We've all gotten to know Michael Fowler quite well over the past few years. He's the personal rider who always has time to talk to the media and anyone else who happens along to strike up a conversation.
His 2017 summer season got off to a rocky start that almost left them with a blank timetable (more on that later) but with an attitude as positive as Michael's they rallied together and made the entire season happen, regardless of the stumbling blocks placed in front of them.
Michael also lost his dad during the season, but in true moto family fashion he didn't skip a race weekend, and that's exactly how his father would have wanted it. Our condolences to you and your family, Michael.
Here's a look at his 2017 Rockstar Energy MX Nationals season:
Michael finished 15th overall in the MX1 class and will be #25 for the 2018 season. We grabbed him for a chat this week to learn a little more about his past and what he has planned for the future.
Direct Motocross: Hello, Michael. First off, our condolences on the loss of your father this past summer. Like we were talking about, moto families are the closest families. Can you tell us how you first got into motocross?
Michael Fowler: Thank you. It was very random and unexpected how we lost him this summer, but it showed me how much everyone in the moto community is there for each other. I had so many people willing to be there for me when I needed them this summer.
Anyway, I actually got started in motocross by seeing my cousins ride and I wanted to ride with them. My mom wanted me to play baseball and forced me to go to a baseball camp one summer. While I was gone, my dad bought me my first race bike which was a YZ80. Once I started riding and racing I fell in love with the sport and knew this was what I wanted to do with my life.
Where did you grow up and who were your influences as a youngster?
I grew up in a small town called Beech Creek in Pennsylvania. Not too big of a place so I could ride and no one really cared about the noise or anything. My biggest influences were my cousins, Jarred and Bryan. They both raced and rode and they had their own track long before I did. I used to look up to them so much and wanted to be as good as they were. I rode with them all the time in hopes that one day I could beat them.
How did you choose your first racing number?
Actually, my first racing number came on my bike. It was a used YZ80 with the number 5 on it. The number just kinda stuck with me. I ended up using that number for many years up until I made it to Loretta Lynn's where they forced us to run a two digit number which I then chose 15.
Can you take us through your amateur career? Biggest win, favourite year, best finish at a big amateur national, etc.?
My amateur career was nothing too spectacular. I didn't know much about racing when I started out. I didn't even hear about or know what Loretta Lynn's was until my last year on an 80. My first year I tried to qualify for Loretta's I was in the infamous C class (Laughs). It was 2007 and I ended up winning a moto at the regional which really spiked my confidence going into Loretta's.
I worked hard leading up to Loretta's and it paid off for me. I went 7-6-4 for 5th overall my first time there.
After Loretta's my parents decided we should try Mini O's. We headed to Florida not really sure what to expect. I ended up winning a National title in the Motocross C class by going 1-1. It may only have been C class but still counted as a National title and one of the coolest feelings I had in my amateur career.
Other than that, my amateur career was kind of a let down. I moved to B class, was actually sitting 2nd overall going into the final motos at the regional, and I ended up breaking my back. While I was out injured my local district forced me to the A class so I decided to just focus on trying to earn a Pro license from then on.
Who did you come up through the ranks racing against?
One of the guys I raced with growing up that people would recognize would be Nico Izzi. I wouldn't really say I raced him as much as he ran circles around me but I was on the track (Laughs). Other than that, I grew up with a lot of my local friends and family. My cousin Jarred was always the main person I wanted to beat. He is my cousin, my best friend, and number one rival. Still to this day no matter what we are doing it's a competition between us to see who can be better.
When did you turn Pro and what brought you up to Canada in the first place?
I turned Pro in 2011 I believe. I tried a few nationals here and there but never took it too seriously until around 2013-2014 when I started racing Supercross. That's when I started really putting effort into racing Pro. I love Supercross but it's way sketchier than anything I have ridden outdoors.
As far as coming to Canada, I had a little issue with the AMA at Red bud one year where my transponder that they gave us didn't work. I told the officials and they said it wasn't their issue and that's too bad. I basically went there, paid all my money, and didn't get a single recorded lap time. I asked them to just reimburse my entry fee since my transponder didn't work and they said, "not a chance." I decided if that's how they wanted to treat the riders that I would ride elsewhere.
I chose to try the Canadian nationals then and my first ever national in Canada was Gopher Dunes. Not the best decision I ever made (Laughs). I had never rode anything so gnarly until that day and the track definitely won that day.
What is it that keeps bringing you back?
I choose to keep coming back because I love the atmosphere and the people at the Canadian nationals. Everyone is so much friendlier and laid back versus American nationals. Just the overall fellowship of the riders in Canada versus America is totally different, too. In Canada, everyone is friends and we talk and laugh before and after motos.
In America, everyone basically feels like enemies all day at the track and it's too much pressure to act mean when you're already known for being too friendly to people.
You had a bit of a rough start to this season. Can you tell us about that?
Yeah, this year was a bit shaky starting off. We had some team issues where someone got offended by something that was only said to help the team and they decided to take the money and sponsors' products and leave all the riders high and dry the day we were leaving. All of the riders banded together and pooled our own personal money together to make this season happen.
I was actually en route to Kamloops when my phone rang and Andy White from FXR was calling me asking if I was coming to the first round because he got an email about how I wasn't racing any of the series. The guy who left everyone stranded went to all the sponsors and tried to throw the riders under the bus, saying how we all decided not to race and we weren't going to any rounds etc etc.
I had to make a lot of phone calls then on the last part of our drive to tell all the sponsors we were still racing and that they had received false information. Once we got to Kamloops though things got better when people saw us and realized we were actually there. It really helped to stop the rumors.
You finished out the year with some pretty solid performances. 11th at Pleasant Valley was your best. What was your best race this summer?
Yeah, for sure the 11th at Pleasant Valley was awesome. That was the best ride I had in the MX1 class this past season. My best result however came from my MX2 debut at RJ's. I ended up with a 10th overall on a bike I didn't even ride or practice on all season, so I would say that was my best race all year.
What's your favourite track up here?
My favorite track has to be Riverglade. I love going there every year. The people there are awesome and the track owners and crew are some of the best people you will meet. By far my favorite round, every year.
You ended up 15th in MX1. Were you happy with that?

Yeah, I ended up 15th overall in the series in MX1 but I'm not super-pumped on that. I messed up my knee at round two this year and actually had someone else starting my bike before the motos until we got to Gopher at round 5. That meant if I fell and the bike stalled that I was going to DNF so I had to ride cautiously until we got to round 5.
I wish I wouldn't have messed up my knee because I really wanted to try for a top 10 overall in the season. I mean, it didn't help at RJ's that I got a flat in the first moto 3 laps in and moto 2 was down in the first corner and had to fight my way back up through everyone until I hit the wall from double-classing. I mean, all things considered with the injury and bad luck I can't complain too much about 15th overall in the series.
Like you said, you raced both classes at the final round at RJ's. You kind of already told us, but how did your day go?
Yeah, like I mentioned, the MX1 class was kind of a wash out at RJ's with the flat in moto 1 and first turn crash in moto 2 before hitting the wall of exhaustion about 3/4 of the way through the 2nd moto after all the other races I had done before that.
Now, on the other hand, my day in MX2 was pretty good. I didn't have a great start either moto but I was able to go 13-11 for a 10th overall on a bike I didn't even ride or practice on. I was pumped on my rides in MX2. I just wish I could have done the same in MX1.
What did you get up to after the series ended?
Since the series ended I have been home a lot helping out with everything now that my dad is gone. Kind of took some time off riding because it felt weird racing without him around. I have slowly been getting back into riding and have done some Pro/Am races and went to the Sleepy Hollow two-stroke shootout race where I actually was able to win the 125 Pro class on a borrowed KTM. Currently, I am looking at getting a normal job for a while to help my family and hopefully save money to race next season.
What will you do over the winter?
This winter I will probably spend most my time working. I'm going to try my best to sneak in as many southern trips as possible to ride as much as I can and I will be trying to hit as many Supercross rounds as possible, as well. Can't miss Supercross, I gotta sign up and do it for my buddy I lost this past year. I'm going to keep racing in honor of Dylan Slusser because we always traveled together and raced the Supercross rounds together so Supercross is all for him.
If I can make it happen, I want to do the whole series again. I don't care what class or brand bike. If I can get any type of offer or support from someone up there I'm all in for coming back and putting in a full season at 150%. It's been my dream since I was little to race for a team and have support where I wasn't dumping all my money into it and eating all the costs. I want nothing more than to be able to race the full series again next year. I earned number 25 for next year so I want to drop that even lower next season.
OK, we'll let you go now. Thanks for chatting with us today. But before we do, who would you like to thank?
Yeah, no problem. I appreciate you taking the time to talk with me. I do have to thank everyone for helping me, though. I want to thank my parents for making this all possibly over the years, FXR and Andy White, Arai, Factory Connection, 100%, Sidi, Rekluse, FMF, Works Connection, Sunstar, Motool, TLR Performance, Moto Tape, Moto Hose, Cycra, Aggressive Graphics, MxTire, KSR Wheels, Engine Ice, Five Star Powersports of Duncansville, and Matrix Concepts.
---
---
JEFF McCONKEY
---
Hey, Guys. Happy Friday. Well, The Motocross of Nations has come and gone. No, we didn't win, but I think we did very well on the world stage and represented Canada very well. The conditions were obviously very tough and I'm very proud of all 3 guys, the mechanics, crew, Kourtney, and everyone involved. I think we have a great program, and we really need to keep pushing and supporting these guys each and every year.
---
SILLY SEASON
A lot of silly season news in the US, not much of anything going on back here at home. We are still waiting to hear if we are going racing again with the CMRC or will everyone be heading a new direction with JetWerx. A big question is, "what happens to the Women's Nationals if JetWerx takes over?" I have heard that  they may be racing in the Sunday as part of the amateur program. In my opinion, the girls have not stepped up to support and improve their own series much. Obviously, we have a few people that have gone above and beyond to make the series a success over the last few seasons, but for the most part, the rest of the girls haven't done much. I still don't understand why a "prize table" is needed? This isn't Timbits Hockey.
Quite a few of the girls like to call themselves "Pro Women" still, and I can't remember ever seeing a prize table for the men's Pro nationals. But anyways, whatever floats their boat. Talent-wise, the top few racers on both coasts have really put in the work and have stepped up their game a ton. Unfortunately, the rest of the pack is really far off of the pace and it looks pretty bad.
There have been a few rumblings that a few people would like to see the series go coast to coast with the men. I guess these people were around when this was going on back in the day. It didn't work back then and it won't work now. I'm willing to bet that we'd get a handful of fast girls to contest the entire series, and maybe a few others whose parents have deep pockets. If we barely fill over half of the gate now, what makes you think doing 8 rounds will improve the series? I'd love to hear it. Anyway, I think taking a step back and rebuilding may be the best thing for a few years.
---
Motopark 'War of MX' Vet National
Motopark will be hosting their War Of MX Vet National this Saturday. I, personally, love the idea and will be lining up, myself. New marketing coordinator, Graeme Jones, at Yamaha Canada stepped up huge and has graciously handed us at Direct Motocross a new 2018 YZ250f. I was fortunate enough to ride the new bike at the media launch earlier this fall, and I can't begin to tell you how great this bike is. Yamaha already had a great 250f, and they just tweaked and fine tuned this beast.
I've been a long time Yamaha pilot, and I can say that I'm a big fan of this bike. The power was very good all the way through the gears, and the bike seemed to keep revving and never really fell off. I was very happy with the cockpit and the brakes felt very solid. I think the biggest thing for me was the suspension. The bike tracked very well and it liked to sit in the ruts, which made life a whole lot better.
I'm really excited to have the opportunity to race the new bike this weekend and have a ton of fun on a very good bike. Thanks again to Graeme at Yamaha for the perfect weapon for the War of MX Vet National.
I'd also like to thank Dan from Strikt.  I will be wearing some very trick gear this weekend and beyond. It looks good, and functions and performs even better. Also, I can't forget Aaron and Davis from Mica Sport/Scott Sports Canada for their continued support and love. Thank you everyone for a great set up to go racing with.
---
That's it for me. Good luck to Bigwave on his surgery today. Hope all goes well. I'll see you at Motopark, and don't forget to #smileforBC and #liftwithscott.
---
BILLY RAINFORD
---
Thanks, Jeff. Good luck this weekend at the 'WAR OF MX" Vet National up at Motopark on your sweet new 2018 Yamaha YZ250F. Yes, we see the irony and humour in calling this event a "war."  Jeff will be heading over to Chatsworth this Saturday to go head to head with his old rival, Todd Kuli.
Kuli got the best of him at the Sprint Enduro at Gopher Dunes last month, so Jeff will need to even the score on the motocross track. To be honest, I can't see Kuli doing any of the big jump combinations at Motopark, so I give the nod in this event to Jeff. No pressure, Jeff.
I was joking with Jeff about the big battle and that there's a chance it could rain and he said, "Oh, I'm actually good in the mud, I just don't like getting dirty." How classic McConkey is that?!
Anyway, if I weren't sitting in a hospital as you read this recovering from High Tibial Osteotomy surgery, I would definitely be heading up to Motopark to snap some photos of this event. These vet races are always some of the most fun days you can have at a track.
Next time you see me, I'll hopefully be walking without a limp and toying with the idea of going for a run, but maybe I shouldn't ask for too much.
Good luck, everyone, and don't forget to pop your Ibuprofen on the way to the track!
---
It's Official, the 2018 MXON Will Be Held at RedBud
Legendary Lucas Oil Pro Motocross Championship Venue RedBud MX Adds to Legacy as Site of 2018 FIM Motocross of Nations
U.S. Track to Host Global Battle of Supremacy
MORGANTOWN, W. Va. (October 5, 2017) – One of the most storied tracks in the history of the Lucas Oil Pro Motocross Championship, presented by AMA Pro Racing, will add to its legacy next year when RedBud MX becomes the first venue in the United States since 2010 to host the FIM Motocross of Nations. Event organizers, Youthstream, made the announcement at this past weekend's annual MXoN gathering from Matterley Basin in England.
As the halfway point of each season RedBud is the centerpiece of the Lucas Oil Pro Motocross Championship, and also serves as American motocross' perennial Independence Day celebration. It has been a part of the championship since 1974 and thanks to an incredibly dynamic track layout and a diehard fan base, it has become arguably the most popular and most anticipated round of the summer.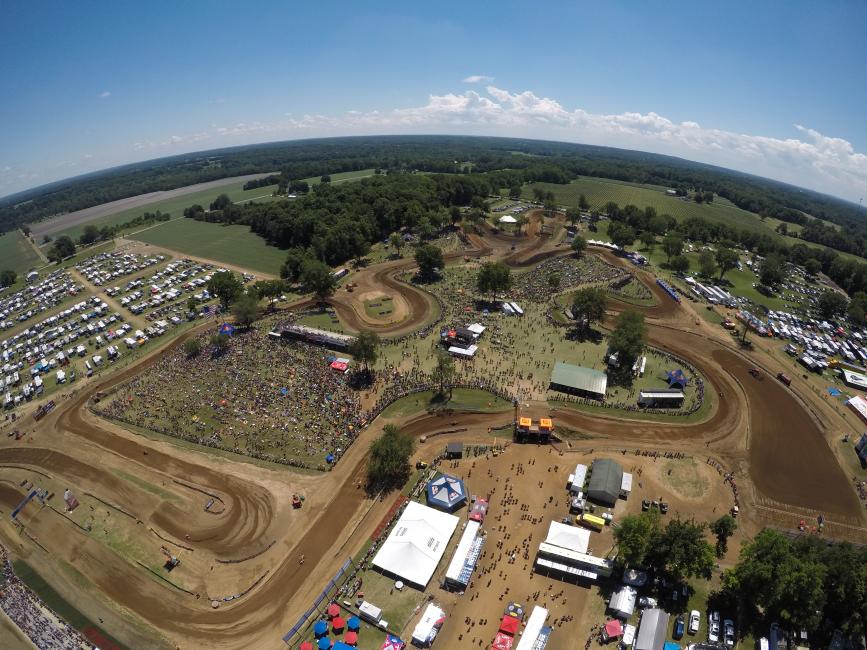 Second generation RedBud track co-owner Amy Ritchie was on hand for the announcement, proud to add her family's track to a small but prestigious list of U.S. venues, all Pro Motocross tracks, that have hosted the MXoN, joining Unadilla MX, Budds Creek Motocross Park, and Thunder Valley Motocross Park. The announcement carried added sentimental significance as well, with late RedBud patriarch Gene Ritchie serving as inspiration for the decision.
"My dad's passion for the sport put RedBud on the U.S. motocross map. He was very proud to see my brother [Tim], my sister [Angie], and myself continue to grow RedBud's legacy. He dreamed of hosting the Motocross of Nations one day and would have been thrilled to see that dream come true," said Ritchie. "Bringing the biggest motocross event in the world to RedBud is the perfect way to honor everything our parents put into this facility. We couldn't be more excited to welcome the world to RedBud and showcase what has made this track a favorite for visitors and racers. And we can't wait for RedBud fans to meet their counterparts from countries around the world! It's going to be a fantastic event."
Since it began in 1947, the Motocross of Nations has visited the U.S. just three times in 71 years. Unadilla hosted the first MXoN in the states in 1987, but 20 years passed until it returned for a second time in 2007 at Budds Creek. Just a few years later it visited Thunder Valley for the 2010 race. The United States team has won each MXoN on U.S. soil and has won a record 22 times in total, but is in the midst of a six-year drought since its last triumph in 2011, now the longest gap between victories.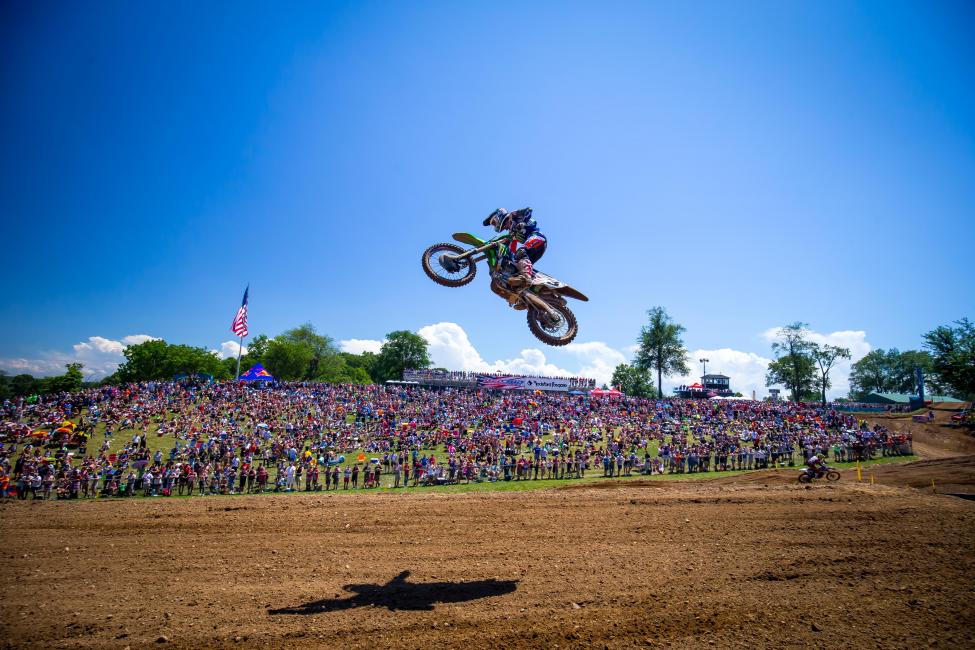 "It's no secret that the United States has had a tough go of it at the MXoN the last several years. Coming off its most adversity filled event to date, I'm sure team manager Roger DeCoster and all American riders are looking forward to the opportunity to represent their country and race in front of the home crowd," said MX Sports Pro Racing President Davey Coombs. "In many ways RedBud epitomizes what American motocross represents, and is a bucket list destination for any fan. Next year's MXoN is destined to be a truly memorable and highly competitive event."
The 2018 FIM Motocross of Nations will take place next fall, with the event dates to be announced in the coming weeks. Additionally, the 2018 RedBud National will once again take place on the heels of Independence Day. The 2018 Lucas Oil Pro Motocross Championship schedule will be announced next week.
For information about the Lucas Oil Pro Motocross Championship, please visit ProMotocross.com and be sure to follow all of the Pro Motocross social media channels for exclusive content and additional information on the latest news:
---
KTM Canada is Hiring
From: https://www.jobillico.com/en/job-offer/ktm-canada.rGsnOr/administrative-assistant/1390910
ADMINISTRATIVE ASSISTANT – CHAMBLY, QUEBEC
KTM North America – a subsidiary of KTM, a global leader in the off-road motorcycle competition segment and developer and producer of street as well as off-road motorcycles – has an exciting opportunity for a ADMINISTRATIVE ASSISTANT located in CHAMBLY, QUEBEC.  
SUMMARY
Under general supervision, the Administrative Assistant provides administrative and clerical support to all departments in the Canada office. Acts as point of contact and liaison between the US and Canada regarding administrative tasks and day to day operations.
ESSENTIAL DUTIES AND RESPONSIBILITIES
Provides general administrative support to various team members in a busy office environment. Handles basic office operations and administrative duties while identifying process improvement and cost savings opportunities.
Ensures office operations run smoothly by coordinating various administrative tasks/projects and expediting work results through diligent follow through.
Sorts and distributes incoming/outgoing mail on a daily basis and handles overnight shipments, as required.
Greets visitors, answers calls, and routes them to appropriate contacts.
Coordinates and arranges domestic and international travel for staff members, as needed.
Schedules meetings for staff members and may prepare related meeting materials (Word, PPT, Excel), as needed.
Prepares purchase orders and invoices/check requests for processing to the Corporate Accounts Payable department in the US office. May provide other support related to accounting or finance tasks, as needed, such as assisting in maintaining the office budget by recording, tracking and processing office expenses.
Maintains office supplies and equipment by monitoring inventory and placing orders.
Manages all recordkeeping and filing, including hard copies and electronic documents.
Acts as point of contact with governmental agencies.
Ensures proper French communications at all level to the Quebec market and assist in translation processes.
Manages all Canadian contracts, including real estate and vehicle leases, maintenance, security, racing, marketing, insurance, etc.
May run reports and compile information, as needed.
Partners with US Corporate IT department and/or other parties as needed for computer equipment issues, system access, phones, etc.
Assists US Corporate Human Resources team in various administrative tasks, such as collecting/distributing employee forms, following up with employees on pending benefits or other HR actions, manages time off calendar/tracking, other employee activities, etc.
Prioritizes and manages multiple projects simultaneously and follows through on issues in a timely manner.
Under the direction of the US corporate office, communicates important information to dealers via dealer.net and email blasts.
Performs mass mailing for PG&A and marketing material by using the most cost effective shipping means
Performs other duties as assigned.
EXPERIENCE REQUIREMENTS: Generally requires a minimum of three to five (3-5) years of experience in an administrative role. Bilingual in English and French is required. Required proficiency in Microsoft Office Suite. Motorcycle, motorsports or outdoors industry experience preferred.
EDUCATION REQUIREMENTS:  High school diploma required.
OTHER SKILLS AND ABILITIES: Generally requires the ability to demonstrate the following:
Ability to maintain confidentiality at all times
High degree of tact and professionalism in interpersonal communications and teamwork with internal and/or external customers; pleasant, cordial, team player
Strong work ethic, productivity, efficiency and attendance
Adhere to all Company policies/procedures, safety regulations, local/state/ federal employment laws
Excellent organization and attention to detail
Strong time management skills
Multi-task in a fast-paced, deadline driven and constantly changing environment
Flexibility to switch gears with little notice
Prioritize workload, meet deadlines and understand when to escalate potential issues
Basic math skills
Internal and external customer focused
Analytical abilities
Self-motivated with ability to use own initiative
SUPERVISORY RESPONSIBILITIES:  None
CONTACTS:
Internal:  All Canadian staff in all departments, certain staff in US Corporate office such as Accounting Finance, IT, HR, Sales, Marketing, etc.
External: Dealers, office visitors, customers
JUDGEMENT/REASONING ABILITY:  Ability to recognize discrepancies and resolve problems quickly using sound judgment, poise and diplomacy.  Requires ability to use judgment and reasoning skills, and determine when issues need to be escalated.
PHYSICAL DEMANDS:  The following physical demands are generally representative of those that must be met by an employee to successfully perform the essential functions of this job. Reasonable accommodations may be made to allow differently-abled individuals to perform the essential functions of the job. While performing the duties of this job, the employee is regularly required to see, talk, hear and speak; sit, stand and walk; use manual dexterity in hands and fingers; reach with hands and arms; kneel, bend and stoop; and.
Ability to lift, move, carry up to 35 pounds
<5% daily
Able to sit at a desk and use/view computer
90% daily
Able to talk, hear and speak into a telephone
60% daily
Able to stand, walk, bend, stoop, twist, squat
20% daily
WORK ENVIRONMENT:  In general, the following conditions of the work environment are representative of those that an employee encounters while performing the essential functions of this job.  Reasonable accommodations may be made to allow differently-abled individuals to perform the essential functions of the job within the environment.
Noise in the work environment is generally considered low to moderate.
Fast-paced environment with multi-level distractions
Professional, yet casual office work environment
Ability to work extended hours as required
Ability to travel if needed; travel is minimal up to approximately 15% in this position.
Required Pre-Hire Screenings:
Criminal – Felony and Misdemeanor 7 Years
National Criminal Data Base 7 Years
Driving Record
Successful candidates will be required to pass a post offer, pre-employment drug screen and background check.
APPLY ONLINE AT:
http://careers2.hiredesk.net/Welcome/?Comp=KTM&TP_ID=1&JB_ID=&LAN=en-US
LOCAL CANDIDATES ONLY.
NO PHONE CALLS, FAXES OR DROP-INS.
RATE OF PAY IS BASED UPON EXPERIENCE.  
---
Sorry, everyone. This Update is short and late. Those are two things I dislike. I'm currently sitting in UH recovering from what seems like a pretty barbaric surgery where they deliberately cut your tibia in half and plate it so it's in the shape of an open wedge. It sounds pretty gross, but if it means I can get back to being more mobile at the races, I'm good with it. It also means I'll have plenty of time ti sit around and spin yarns, interview moto peeps, and edit this Team Canada MXON video, so that's good. Unfortunately, this surgery means I'll be unable to fly to the Monster Energy Cup in Las Vegas next week.
Oh, before I go, there's a pretty cool rumour going around that Josh Snider and the Redemption Racing team are very close to sealing deals that would see them traveling the entire Supercross series, starting in January in California. None of this is confirmed, but names like Kyle Peters, Henry Miller, and maybe even dragging Blake Wharton out of moto retirement is on the rumoured table. Of course, they have their guy, Josh Osby, so this could turn into a pretty big deal, if any of it comes to fruition. We'll have to wait and see what happens over the next few weeks to find out what happens. I believe they're already planning on doing the East Coast, but this could bring things to a whole new level!