Frid'Eh Update #42 Presented by Strikt
By Jeff McConkey and Billy Rainford
Welcome to week #42 of the DMX Frid'Eh Update this week presented by Strikt. Wow, only 10 more weeks left in the DMX Frid'Eh Update Calendar. Where does the time go? This Update also falls on a dreaded Friday the 13th. That means the pilgrimage to Port Dover here in Southwestern Ontario is on for anyone riding a Harley Davidson. If I poked my head out the front door, I ould probably hear some heading south right now.
Week #42 goes out to another Quebec rider who made it to all 6 rounds of the eastern swing of the 2017 Rockstar Energy MX Nationals, competing in the MX2 class. Gabriel Tremblay lives in La Baie, Quebec, and had a best round of 16th overall at Pleasant Valley. Here's a look at his season:
Direct Motocross: Hello, Gabriel. For those out there who may not be familiar with you, could tell us about yourself?

Gabriel Tremblay:
I received my first motorcycle at 8 years old and my first race at the age of 10 years and since I have never stopped going to motocross races. My first motorcycle was a PW50 and climb class by class. one is a race family my cousin my father
Who got you into motocross in the first place?
My dad. (I used to) watch the motocross he was doing when he was young.
How did you pick your first racing number?
The first number is the same as my father at the time, 702.
In 2008 at the age of 19.
What was your first Pro race? How did you do?
My first Pro race was St-Julie at the national. I did not qualify but had a lot of fun and experience.
What do you like to do when you aren't riding a dirt bike?
I work and in the winter I play hockey and cross-country skiing.
I work with my father for his fencing company, Cloturesclermont. I am seller and task of project.
You did the entire eastern nationals. Your best was a 16th overall in Pleasant Valley. How did that day go for you?
Super! I did my best start and everything was fine. I held the speed without any errors.
You finished 28th overall in MX2 and will be #54 in 2018. Are you happy with that?
I am very satisfied but a little tired because I worked at the same time with a lot of travel. I think that I could have done a little better but with the circumstances I am very satisfied.
What have you been doing since the Canadian Nationals ended?
I did the rest of the season at my regional motocross club, SLSJ.
What will you do over the winter?
Hockey and cross country skiing, plus work.
What are your racing plans for next summer?
I do not know for the moment but (I'm sure) that I'm going to make some nationals and some regional and provincial and I'll come back in MX1.
Merci pour le conversation. Who would you like to thank?
I would like to thank Equipement Villeneuve which gives me a very good support and my father Fences Clermont without it would not be possible as well as the tower a beer, Atlas Canada, Estiky Graphick, and KTM Canada.

Thanks for taking the time to talk with us, Gabriel. With so many great Quebec riders to speak to throughout the season, I should really freshen up on my French. Thanks for doing your best in English.
---
---
JEFF McCONKEY
---
Vet Riders Down!
Happy Friday, everyone. Before I get started, we had some bad luck this past weekend. Our good friend Mike Parliament from MP1 Suspension had a big crash that resulted in some pretty serious injuries. Mike a tough guy, so I'm sure this will just be a minor setback and he will be giving us some great suspension in no time. Heal up quick Mike!
Unfortunately, Mike wasn't the only Vet rider to get hurt this past weekend. Another good friend of ours, Mark Booker, went down very hard on Friday at Motopark. Booker was airlifted from the track and has undergone numerous surgeries with many many more in the near future. I believe the broken bone count is at 36 for Mark and he is very luck to be alive and not paralyzed.
This is a guy that loves the sport and does a ton for it on the amateur side, and it's a real bummer to see such a good guy go down like this. I haven't seen a GoFundMe yet, but I sure as hell hope someone steps up so we can help Booker get through this tough time. Heal up Mike P and Booker, we need both of you guys back at the track!
---
My Apologies to the Women Riders
Next, I want to apologize for my rant last week about the Women's series. A good friend of mine and major supporter of the series sent me a message and opened my eyes a little bit. Unfortunately, I have been a little harsh on the girls and the series over the last little while and a little too negative. The problem is, I have been a supporter for longer than most of these new girls have even been riders or racers. I've seen the ups and downs and seen all of the hard work over the years by many many fantastic people.
I feel that the women racers should be respected for their abilities on the track. It needs to be about growing the series and growing the sport of Women's Motocross. That's it, that's all. Some of these girls think it's important to pose in bikinis with their bikes and so on. That's all good, but but like I have said before, this is Motocross not bikini-cross. If I'm going to put all of this time and effort into supporting the girls and their series, it's going to be for their skill on the track, not for their looks off of the track. Jeez what an 'A-hole,' right? Sorry, the two have nothing to do with each other.
Anyway, I wish the women and whatever series happens the best of luck. I just think some of the racers need to step up and support the people supporting them a little better.
---
Monster Energy Cup Saturday Night
Monster Energy Cup is already here. Summer and the outdoors have flown by and we are already back in the tight confines of stadium racing. We have some Canadian content to cheer on. As always, the great gang at PR-MX are ready to race anywhere, and we also have young Ben Kongmany lining up. Ben is a super talent and has a very good chance of winning.
---
Motopark 'War of MX' Vet National
This past weekend, I actually lined up for my first real moto race in quite some time. It's actually been since the spring of 2013 that I've "raced." Where better to line up than at Motopark's 'War Of MX' Vet National.
The turnout was pretty solid, despite the not-so-great weather. As always, the crew at MP did a fantastic job. A huge thank you to Graeme Jones at Yamaha Motor Canada for the use of the new 2018 YZ250f. The bike was great, but my starts and ability to stay off the ground weren't. I had a ton of fun and had the perfect set up thanks to Graeme.
I also have to thank Dan from Strikt Gear for the fresh threads. Strikt has some very cool things coming down the pipe, so keep and eye open and check their site out. Very cool Canadian company using Canadian materials.
---
Some big news out there that the CMRC has been sold. Not all of the details are out yet, but you can bet there will be a full press release soon. Nothing against Stally or the CMRC, but we just wouldn't have been able to function with 2 series. I'll hold off on going any deeper, and just say that I'm really excited for what lies ahead and let Billy talk a little more about what's going on.
---
That's it for me this week. Have a safe weekend and #smileforBC and #liftwithscott.
---
BILLY RAINFORD
---
Well, that's week 1 done of nothing but sitting on the couch, post-op, for me. All this couch time is the one thing that I don't miss about racing motocross. Not that I got hurt very often, but I think we mxers spend more than our fair share of time healing broken bones and whatnot. It just comes with the territory and it's strangely what keeps the sport in the 'extreme' category and drives us thrill-seekers in its direction. I guess we wouldn't have it any other way, would we?
Actually, I bet if you asked Mark Booker from Holeshot Motosports about it, he may be singing a different tune. Mark is the Vet racer who got himself an exciting Ornge helicopter ride from Motopark last week. It turns out he broke 36 bones in the fall! You read that right…36. I think that's all of them, no?
Mark, take care of yourself, and we'll see you somewhere soon. He's currently up at Sunnybrook in Toronto licking his list of wounds that reads something like what Evel Knievel's would.
---
CMRC/Jetwerx Deal is Almost Closed
As you've all probably heard by now, the deal that would see Mark Stallybrass sell the CMRC to Justin Thompson and Jetwerx is all but done. A signed letter of intent exists, but since the signatures aren't on the final legal contract quite yet, we cannot say that it's a "done deal," but it's doubtful anything will happen between now and the middle of next week to change anything.
The two entities have been in serious talks since last March, with things really heating up over the last 3 months. 2017 was the 25th anniversary of the CMRC and now it looks like Mark will be able to walk off into the sunset and enjoy retirement.
A letter of intent has been signed but that is not a binding contract, so that's why no official Press Release has been sent out letting everyone know about it…but it's coming. It's also why certain things in our conversations with both parties are strictly off the record and won't be discussed here.
A few things remain to be sorted out before this deal is completely done:
Will they keep the CMRC name or go the CMA/FIM route, or both, somehow?
The 2018 Arenacross series schedule will be slightly altered.
 The 2018 Pro Motocross series schedule will obviously be altered from what Jetwerx originally put out at their Press Conference back in August.
 What about MXP Mag? Mark owns 50% of it. Mark says he'll remain on as 'Copy Editor,' but that it is for sale.
Organizing the amateur side of the sport still needs to be worked out, but they're hoping to unify things for a stronger future.
Anyway, Mark told us he feels it is a "win-win" situation. He didn't want to see the two try to run their own Pro series in 2018 and feels they both got what they wanted out of this deal. In Mark's words, "One umbrella is needed."
One thing I took from and was happy to learn in my conversation with Mark was that he is very appreciative of the professional manner in which Justin and his Jetwerx team went about this transition. He was quick to point out that it wasn't always the case in previous attempts to wrestle the series away from him.
So, the bottom line here is that we will be going racing Professional Motocross in Canada in 2018! It will be the Jetwerx gang in charge and we should be able to just get back to the business of trying to keep growing this great sport across Canada and beyond.
We've been promised more 'official' information and a Press Release mid-to-late next week, so be sure to watch for that.
---
KTM Canada – Team Rider Update
I wanted to give Cole Thompson a call to check in on how his rehab from his thumb surgery is going, and then I also wanted to check in with Kaven Benoit, too. So, I decided I may as well chat with all 3 riders, including Tanner Ward, since they all have news.
Cole Thompson
If you'll recall, Cole crashed and snapped his thumb at the Bon Conseil round of the 2017 Rockstar Energy MX Nationals. He tried to ride through it but soon found it was just too difficult and decided to get the surgery done right away.
"wait until I'm back on the bike for a while before making winter decisions."
I grabbed him for a chat from his home in Brigden, ON today and he said that his thumb is feeling pretty good and he's getting back to full range of motion but he hasn't been riding yet.
He says he should be about a week away from getting back on the bike and that his practice bikes should be headed his way in time to get started.
Of course, I had to ask him whether or not his winter included plans to race Supercross and he said he would "wait until I'm back on the bike for a while before making winter decisions."
There's also the final round of the Costa Rican Motocross Championships in November but he's not sure if he will be partaking in that finale or not.
Cole will be moving back up to the 450 for 2018 and so that will influence his winter racing decisions a little, too. He found it difficult to be going back and forth and still be ready for his #1 priority which is the 2018 Canadian outdoor series.
Kaven Benoit
Kaven hurt his ankle racing Supercross in Germany last winter and it hasn't been quite the same since. He says he has days that are perfect and then he'll get the feeling "like knives are stabbing my ankle."
He has one more surgery scheduled for October 30th where they will have another look and maybe shave down some of the extra bone growth that appears to be hindering the joint's movement.
He's been mountain biking a lot and even raced last weekend. He's also been getting out on his KTM once or twice a week.
He'll, of course, need 3 weeks to a month off after his surgery and is hoping to head south to Club MX again some time in early February. He's focused on going after the 2018 MX1 title and said it will take an awful lot of convincing from JSR to get him to an indoor race this winter.
He also said he may look into doing a couple GNCC races that aren't too far from South Carolina while he's down there training.
Tanner Ward
Young Tanner Ward, who proved he's the real deal by racing for wins in his first Pro races, will be lining up in the Eastern round of the Amsoil Arenacross Series this winter.
Tanner went 2-2 for 2nd overall at Deschambault last summer!
It looks like my winter travel schedule just took an interesting turn.
---
Shelby Turner Back in Endurocross Action this Weekend in Washington
2017 ENDUROCROSS SCHEDULE
September 23 – Reno, NV
September 30 – Denver, CO
October 14 – Everett, WA
October 28 – Phoenix, AZ
November 4 – Boise, ID
November 18 – Ontario, CA
2017 AMA EnduroCross Series
Place – Name
Number – Hometown
8/19/2017
Finish
9/23/2017
Finish
9/30/2017
Finish
Total Points
1st – SHELBY TURNER


#1 – BARONS, AB

1st
1st
3rd
70
2nd – KACY MARTINEZ


#496 – PLEASANTON, CA

2nd
3rd
1st
67

(-3)

3rd – TARAH GIEGER


#68 – WINTER GARDEN, FL

4th
2nd
2nd
62

(-8)

4th – MORGAN TANKE


#31 – RIVERSIDE, CA

5th
4th
4th
52

(-18)

5th – TATUM HARRIS


#360 – SEQUIM, WA

DNF
5th
DNF
29

(-41)

6th – RYANN BRADLEY


#598 – SANGER, CA

6th
7th
28

(-42)

7th – BIBI CARMOUCHE


#177 – , 

DNF
8th
25

(-45)

8th – TAYLA JONES


#713 – MOORESVILLE, NC

3rd
20

(-50)

9th – NICOLE BRADFORD


#17 – MCCOY, CO

5th
16

(-54)

10th – SHARON MOWELL


#190y – PARADISE, CA

6th
15

(-55)

10th – MELISSA HARTEN


#53 – CALGARY, AB

6th
15

(-55)

10th – KENDALL REED


#27Z – PORT ORCHARD, WA

7th
15

(-55)

13th – BRITNEY GALLEGOS


#459 – MONTE VISTA, CO

7th
14

(-56)

14th – JANNIE LAMONTAGNE


#31x – CALGARY, AB

8th
13

(-57)
Good luck this weekend, Shelby.
PS Endurocross, your web page results could be MUCH easier to find.
---
Future West Moto AX Championship
Future West Moto Arenacross gets underway next weekend out in Armstrong, BC. FWM also announced their title sponsor for this upcoming championship:
Future West is exited to announce Kawasaki Canada as Title Sponsor for the 2017/2018 Arenacross Championships Series
7 days…….. Let's Go Racing!
Jess Pettis is the defending champion and Shawn Maffenbeier is planning on racing the series, so there is going to be some fast racing out there again this fall!
---
2018 Lucas Oil Pro Motocross Schedule
MX Sports Pro Racing and NBC Sports Announce
2018 Lucas Oil Pro Motocross Championship Schedule
12-Round Battle for Motocross' Most Prestigious Title Begins May 19
MORGANTOWN, W. Va. (October 12, 2017) – MX Sports Pro Racing and NBC Sports announce the 2018 Lucas Oil Pro Motocross Championship schedule, sanctioned by AMA Pro Racing. The summer-long battle for the world's most prestigious title in off-road motorcycle racing will once again consist of 12 rounds, beginning with the Hangtown Motocross Classic, the oldest race in American motocross, on May 19.
Each stop of the championship will feature a pair of motos across the 450 Class and 250 Class, resulting in 24 grueling fights for victory in each division that will ultimately crown a pair of champions at season's end. The opening round from Hangtown, in the shadow of the California state capital of Sacramento, will celebrate its landmark 50th year in 2018 and will set the stage for a compelling summer of competition.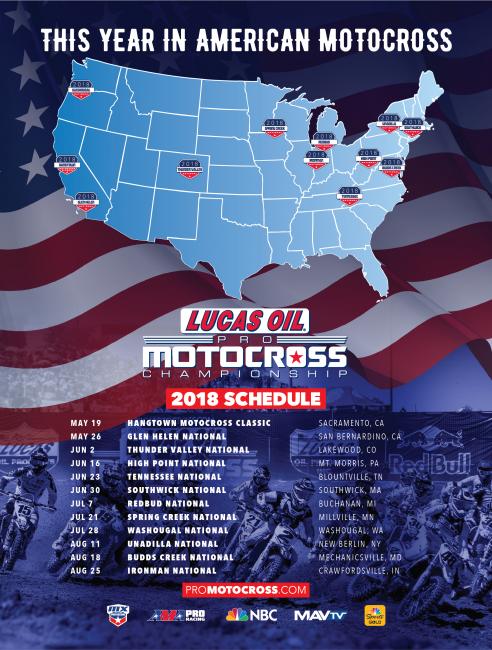 The championship's 11-state journey spans from the forests of the Pacific Northwest to the shores of New England. At the center of the schedule is legendary RedBud, which represents the sport's annual Independence Day tradition and was just revealed as the host venue for the 2018 FIM Motocross of Nations. The summer will come to a dramatic conclusion at American motocross' newest track, Ironman Raceway, which continues its rise in popularity amongst riders and fans alike.
"Following an incredible 2017 season that saw a pair of new champions emerge with American motocross' most esteemed title, it's anyone's guess as to who will make their presence felt in 2018," said MX Sports Pro Racing President Davey Coombs. "We welcomed an array of new winners last season, and this new generation of riders is surely going to continue to showcase the bright future of the sport. So many of the tracks in the Lucas Oil Pro Motocross are etched in the annals of history, and they continue to thrill fans and challenge riders to the fullest. It's why winning this championship is such a milestone achievement for any racer."
The Lucas Oil Pro Motocross Championship has served as the preeminent competition in motocross since 1972, and remains arguably the most difficult championship to win in all of motorsports. Last season, Monster Energy Kawasaki's Eli Tomac broke through for his first 450 Class title, while Rockstar Energy Husqvarna Factory Racing's Zach Osborne parlayed a breakout season into his first championship in the 250 Class.
Add the 2018 Lucas Oil Pro Motocross schedule and your other favorite race series automatically to your phone, computer and tablet's calendar by clicking the button below. Your calendar will always be up-to-date with the race dates including special information, broadcast channels and times.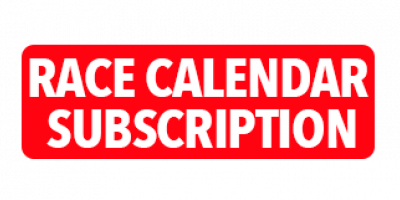 2018 Lucas Oil Pro Motocross Championship Schedule
May 19
Hangtown Motocross Classic
Prairie City SVRA
Rancho Cordova, California
May 26
Glen Helen National
Glen Helen Raceway
San Bernardino, California
June 2
Thunder Valley National
Thunder Valley MX Park
Lakewood, Colorado
June 16
High Point National
High Point Raceway
Mt. Morris, Pennsylvania
June 23
Tennessee National
Muddy Creek Raceway
Blountville, Tennessee
June 30
Southwick National
Southwick MX Park
Southwick, Massachusetts
July 7
RedBud National
RedBud MX
Buchanan, Michigan
July 21
Spring Creek National
Spring Creek MX Park
Millville, Minnesota
July 28
Washougal National
Washougal MX Park
Washougal, Washington
Aug 11
Unadilla National
Unadilla MX
New Berlin, New York
Aug 18
Budds Creek National
Budds Creek MX Park
Mechanicsville, Maryland
Aug 25
Ironman National
Ironman Raceway
Crawfordsville, Indiana
For information about the Lucas Oil Pro Motocross Championship, please visit ProMotocross.comand be sure to follow all of the Pro Motocross social media channels for exclusive content and additional information on the latest news:
---
Tomac will defend title at Monster Energy Cup
'I feel like we have a good shot,' Tomac says
National motocross champion Eli Tomac, of Cortez, will defend his title in the Monster Energy Cup Supercross in Las Vegas, racing for a $1 million prize.
To bring home the grand prize, Tomac must win all three 10-lap races on Saturday night. He won the event last year based on his second-, first- and fourth-place finishes and took home a prize of $100,000. He defeated rivals Ryan Dungey and Marvin Musquin, of the Red Bull KTM team, who teamed up last season to give Tomac all he could handle.
Only one other racer has won the grand prize, a fellow Team Monster Energy Kawasaki's premier 450cc racer, Ryan Villopoto in 2011.
In an interview with racerxonline.com, Tomac, who arrived in California earlier this week, was asked if he was planning on leaving Las Vegas with the grand prize.
"You know, that would be amazing, and that is something I'm definitely gunning for," Tomac said. "Shoot, every year I've gave it my all, but I feel like we have a good shot this year. If we get three good starts and give it our all — and with the way that our supercross season was going — I think we have a really good base setting for supercross now."
The Cup has a couple of features not found on other supercross tracks. The track has a split starting gate, with riders positioned in lanes on opposite sides of the track. After the start, they race through separate first turns and rhythm sections before coming back together just before the finish line section.
The track also features a fast joker lane, which can be used only once and becomes important for a rider's strategy. For example, if Tomac a bad start – it happens – he might take the joker lane on the first lap to catch up or take the lead. With such a strategy, Tomac, who often posted the fastest lap times of the season, could then try to put in nine fast laps before other racers take the joker lane. In such a scenario, Tomac could come out ahead on lap 10.
In another scenario, Tomac could rely on his passing skills to catch up, then take the fast joker lane late in the race to rush to the lead.
"I think the main thing you have to do is to literally remember that you have to do the joker lane," Tomac told RacerX.
"You're so focused and you're trying to think about the track or how you're going to deal with the guy in front of you. … You have to be able to switch that switch to make sure you take that Joker Lane."
Tomac, though favored to win the Cup, will face some stiff but familiar competition in Musquin, who placed second to Tomac this year in the Lucas Oil Pro Motocross Championship, and Jason Anderson. Anderson, the hard-charging Rockstar Husqvarna racer from Albuquerque, is coming off a recent injury and foot surgery.
The Monster Energy Cup is a daylong event on Saturday, starting with a pit party from 1 to 7 p.m. Mountain time. The Monster Energy Cup gets underway at 7 p.m. Mountain time with an Amateur All-Stars race and the Supermini race.
The Monster Energy Cup will be broadcast live on FS2 and via the Fox Sports GO app on Saturday at 7:30 p.m. Mountain time. On Sunday, the Fox Broadcast Channel plans to air a 90-minute encore after NFL games across the country.
---
OK, this has been way too much time spent in the upright position. I think I hear my late-afternoon nap calling. I really hate being on the sidelines! 1 week down, 7-9 left to go…
Have a great weekend and enjoy the Monster Energy Cup.