Frid'Eh Update #50 Presented by KTM Canada
By Billy Rainford
Welcome to Week #50 of the DMX Frid'Eh Update this week presented by KTM Canada.
Week 50 means we are now in the official off season and riders are taking a break and getting ready for the holidays. Sure, Canada was already in slow down mode, but with Dylan Wright heading over to Geneva, Switzerland last week we had something to pay attention to much later in the year than usual, so, thank you Dylan.
Now, riders are trying to solidify winter training plans and find a seat for the 2020 season that will be here before we know it.
For 2019, #50 went to the rider from Bermuda who is a youngster on the rise. Jyire Mitchell is a friendly and enthusiastic rider who will definitely find his way in the sport.
We got to know him when he showed up at the Walton TransCan in 2018 and looked like he could beat all our series best.
I just saw him at the Mini O's at Gatorback Cycle Park in Florida. He wasn't racing, he was cheering on some of his buddies from the training facility.
Here's a summary of his 2019 season here in Canada:
AXTOUR 2019

 Series Points  Summary 
 Class 
 Class Rank 
 Class Points 
 Points Behind Leader 
 Events Attended 
 Podiums 
 Overall Wins 
 250 PRO 
8th
63
46
4
0
0
 CLASH 
10th
0
16
1
0
0

 
AX ROUND 4 BARRIE – 4/28/2019 – MOLSON CENTER
 Class 
 Number 
 Brand 
 
 
 Moto 1 
 Class Finish 
 Points Earned 
 
 250 PRO 
 #50
 KTM 
 
 
 11th 
   
 3
 
 
AX ROUND 3 SARNIA – 4/18/2019 – PROGRESSIVE AUTO CENTER
 Class 
 Number 
 Brand 
 
 Moto 1 
 Moto 2 
 Class Finish 
 Points Earned 
 
 250 PRO 
 #50
 KTM 
 
 4th 
 10th 
 10th 
 16
 
 
AX ROUND 2 CALGARY – 4/7/2019 – NUTREIN EVENT CENTER
 Class 
 Number 
 Brand 
 
 Moto 1 
 Moto 2 
 Class Finish 
 Points Earned 
 
 250 PRO 
 #50
 KTM 
 
 2nd 
 4th 
 4th 
 23
 
 CLASH 
 #50
 KTM 
 
 5th 
 8th 
 8th 
 0
 
 
AX ROUND 1 ABBOTSFORD – 4/6/2019 – ABBOTSFORD CENTER
 Class 
 Number 
 Brand 
 
 Moto 1 
 Moto 2 
 Class Finish 
 Points Earned 
 
 250 PRO 
 #50
 KTM 
 
 3rd 
 5th 
 5th 
 21
MXTOUR 2019

 Series Points  Summary 
 Class 
 Class Rank 
 Class Points 
 Points Behind Leader 
 Events Attended 
 Podiums 
 Overall Wins 
 250 PRO 
11th
187
230
6
0
0
 250 GROUP A 
Not Scored
187
0
4
0
0
 250 GROUP B 
Not Scored
187
0
2
0
0

 
MX ROUND 8 WALTON – 8/17/2019 – WALTON RACEWAY
 Class 
 Number 
 Brand 
 
 Moto 1 
 Moto 2 
 Class Finish 
 Points Earned 
 
 250 PRO 
 #50
 KTM 
 
 8th 
 5th 
 6th 
 39
 
 250 GROUP A 
 #50
 KTM 
 
 
 
   
 0
 
 
MX ROUND 7 DESCHAMBAULT – 8/3/2019 – MOTOCROSS DESCHAMBAULT
 Class 
 Number 
 Brand 
 
 Moto 1 
 Moto 2 
 Class Finish 
 Points Earned 
 
 250 PRO 
 #50
 KTM 
 
 7th 
 9th 
 9th 
 36
 
 250 GROUP A 
 #50
 KTM 
 
 
 
   
 0
 
 
MX ROUND 6 MONCTON – 7/27/2019 – RIVERGLADE MX PARK
 Class 
 Number 
 Brand 
 
 Moto 1 
 Moto 2 
 Class Finish 
 Points Earned 
 
 250 PRO 
 #50
 KTM 
 
 7th 
 10th 
 8th 
 35
 
 250 GROUP A 
 #50
 KTM 
 
 
 
   
 0
 
 
MX ROUND 5 OTTAWA – 7/20/2019 – SAND DEL LEE MX PARK
 Class 
 Number 
 Brand 
 
 Moto 1 
 Moto 2 
 Class Finish 
 Points Earned 
 
 250 PRO 
 #50
 KTM 
 
 9th 
 11th 
 9th 
 32
 
 250 GROUP A 
 #50
 KTM 
 
 
 
   
 0
 
 
MX ROUND 4 COURTLAND – 7/13/2019 – GOPHER DUNES MX PARK
 Class 
 Number 
 Brand 
 
 Moto 1 
 Moto 2 
 Class Finish 
 Points Earned 
 
 250 PRO 
 #50
 KTM 
 
 9th 
 10th 
 9th 
 33
 
 250 GROUP B 
 #50
 KTM 
 
 
 
   
 0
 
 
MX ROUND 3 MINNEDOSA – 6/15/2019 – MCNABB VALLEY MX PARK
 Class 
 Number 
 Brand 
 
 Moto 1 
 Moto 2 
 Class Finish 
 Points Earned 
 
 250 PRO 
 #50
 KTM 
 
 14th 
 14th 
 14th 
 12
 
 250 GROUP B 
 #50
 KTM 
 
 
 
   
 0
 
 
We got in touch with him to get his take on things and find out what he has in store for the future.
Direct Motocross: Hello Jyire. Let's take it back to the beginning. How did you first get into the sport of Motocross?
Jyire Mitchell: I first got into motocross when I went to the track in Bermuda and my parents brought me a bike the Christmas after. 
What was your first number and why did you choose it?
My first number was 441 which is Bermuda's area code. 
Can you tell us what MX is/was like in your home country of Bermuda? How popular is it there? Race series?
There is one motocross track in Bermuda which has races every other week for 6 months of the year. There are approximately 50 racers on the island but it is very popular throughout the island.
When did you head to North America and what was your plan?
I raced 50s to 85s racing the amateur nationals then stopped for a few years then restarted racing in 2016. I raced Loretta Lynn's national in B class then A class for 2 years.
What made you decide to come up to Canada?
I decided to go to Walton after my last year at Loretta's in A class and enjoyed the racing and decided to race the next year which was last season.
How do you like our country? What is one thing that stands out for you here?
I like Canada a lot. It's laid back and the one thing that stands out I would say is the weather. I had a presumption that it was going to be really cold and snowing but the weather is really nice in the summer. I haven't experienced a winter yet though😂
You missed the first 2 rounds of the MX series. Where were you? 
I missed the first two rounds because of torn tendons in my right arm after Arenacross crash which took long to heal. 
Your best finish was a 6th overall at the final round at Walton Raceway. How would you sum up your series in Canada?
I would say it was disappointing series with playing catch up with my arm and a bunch of dismal starts and crashes. I felt better each and every weekend but ran out of rounds. I would definitely say Walton second moto was my best ride with a 5th. 
What did you get up to after the series ended up here?
I actually haven't rode much since Walton because I broke my scaphoid in the second qualifying through the rollers and raced on it which aggravated the injury. 
I saw you at the Mini O's last month. What were you up to in Gainesville?
I went to Gainesville just to watch A class and hangout with some friends. 
What are your winter plans?
My plans for the winter are to start riding in January and go to California to ride for 2 months before the start of the series. 
What are your 2020 summer plans?
The plans for now are to race the Canadian Rockstar Triple Crown Series again and hopefully put in some better results than last year. 
Oh good, I guess we'll be seeing you soon! Thanks for taking the time with us today. All the best and who would you like to thank?
I would like to thank my parents, Fly Racing, Pod knew braces, 100% goggles, South of the Border MX, Hoosier tires and VT construction. Thank you for having me!! 
Jyire will be #22 for the 2020 season here in Canada. It's great to hear that he's returning to our series because he's definitely got some unfinished business up here.
If he can make it through the entire season unscathed, he will be one to watch, for sure.
---
---
It looks like we're seeing the last above freezing day in my neck of the woods for a while. It's December 13th, so it's OK if the snow starts flying. This is Canada and I actually like the seasons.
We'll be heading to A1 before we know it. Monster Energy AMA Supercross did a short Preseason Supercross Power Ranking video. Check it out:
They gave Austin Forkner the edge in the 250 class and Eli Tomac took it in the 450 class. Neither one won a SX championship in 2019, but the choices are tough to argue against.
This video gives me some good ideas for ways to preview our upcoming racing season and have some fun.
We're heading into Top 10 List Season, so we'll be putting together some fun lists as we near the end of this calendar year.
If you're looking for an updated Team Roster list for the upcoming Supercross season, Racer X has done the heavy lifting and you can check it out HERE.
---
Leatt Launches the 5.5 FlexLock Boots
It looks like we'll be having a nice relationship with the folks over at Leatt Protectives so we're looking forward to working with them as we move forward.
We weren't able to get out to LACR in California for the launch of the brand new 5.5 FlexLock boots but we do have some video for you to look at that shows the new product.
CAPE TOWN, SOUTH AFRICA, December 12, 2019 Leatt has finally released the long-awaited ALL-NEW 5.5 FlexLock Boots as part of their Twenty/Twenty GPX range.
When it comes to your riding kit, a quality pair of boots is one of the top pieces of gear you can invest in. As key points of contact to your bike, it's essential that your feet, as well as your ankles and shins, stay comfortable and protected.
Three years of development and testing with our pro athletes from all over the world has resulted in the creation of the exceptional 5.5 FlexLock boot. A real head-turner when it comes to looks and style, the boots are available in white and black, red and blue, and plain black.
When riding your bike hard, the superior durability and support provided by Leatt's brand-new 5.5 FlexLock boots will be evident. Featuring a SlideLock system for an outstanding first-class fit and a low-profile toebox for easy gear shifting, these boots have all the features and benefits any rider will ever need.
Designed to optimize grip and maneuverability for landing those big jumps, while staying connected to your bike. CE tested and certified, the interior is cushioned with impact foam for a protective yet snug, soft and comfortable feel. An incredible FlexLock system that's proven to reduce ankle forces by up to 37% and knee forces by up to 35% upon impact when compared to an industry leading competitor boot.
Extensive research, advanced design and high-tech materials make these boots the next step in premium protective gear. Leatt is thrilled to now offer head-to-toe protection!
Strap into a pair of ALL-NEW Leatt 5.5 FlexLock boots for fluid, seamless and confident movement, as you shrug off dirt, debris and impact with ease.
US retail $389.99 / EU retail €389.00 / UK retail £330.00
I'm looking forward to throwing a leg over a bike and testing some of this stuff out as soon as the snow melts in the New Year. Or, if I can get my hands on some stuff sooner than that, I'll head to a track and try it out before the snow gets here. We'll see how it plays out. Either way, I can't wait to try it.
---
Team PRMX at Game Moto in Oklahoma
Although it doesn't look like we'll have a Canadian to cheer for in the 2020 Supercross season, we do have a Canadian team to focus on.
The PRMX Just1 Wossner Pelletier Kawasaki Team (whew!) is the team I'm talking about. Quebec's Julien Perrier has upped the team's game yet again and they are really going to make a splash this season.
The team looks like this:
250 West: #221 Mathias Jorgensen, #88 Logan Karnow
250 East: #96 Justin Thompson, #47 Lorenzo Locurcio
450: #280 Cade Clason (that's weird), #86 Josh Cartwright, Logan Karnow (East)
With a new rig, new sponsors, and new riders, this should be a good year for the "little Canadian team that could."
I got in touch with Julien briefly today and he confirmed that Cade, Mathias, Logan, and Josh are all at Game Moto in Oklahoma, Justin is at Club MX, and Lorenzo is at The Sandbox.
They'll all meet in California the week before A1 to dial in the race bikes before the season gets underway.
Good luck, guys.
---
Eve Brodeur Signs with FXR for 2020-21
Top Women's racer Eve Brodeur has signed on with Canadian FXR Racing for the next 2 season.
Eve had been with the Motovan-backed Shot Race Gear team, but there are big changes underway for the Canadian distributer and those changes have prompted Eve's move.
Here's her Instagram post:
---
Motovan Issues Statement
Further to what I mentioned above, Motovan Corporation has issued the following statement:
Dear Valued Customer,
On December 2nd, 2019 due to certain business and financial challenges we face, Motovan Corporation and Motorcycle Tires & Accessories LLC (collectively the "Company") voluntarily filed proceedings under the Companies' Creditors Arrangement Act ("CCAA"), which establishes a formal restructuring process while obtaining the protection of the law during the process.
The Company is NOT bankrupt and will continue its operations as usual.
In the coming weeks, the Company will establish a plan while in the CCAA process, giving us the flexibility to ensure you receive the service you are accustomed to from the last 40 years. Please understand that this is a necessary step since the process will provide the financial security and the
protection of the court for the establishment of a business strategy to ensure its eventual growth and long-term profitability.
The company will continue to be led by its current management team and our family as we have in the past. Furthermore, KPMG Inc. was appointed Monitor by the Court and they possess a vast experience and expertise in such processes.
Be sure that we will work diligently on the plan to ensure our success and continue our business relationship with you. For those who have open orders, this remains unchanged as during this process we will work with our vendors to make sure you get the needed inventory as quickly as possible.
On behalf of my dad, brother and our loyal employees, I would like to sincerely thank you for your understanding and support throughout this period.
Best Regards,
James Paladino, MBA
President and CEO
---
Bent Methods with Keylan Meston and Jared Petruska
As we head into our slow season here in Canada, what better way to spend some time than to watch and listen to Keylan Meston and Jared Petruska on their new YouTube channel, Bent Methods?!
I don't know what they're talking about but, knowing these two characters, it's pretty entertaining.
So far, they've got 2 episodes up on their channel. Here they are:
Episode #1
Episode #2
Good luck with your new venture, guys.
---
Grand National Cross Country Series Announces 2020 Schedule
11 Micro Rounds And Eight-Round eMTB Series For Next Year
MORGANTOWN, W.Va (December 13, 2019) – Racer Productions, producer of the Grand National Cross Country (GNCC) Series presented by Specialized, an AMA National Championship, is pleased to announce the 2020 series schedule.
The GNCC series will kick off with the Big Buck GNCC on February 22 and 23 in Union, South Carolina. From there the series will head southbound for the Wild Boar GNCC in Palatka, Florida, held in conjunction with the 2020 Daytona Beach "Bike Week" festivities on March 8 and 9. After Florida, the series continues the next weekend in Washington, Georgia for a back-to-back round with The General GNCC at Aonia Pass Motocross.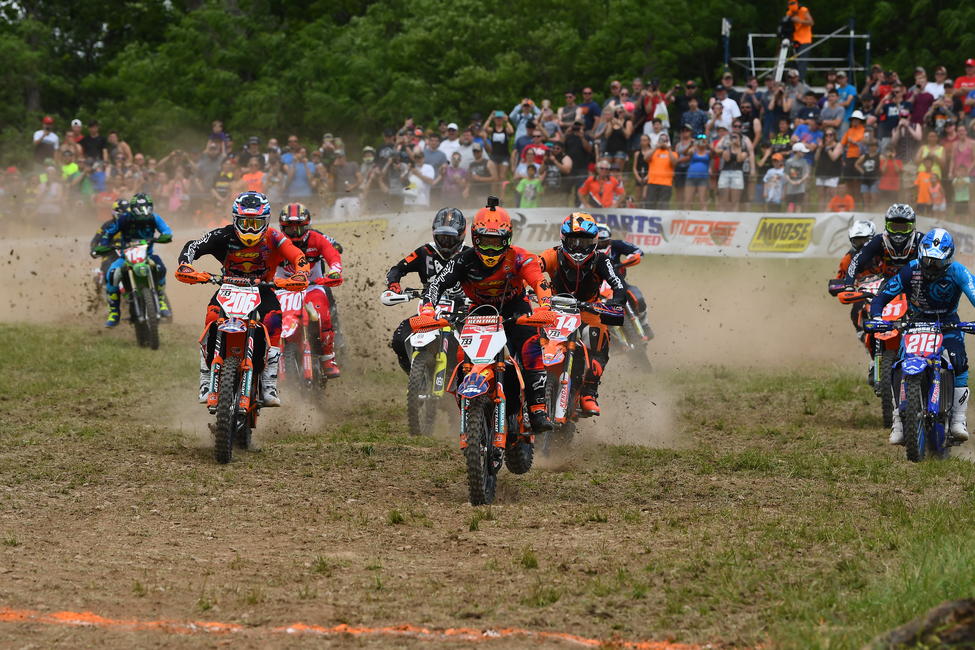 Moving onto the fourth round of the season, GNCC will continue to celebrate racing at Steele Creek in Morganton, North Carolina on April 4 and 5. Steele Creek is always a fan-favorite for families, friends and local residents. Steele Creek is one of the classic cross-country tracks with plenty of steep terrain and challenging trail, while also having a flowing and fun layout. However, due to waterway and land restrictions, we will not be able to race near the creek and the traditional weekend schedule will be altered such that the Youth Bikes will compete Saturday afternoon and the Bike Amateurs will be split into two groups in the morning. Unfortunately, we will not be able to race micros at this event. Keep an eye out for the upcoming 2020 GNCC Amateur Rules for more information on Micro racing, which will be held at 11 events in 2020.
Making a comeback to the series schedule for the first time since 2015 will be the Windmill Park or Mountain Ridge GNCC located in Somerset, Pennsylvania. This venue offers a traditional off-road track interlaced with majestic wind turbines. With a solid base, the weather will not be a factor at this event. The series is excited to head back to Mountain Ridge for 2020 as it looks to feature micro and eMTB racing throughout the weekend.
The series also returns to the Bluegrass State of Kentucky for the first time since 2013. The all-new Gladiator GNCC promises to be a welcomed addition with a broad range of rolling hills and virgin trails, opened for the first time to motorized vehicles. Located 4 miles from Bowling Green, the community support for this event is already booming, and we look forward to bringing our GNCC Racing family to the Home of the National Corvette Museum.
"The 2020 GNCC Racing season promises to bring even more of the great racing action you've come to expect," said GNCC Trail Boss, Jeff Russell. "We're continuing with some of our favorite facilities that always produce great tracks, and we're really excited for the addition of Bowling Green's Gladiator GNCC in May."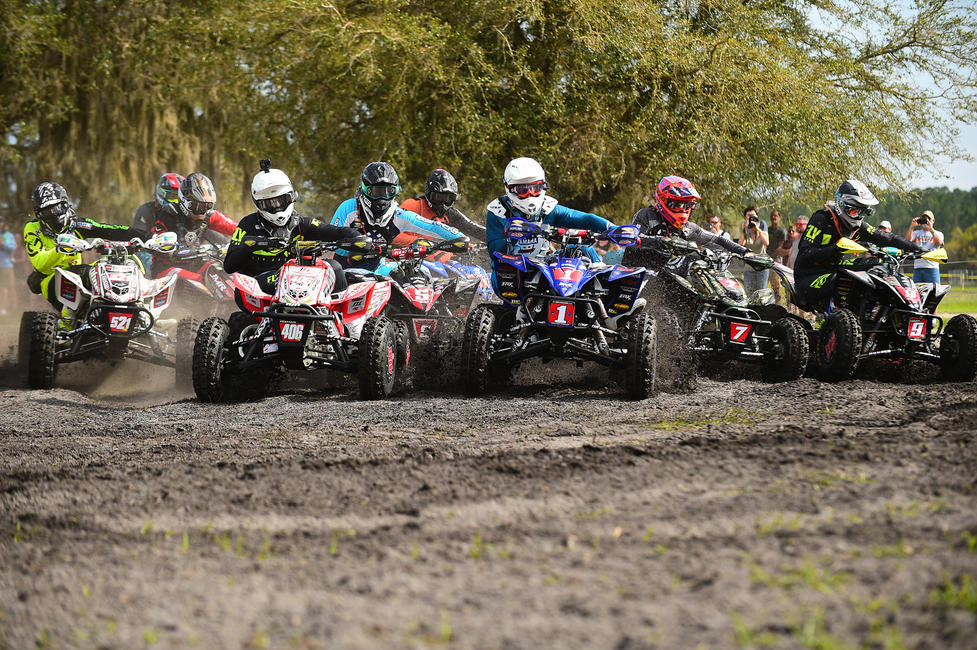 A rain date has been set for the 2020 season on the weekend of July 11 and 12, with the location to be announced at a later date, if needed.
After the summer break, the series will return to Summit Bechtel Reserve for round 10 on September 26 and 27. The Mountaineer GNCC proved to be a popular addition to the series last year. Located in the heart of southern West Virginia, the race is hosted at the spectacular 11,000-acre home of the National Scout Jamboree. Tough and rocky, racers loved the challenging terrain of The Mountaineer and we hope to bring them even more exciting trail.
The 2020 schedule welcomes back many of its most seasoned venues, including Big Buck in Union, South Carolina; The General in Washington, Georgia; Tomahawk in Odessa, New York; The John Penton in Millfield, Ohio; West Virginia's popular Snowshoe GNCC in Snowshoe, West Virginia; and the Ironman finale in Crawfordsville, Indiana.
Returning to the schedule on Saturday afternoons will be the eight-round Specialized Turbo eMTB GNCC National Championship. The first round will be held at The General GNCC on March 14. Mountain Ridge at Somerset in Pennsylvania will host round two, followed by the newly added Gladiator GNCC in Kentucky and Snowshoe in West Virginia. Round 5 will be hosted at Loretta Lynn Ranch in Hurricane Mills, Tennessee on Saturday, August 1 as a one-off event held in conjunction with the AMA Amateur National Motocross Championship.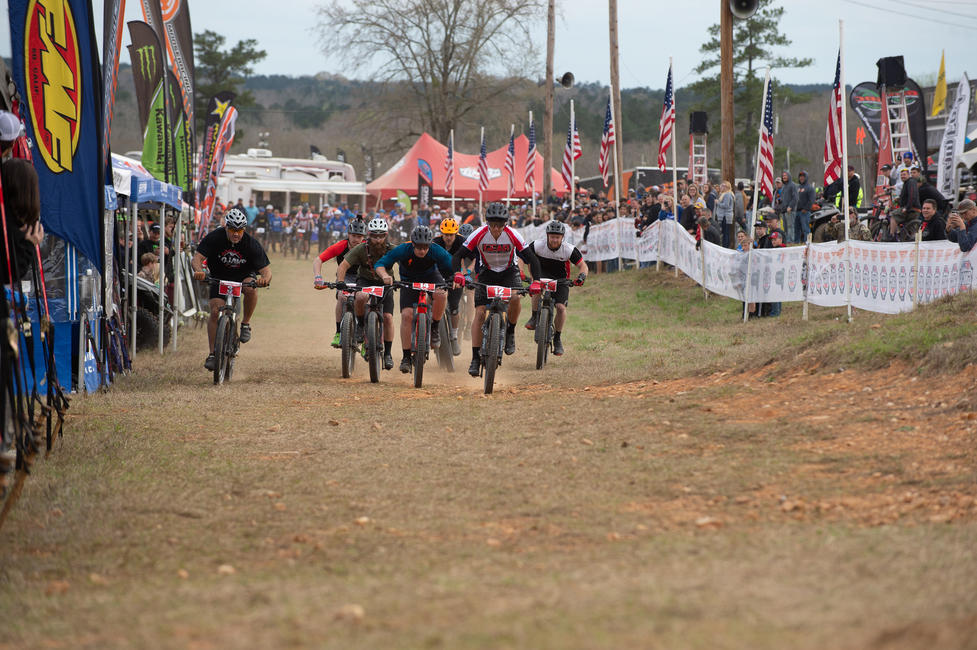 The eMTB schedule will pick back up after summer break on Saturday, September 12 at the Mountaineer GNCC in West Virginia, with round 7 taking place on September 26 in New York at the Tomahawk GNCC. The eMTB series finale will be held in Mt. Morris, Pennsylvania at the Mason-Dixon GNCC on October 10. The Ironman GNCC will serve as a rain date round for eMTB racers in the event an eMTB race should be cancelled earlier in the season. If no rescheduled race is required, the Ironman GNCC event will hold a one-off fun and free eMTB event for anyone who owns an electric mountain bike and just wants to giving racing a spin, courtesy of Specialized.
The GNCC Series will then celebrate the year and the top-10 finishers of each class on December 12 and 13 in Morgantown, West Virginia at the Morgantown Marriott. ATV, ATV micro and eMTB riders will be recognized on Friday night, while Bike and Bike micro competitors will be recognized Saturday evening.
RND
DATE
EVENT
LOCATION
MICRO / eMTB
Rnd 1
Feb. 22/23
Big Buck
Union, SC
Micro
Rnd 2
Mar. 7/8
Wild Boar
Palatka, FL
Micro
Rnd 3
Mar. 14/15
The General
Washington, GA
Micro & eMTB
Rnd 4
Apr. 4/5
Steele Creek*
Morganton, NC
–
Rnd 5
Apr. 18/19
Camp Coker Bullet
Society Hill, SC
Micro
Rnd 6
May 2/3
Mountain Ridge
Somerset, PA
Micro & eMTB
Rnd 7
May 16/17
Gladiator
Bowling Green, KY
Micro & eMTB
Rnd 8
May 30/31
The John Penton
Millfield, OH
Micro
Rnd 9
Jun. 27/28
Snowshoe*
Snowshoe, WV
eMTB
Rain Date: July 11-12
–
Aug 1
Loretta Lynn
Hurricane Mills, TN
eMTB ONLY
Rnd 10
Sep. 12/13
Mountaineer
Beckley, WV
Micro & eMTB
Rnd 11
Sep. 26/27
Tomahawk
Odessa, NY
Micro & eMTB
Rnd 12
Oct. 10/11
Mason-Dixon
Mt. Morris, PA
Micro & eMTB
Rnd 13
Oct. 24/25
Ironman
Crawfordsville, IN
Micro
Rain Date: Oct. 24 Ironman eMTB
Banquet
Dec. 11/12
Banquets
Morgantown, WV
*All rounds except Steele Creek & Snowshoe feature Micro Racing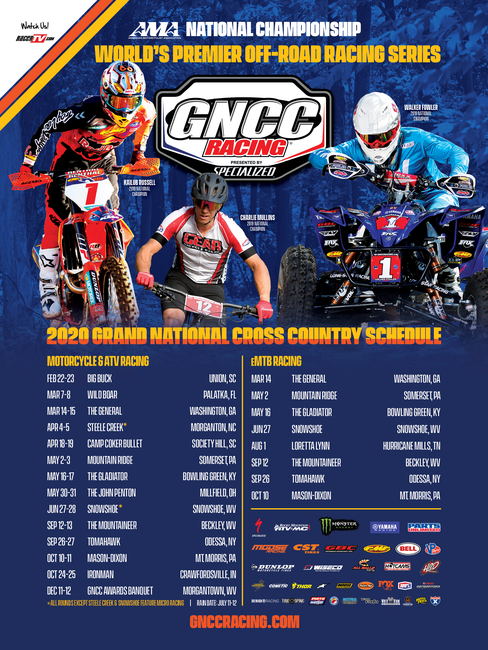 ---
Podcast with Dylan Wright and Derek Schuster
In case you missed it, I got in touch with Dylan Wright and Derek Schuster as they were making their way home from the airport after a trip to the Geneva Supercross.
It was great to be able to have them both at the same time and I think it makes the whole conversation more interesting.
If you haven't yet, you can listen to it here:
---
Have a great weekend, everyone. As I look out my office window it actually looks like it was a very rideable day out there! Thanks for reading and we'll see you all next week.
We'll let Matt Goerke have the last word this week, as he is finally home after his crash in Germany. See you at the races…