TBT | 2009 Ste. Thecle National Photo Report – The Mud Race
By Billy Rainford
The 2009 CMRC Canadian MX National at Ste. Thecle in Quebec is a race that sort of lives in infamy.
We headed to the small French town for one show and got more rain than you can shake an umbrella at. I was doing the live audiocast for MX Forum and 'Pirate Radio.'
They had to cut the day short and it was muddier than you can even imagine. Here's the Photo Report I put together for The Pink Palace after the event. It's a pretty classic 'Throwback Thursday.' (It's a little odd because I used to put the captions above the photos.)
---
So, after the early-season panic about whether or not there was going to be a National Round in Quebec, Round 6 has come and gone.
Everything started out so nicely when I got there on Friday. I was given the royal treatment with a guided tour of the grounds and a plum parking spot. As you approached the town of Ste Thecle there was no doubt that something big was coming to town.

The track was a bit short and Pro parking a bit tight but aside from that the set-up was beautiful. It's nestled in a small valley surrounded by a little lake.

The party at the track Saturday night was 'off the hook!' The people in La Belle Province really know how to have a good time. They had two bands and the tent was jam packed until the final song was played. They even serve beer from a cart just like you're at a golf course!

The mood was so good Saturday night that teams were even seen hanging out together! http://www.youtube.com/watch?v=w91-GMc3j7I
Here's the Orange Motorsports KTM team chilling with the Cernics Kawasaki team.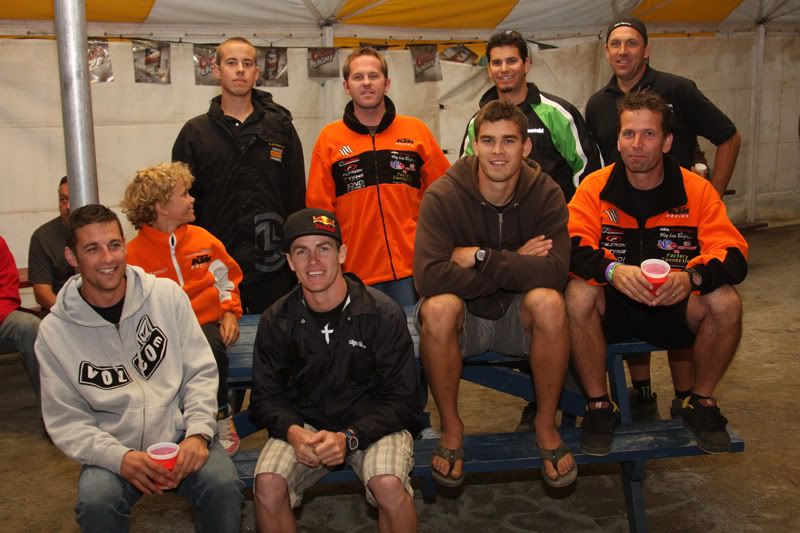 Unfortunately, after a solid three-hours sleep, I awoke to the pitter-patter, SPLOOSH of pouring rain that would last the entire day.
Here's a little taste of the mess: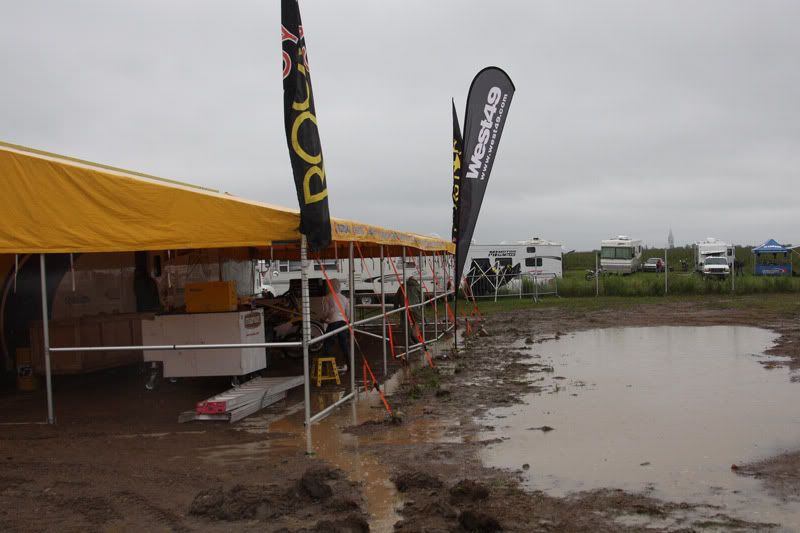 Because of the weather, the FMX crew was unable to do their thing Sunday. Too bad too because they were definitely pleasing the crowd on Saturday.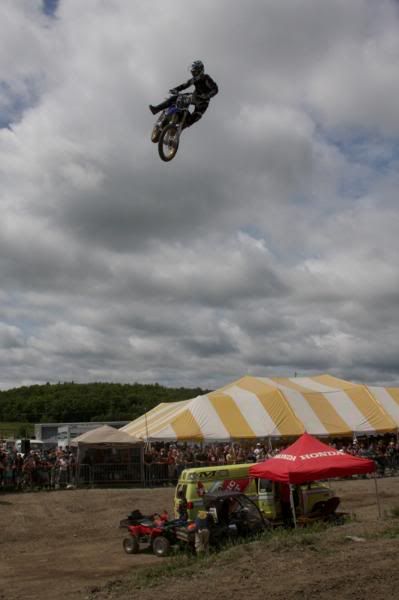 Here's Jeff 'Swampy39' McConkey 'living the dream.'

She looks like Raquel Welch from Seinfeld not moving her arms when she walks.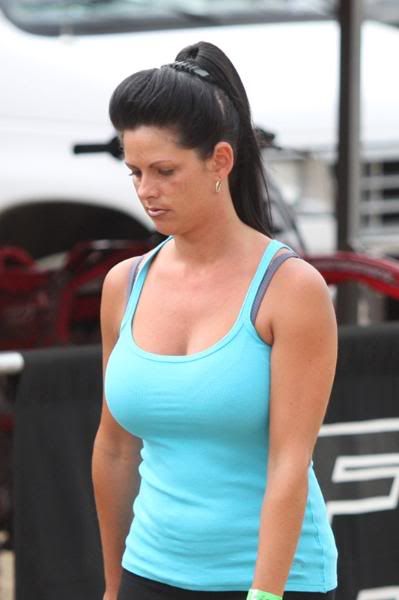 Anyway, on to the racing action…
MX2
MX2 points leader Teddy Maier of the Leading Edge Kawasaki Team got off to a bad start but worked hard to claw his way up to 6th by the end of the race. He holds a 17-point lead over Eric Nye with 3 rounds remaining.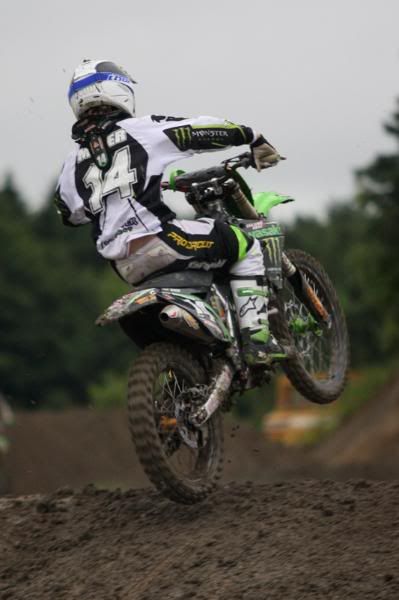 #18 Blackfoot Yamaha's Aaron Harvey did not have a good race. He apparently got stuck so badly in the lower section that Joe Skidd had to dig him out. He is listed as a DNF and sits 4th in points.

Clearbrook Yamaha's Spencer Knowles also had a rough day. I spoke to him while they were waiting to see if there was going to be a second moto. He said he basically had his head and body run over when he fell and was unable to finish the race.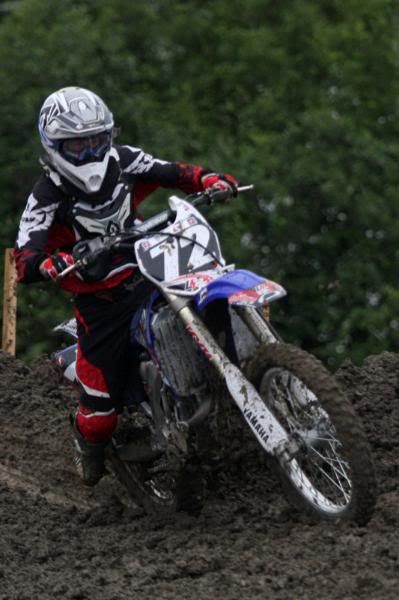 Ste Thecle was the first we've seen of #56 Ryan Blizzard. He's not even listed in my results so I guess he didn't have the return he wanted.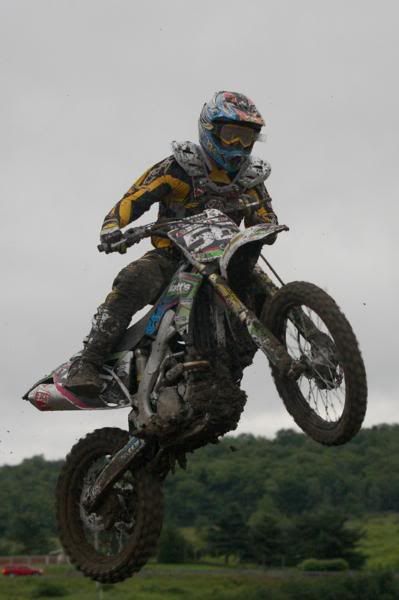 #21 is Jared Allison. He hurt his shoulder not long ago but tried to ride. It didn't last very long, unfortunately. Missing the last 2 rounds has dropped him to 12th in the points. Hopefully, he's OK for SDL.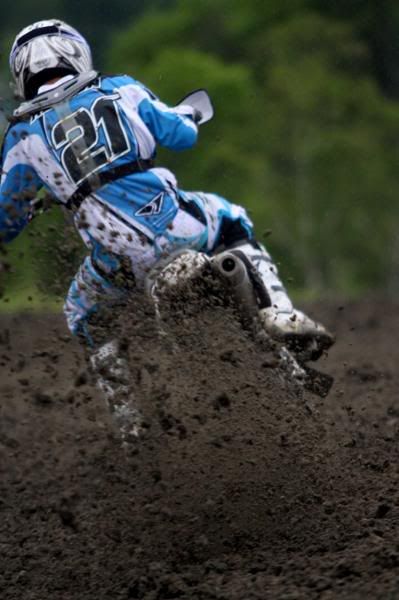 On the other hand (four fingers and a thumb), brother Parker Allison, of the Blackfoot Direct Team, had a strong mud race finishing fourth. He now sits in 9th.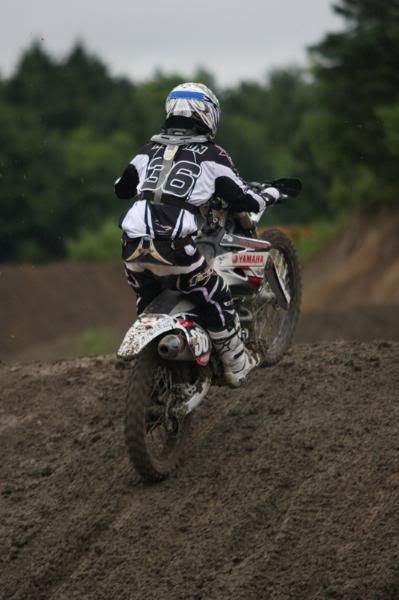 Not sure if you heard, but there was a new Hungarian pitted in the OTSFF Suzuki pits. Balasz Deczi came over to compete in MX2. He looked strong in practice and was up in 4th for quite a while but fell and could only muster an 11th place.

Leading Edge Kawasaki's Brock Hoyer finally put together the strong ride we knew he was capable of. When all the mess had cleared, Brock finished in 2nd place. He's in 8th place in the standings.

Orange Motorsports KTM rider Kerim Fitz-Gerald was up in the top 4 early but wound up in 10th place. He lost a bet and had to wear the somewhat cheesy South African flag hat.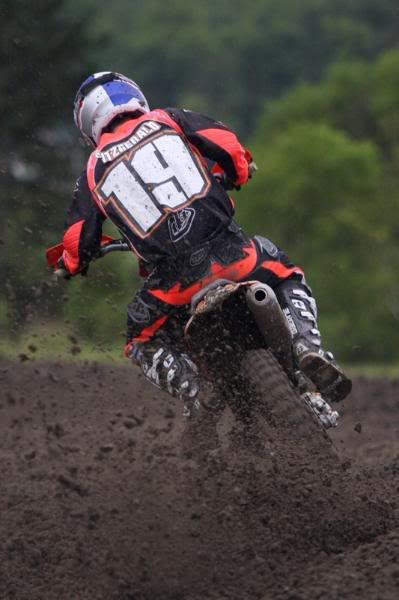 I didn't see exactly what went on with #1 KTM Canada's Eric Nye, I think he was way up in third for a while, but he finished in 17th place and gave up some valuable championship points to Maier.

#24 Leading Edge Kawasaki's Nick Evennou got off to a good start and held on for 3rd place.

Dave 'Cracker' Hewitson was on-hand helping out #70 Nathan Slater.

The Team Toys rider qualified through the LCQ and finished 16th.

#16 Jeremy Medaglia didn't have the ride he wanted for his new Murphy Motorsports team. He went down and got stuck in a huge pile of mud just off the track. He recorded a DNF. I'm sure we'll see him at or near the front at his 'home track' next week.

Guess who didn't get a picture of #32 KTM Canada/Royal Distributing rider Kyle McGlynn's first-ever National win?
Kyle has been due a win this year. He's been up near the front at every round. Congratulations, Kyle! I'll get you at SDL for sure.
The Champ must have forgotten to order up the right weather for Sunday.

Sorry, Dusty, but you know whenever something like this happens I'm there with the quick trigger finger.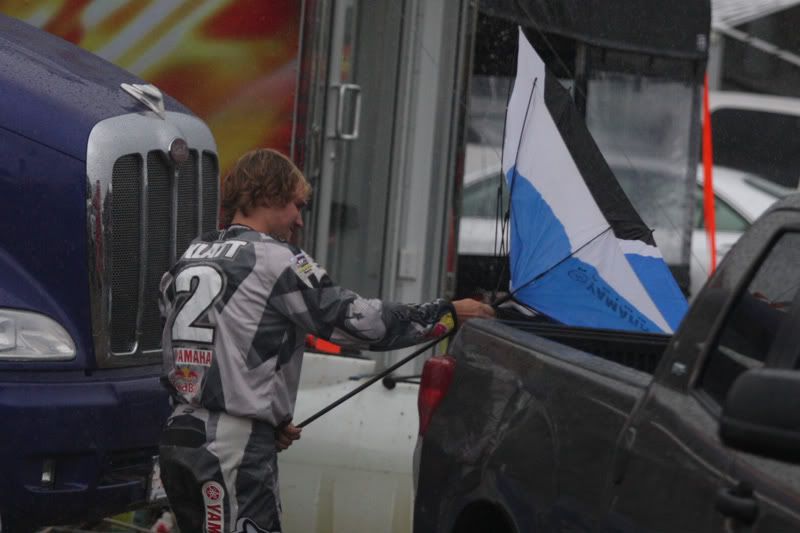 Bruno, aka 'berno', was a big help to us during the webcast. We really needed an extra set of eyes on Sunday.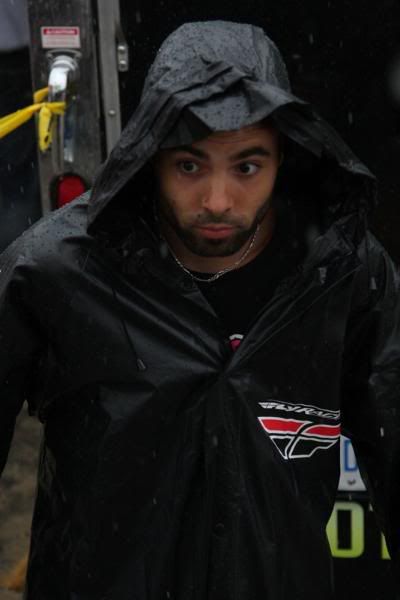 You know you're in Quebec when, in one picture, you get a fleurs-de-lis haircut and two guys eating poutine!

It was impressive watching Gauldy run around the track in his usual multi-hat-wearing roll.

I'm sure he was ready to say, "Screw it!" and start a tab just like the rest of us.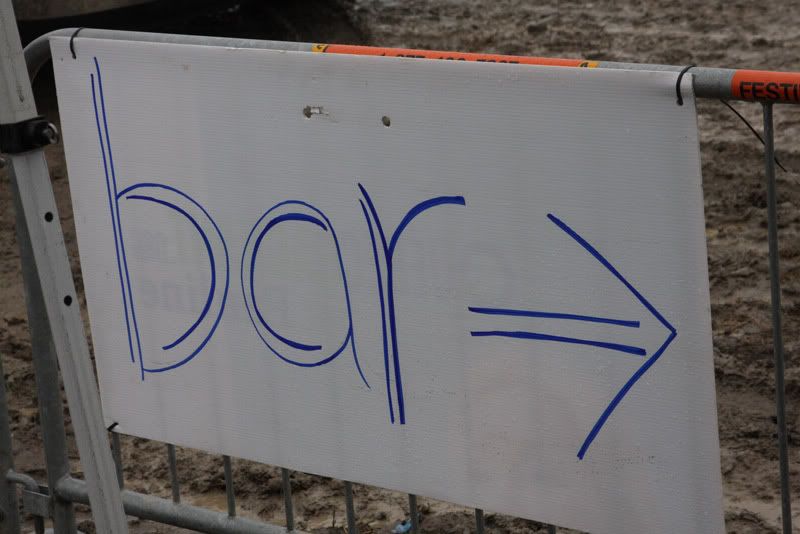 MX1
The MX1 race got underway a bit late while track work was done. #43 KTM Canada/Royal Distributing rider Ryan Millar looked to be the only guy actually having fun out there. He was throwing 'totally radical' no-footers and 'side twisties' (as Swampy called them) on his way to 14th.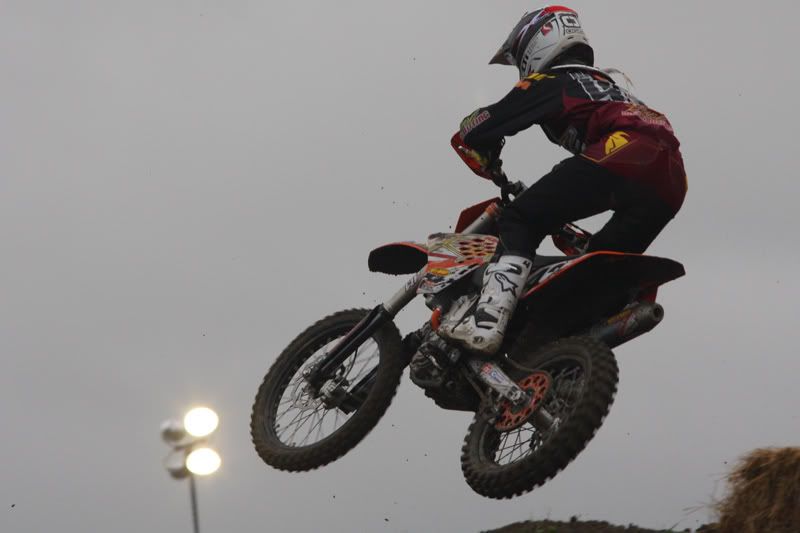 #28 Orange Motorsports KTM rider Liam O'Farrell had a strong day getting 4th. If he had won the race, Swampy had to wear a Borat bathing suit at SDL. Whew, way to back it off a little, Liam.

#6 Simon Homans didn't have the 'hometown' race he would have liked. Even after Brett Lee moved Carmen [Editor's note: I was driving a 1989 Buick Electra Estate Wagon we called "Carmen."] to give Simon VIP parking he was only able to complete one lap. He's listed as a DNF. Better luck in SDL.

Let's pretend Jack Carpenter is his cousin Paul Carpenter for a moment. #101 Cernics Kawasaki rider P Carp got off to a horrible start and clawed his way all the way up to 9th place. Cousin Jack didn't fair so well as I saw his mechanic riding his bike to the pits after the race.

OTSFF Suzuki rider Tyler Medaglia was up near the front for a while but fell and dropped back to 11th at the end of the race. He sits in 6th.

This girl grabbed the winners of every moto and did live interviews during amateur day.

How about #30 St Cesaire Motosport rider Tim Tremblay putting his Honda up on the box. He's 10th OA in points.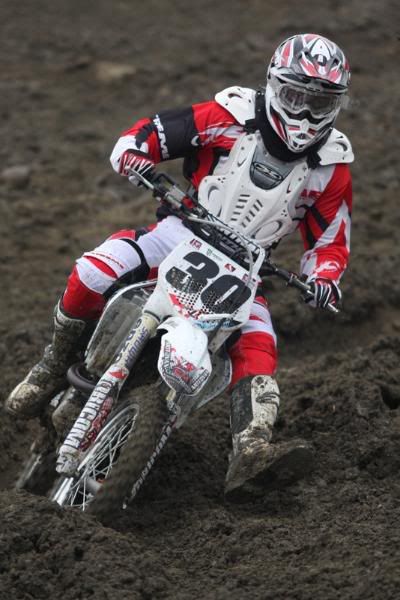 Here's what he looks like, FYI.

#1 Blackfoot Yamaha rider Colton Facciotti stayed solid in 2nd but wasn't gaining ground on the winner. He played it smart and extended his points lead over Dusty Klatt.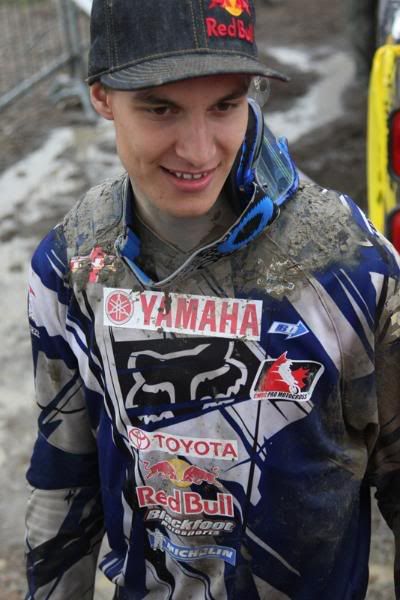 But the day belonged to the Kiwi #15 Mason Phillips on his KTM Canada/Royal Distributing bike. Mason got the holeshot and never looked back. Good things happen when you finally agree to speak on the webcast.
The win helped bump him up to 11th in the points after some bad luck.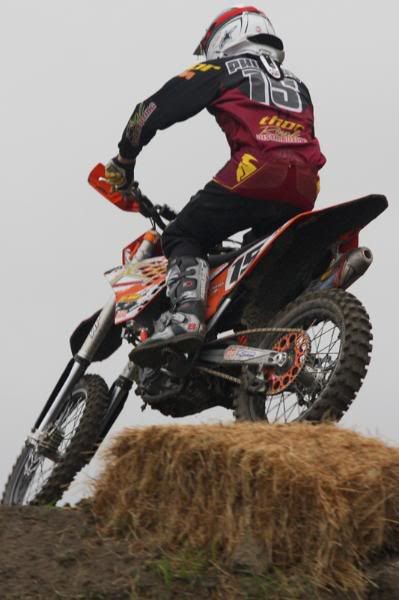 Congratulations, Mason.

Yes, red-headed Julie was there. I'll still see if I can get her on the webcast. Ste Thecle was NOT the day for it.

Kuli and Swampy 'assume the position.'

This is how wet it was. You couldn't leave the pavement for a second. [Sorry, Mike Haist]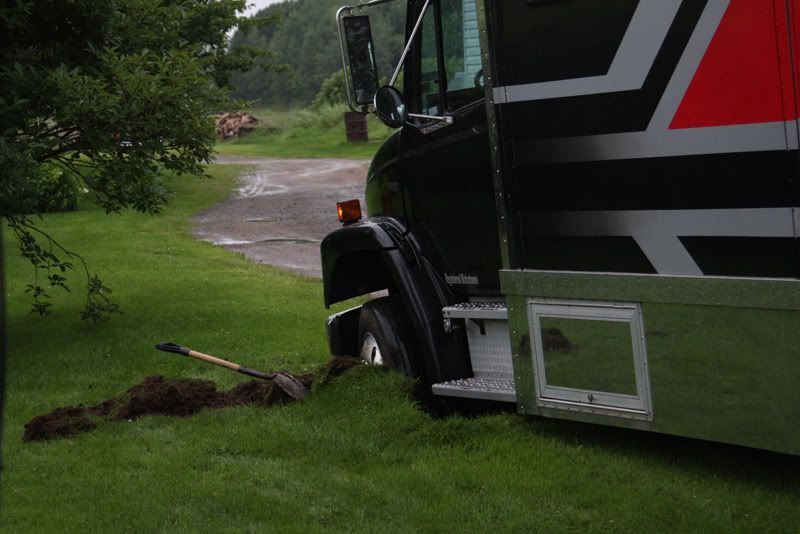 The forecast is calling for perfect conditions at Riverglade in Moncton, New Brunswick. Would it kill you to cross your fingers?!
See you at the races…