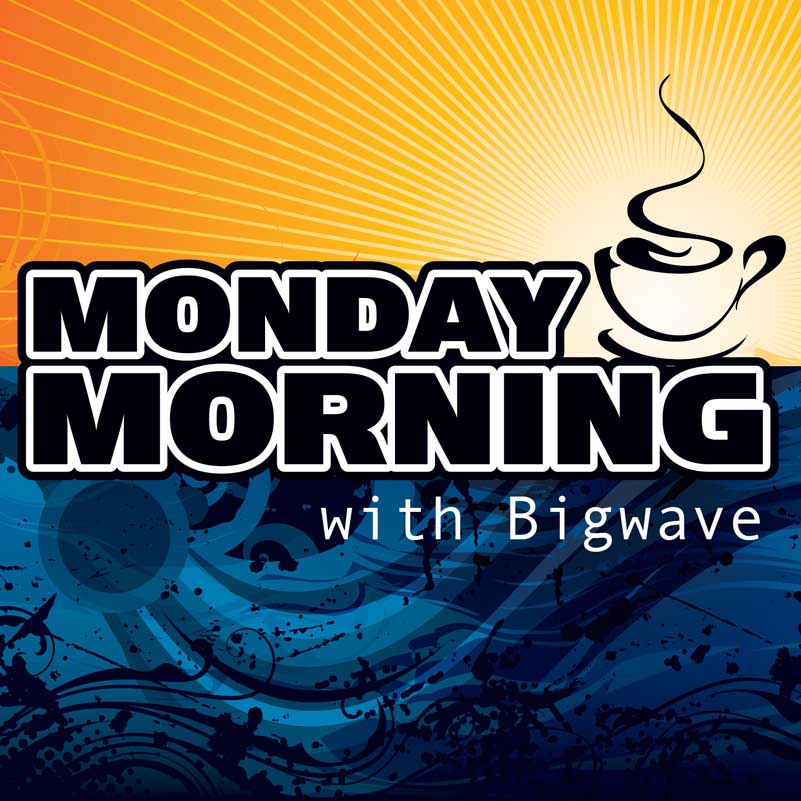 By Billy Rainford
Now what?!
The 49th Annual Mini O's at Gatorback Cycle Park in Florida are done, local tracks in my area just had their final weekend of the season, and now it's time to settle into winter here in Canada. Ugh.
Hard butter season is upon us. Complaining about your crappy snow shovel is about to start…again. Why don't you just go out and buy a new one?! And how about those few spots where your driveway or walkway stop your shovel short and send the butt end of your shovel into your guts…every damn time?! Didn't fix it over the summer, did you. Neither did I. Canadian winter happiness is a good shovel that efficiently pushes snow off your driveway and onto the lawn. And if it snows too much, just go borrow your neighbour's snowblower and offer to do their's while you're out there.
It's like many things in life: why waste money on one of your own when you've got neighbours who have one? This rule applies for pools, hot tubs, saunas, lawn rollers, tree pruners, snowblowers, and many other things you just can't seem tor bring yourself to purchase.
I know everyone's list is a little different. These are just a few I thought of that apply to me and my life. It would be interesting to start a list of things everyone else thought belonged on it.
The biggest news from this past weekend has been the decision by Future West Moto to call the 2020 Canadian Arenacross Championships complete after 6 of the originally scheduled 8 rounds out in Chilliwack, BC.
I know that Lesley Reid really wanted to give the riders and the series sponsors the full program, but #coronavirus counts have been spiking all across the country again and Chilliwack Heritage Park was forced to shut down before the final 2-day weekend was completed.
They were thinking of maybe holding a final weekend in late February and maybe even a bonus weekend in early March, but that just opened up too many other problems and concerns.
It's asking a lot from riders to wait a couple months and then make the trek back to Chilliwack from faraway places like Saskatchewan and Alberta, as several riders were doing.
Also, our top riders will be making their plans to head south to train (if they can) and a couple will even be busy chasing AMA Supercross dreams south of the border, hopefully. And we certainly don't want to penalize them for that!
Anyway, the decision came down over the weekend that the results will stand after round 6. That means Kelowna, BC's #77 Casey Keast will be crowned the champion in both the Pro Am Lights and Pro Open classes. Congratulations, Casey.
I had the opportunity to head out to BC for all 6 rounds and we broadcast the entire program live over the Future West Moto Facebook page. It seems to have been very well received and we had a great time doing it.
I'd like to give a big thanks to John Wren and Matt Koeleman for joining me in the production.
John is the "Voice of British Columbia Motocross" and has a voice that is just perfect for calling races. He's seamlessly throws in all the necessary information, like riders sponsors and series sponsors and schedule information. The guy is good.
Unfortunately, some health issues got the better of him after round 4 and he wasn't able to make it back for rounds 5 and 6. I hope he's feeling better and I'm sure he'll be back on the mic when the gate drops in the spring.
Matt Koeleman was the steady hand on the camera all day for every round. I know it got cold standing there but he didn't complain once. He also did a great job of keeping the action if frame and made it easy to watch from home.
Dan Currie stepped in on the microphone in John's absence and did a great job, too. And it was great to put a face to the "Sano Dano" handle from back in the MX Forum days.
By the way, every time I'm even a little bit tempted to bring MX Forum back and under the DMX umbrella, cooler heads prevail and I leave it in the dark recesses of our minds where maybe it belongs. Thoughts?
It was also great to see so many familiar faces while I was out there. Jamie Hellam used to run FWM with his dad, John Hellam. Man, we had some good times back in the day! I will never forget that trip to England back in…2010? Oops, forgot. Actually, it's not the year that's important in this whole thing, it's what happened while we were over there, and I remember every bit of it. Thanks, guys.
Jamie now works for Chilliwack Heritage Park, so he's there for almost every event that goes on in this place. I didn't see John there, but we thought of him all day long as the massive ventilation fan he built from scratch many years ago whirred loudly just off camera. That's what you heard fighting for airtime with the announcer's voice and the bikes.
I will say this, Canadian Motocross is in good hands out west. The amount of indoor talent I saw all the way down to the little riders on 50cc bikes was impressive! Our best Supercross riders always come from BC and this FWM series is the reason why. Let's hope the world returns to normal and we can continue this great tradition of racing.
Having Greg Poisson there for the final weekend was also huge for us. While I was glued to the laptop and running back and forth, trying to get a photo or two during the races, Greg was able to keep every up to date on our social media pages.
Our early morning hike up in the mountains about Chilliwack Heritage park made for some hilarity, too. Thanks for the help. Greg.
Place – Name
Number – Hometown
10/17/2020
Finish
10/18/2020
Finish
10/24/2020
Finish
10/25/2020
Finish
11/7/2020
Finish
11/8/2020
Finish
Total Points
1st – CASEY KEAST


#77 – KELOWNA, BC

2nd
1st
3rd
1st
1st
1st
142
2nd – JULIEN BENEK


#170 – MISSION, BC

1st
2nd
2nd
2nd
2nd
2nd
135 

(-7)

3rd – TYLER YATES


#133 – DUNCAN, BC

6th
6th
5th
5th
5th
5th
94 

(-48)

4th – DEVYN SMITH


#30 – MISSION, BC

8th
8th
6th
7th
6th
7th
84 

(-58)

5th – LUKE SVENSSON


#12 – LANGLEY, BC

9th
9th
9th
6th
8th
8th
77 

(-65)

6th – TEREN GERBER


#482 – CALGARY, AB

3rd
3rd
4th
4th
 
 
76 

(-66)

7th – PARKER EALES


#36 – MAPLE RIDGE, BC

4th
4th
 
 
4th
3rd
74 

(-68)

8th – ZACH UFIMZEFF


#234 – LAKE COUNTRY, BC

 
 
8th
3rd
3rd
4th
71 

(-71)

9th – DAWSON GRAVELLE


#819 – MISSION, BC

11th
 
7th
9th
7th
6th
65 

(-77)

10th – JACOB PICCOLO


#381 – ABBOTSFORD, BC

DNS
 
1st
11th
DNF
DNS
35 

(-107)
Canadians at the Mini O's
Can you believe the 49th Annual Thor Mini O's Presented by Pro Circuit had record number of riders and entries this year? I guess it makes sense. Almost 5300 riders showed up at Gatorback for this year's event. Wow. Here's a look at how the Canadians who made the trip fared.
#25 Tristan Dares – Rockwood, Ontario:
2020 – MX MINI O'S – 11/25/2020 – GATORBACK
 Class 
 Number 
 Brand 

 

 

 Moto 1 
 Class Finish 

 

 

 250 C 
 #25
 KTM 
 
 
 DNS 
   
 
 
 250 C LIMITED 
 #25
 KTM 
 
 5th 
 DNS 
 40th 
 
 
 
 
 
 
 
 
 
 
 
 
2020 – SX MINI O'S – 11/22/2020 – GATORBACK
 Class 
 Number 
 Brand 

 

 Moto 1 
 Moto 2 
 Class Finish 

 

 

 250 C 
 #25
 KTM 
 
 8th 
 10th 
 10th 
 
 
 250 C LIMITED 
 #25
 KTM 
 
 8th 
 11th 
 11th 
#43(3) Noah Viney – Murrieta, California
#117 Easton Genest – Dinsmore, Saskatchewan
157 Ryder Snelgrove – Essex, Ontario
#158 Nathan Snelgrove – Essex, Ontario
#164 Ryder McNabb – Minnedosa, Manitoba
2020 – MX MINI O'S – 11/25/2020 – GATORBACK
 Class 
 Number 
 Brand 

 

 Moto 1 
 Moto 2 
 Class Finish 

 

 

 250 A 
 #164
 HON 
 
 5th 
 13th 
 12th 
 
 
 250 PRO SPORT 
 #164
 HON 
 
 6th 
 21st 
 18th 
 
 
 
 
 
 
 
 
 
 
 
 
2020 – SX MINI O'S – 11/22/2020 – GATORBACK
 Class 
 Number 
 Brand 

 

 Moto 1 
 Moto 2 
 Class Finish 

 

 

 250 A 
 #164
 HON 
 
 13th 
 21st 
 21st 
 
 
 250 PRO SPORT 
 #164
 HON 
 
 17th 
 27th 
 27th 
#300 Weston Snelgrove – Essex, Ontario
#409 Brennan Schofield – Falmouth, Nova Scotia
#626 Ethan Darrach – Moncton, New Brunswick
Congratulations to everyone who made the trip this year. I hated to miss it, but hopefully I'll make that bi-annual trip down I-75 in 2021.
---
I'll leave you with a little laugh to start your week.
I headed out Gopher Dunes last week to take advantage of a very rare 20-degree C day in November. I was trying out a bunch of new 2021 Leatt gear and having a fun time trying to get a little comfortable on a bike again.
I don't have sand tires on Jeff McConkey's Yamaha YZ250 2-stroke, so I knew I was in a little tough before I even threw a leg over the bike, but I didn't care because, like I said, I'm just trying to get a little more seat time to feel comfortable again.
The track was in primo condition, so I had no excuses (that I knew of…). As I kept putting in laps, I remember saying to myself: "Wow, I don't even feel tired or have any arm pump!" I do quite a lot of cycling so I'm happy to see it transfer nicely to fitness on the rough track. I was more surprised not to have my forearms pump up.
As I kept going I noticed I was having a little bit of a hard time controlling the bike in the tricky, sandy conditions. I know I've only been out a couple times, so I attributed it to that and kept trying.
Emily and I get home and I pop the bike up on the sand to give it one final cleaning before it goes away for the winter. Yep, I'm sure you've already seen where this is going – the rear tire was completely flat. What a bonehead!
I know you want to run it a little soft for these conditions, but zero PSI is taking it a little too far. And I don't even want to tell you when the last time was that I removed a wheel. Let's just say that is had an 8 as the 3rd number…
Looks like it'll sit there in this sad state until the weather warms up next spring…unless someone talks me into heading south for some riding this winter then I guess I'l be forced to do it.
Anyway, when you're riding as crappy as I am right now, it's nice to find out you have something you can blame it on, even if it's just a little…
Have a great week, everyone.
PS Don't forget to SUBSCRIBE to our iTunes and Stitcher podcast pages so you get notified when we throw up a new interview. Thanks.