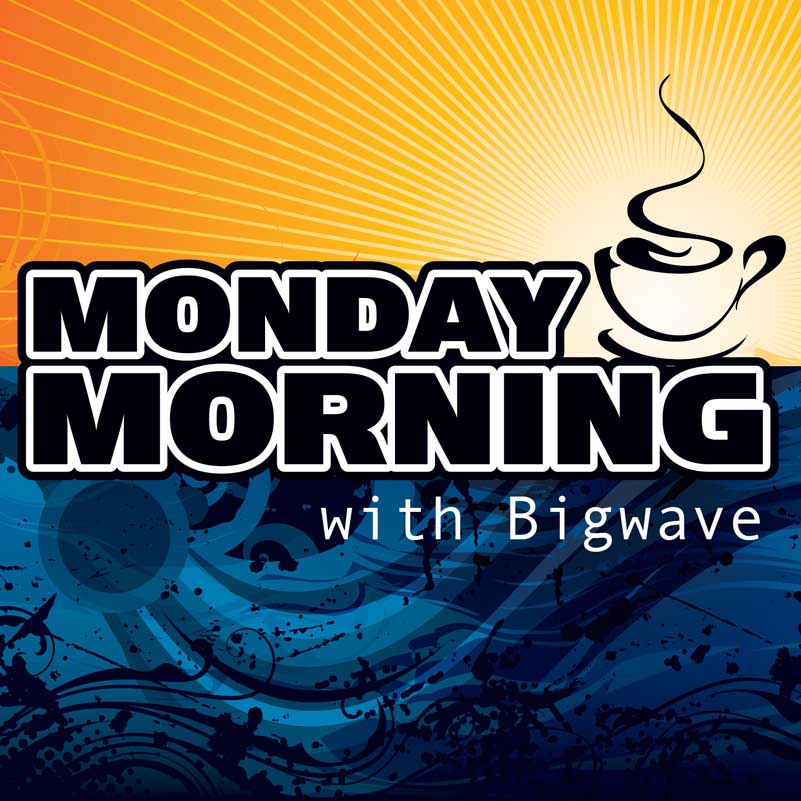 By Billy Rainford
Hello and welcome to another Monday Morning Coffee. Is it ever too hot for a coffee? I see a lot of people switch over to iced coffee on warmer days, but that's not how I roll. My dad always said that a nice, hot cup of tea would actually help cool you down on a hot day. I never really understood that. The only thing I ever saw it doing was making you sweat like a pig which then allowed the breeze to cool your skin down because you were sweating so damn much! I don't care if a hot coffee cools me down or not, I just like coffee, no matter what the weather.
I bring this up now because we are in the midst of a pretty crazy heat wave here in Southwestern Ontario. In fact, when we get to Thursday this week, we will have broken a longstanding record for consecutive days above 30 degrees Celsius. But we're not going mark our record with a light pencil. No, we're going to Sharpie this thing in the book with flair! We should hit 33 and 34 on Wednesday and Thursday. And if you're reading this from, say, Arizona, no, we don't have the dry heat you guys have. This will feel like we're living in a tropical swamp.
But I'll still be drinking hot coffee!
It's so damn hot out that I actually found myself out for a group cycle this weekend at 8am. Not that that's extremely early, but I don't usually set my alarm to go for a ride.
There was no wind and it was only 23-24 degrees as we hit the road. I have never seen so many cyclists out there as I did on Sunday morning. I've heard that bike shops can't keep anything in stock these days, and that makes total sense.
With the coronavirus keeping most people away from work, staying active with your family (or away from them…) is on the rise, and cycling is a great way to do either of those things.
The rush on bicycles has also spilled over to our motocross industry, too. Nobody can keep dirt bikes in stock across the country. Shops are selling out and the manufacturers are having a hard time producing enough to restock the sales floors!
Direct Motocross is actually involved in a really cool upcoming project that will see Greg Poisson get himself race ready and back on the starting gate at an event yet to be determined (we need to see what events are still able to be run before we make that final selection) all in an effort to draw some more attention to Mental Health Awareness.
Greg is a name known in the industry and has, himself, raced at a pretty decent level. I'll let him explain the project in more detail and how it hits close to home for him once it gets rolling and the video segments start rolling out, but I will say that we're taking Greg from the porch to the podium this summer! (Just kidding, Greg. There's no pressure. I was just looking for some alliteration.)
Husqvarna Motorcycles Canada is supplying us with a 2021 FC350, Fox Racing Canada will have Greg looking like a Pro, and Addikt Graphics will have the bike looking like we're hitting a National.
This should be a really fun project for a great cause. Mental Health has always been an issue, but it's hit very close to home over recent years, and we're more than happy to be involved in a project like this.
Speaking of the DMX Van's trailer hitch situation…
OK, awkward segue attempts aside, I've got some more tales to spin in this continuing saga of getting a trainer hitch on the van.
So, as you know (if you've been reading MMC the past couple weeks), Adventure Guy and I tried to mount the new Draw Tite trailer hitch on the van and snapped a couple bolts in the process before tucking our tails and admitting defeat.
I made the humiliating call to the Trailer Hitch Center on Gore Road here in London and told them they were right when they warned me that the bolts really like to snap when trying to remove them from the frame of a minivan like mine. Without batting an eye, he made me an appointment to have it installed on Friday.
I was surprised anyone would want to drill out two broken bolts at 4pm on a Friday afternoon, but it was the soonest they had an opening so I jumped at it.
I stop-and-go drove over through Friday afternoon traffic, parked the van in the lot and headed inside.
The owner behind the plexiglass-protected front desk greeted me, took my keys, and made a call to the shop to get started. If I had to describe what he looked like, I'd go with "Angry James Taylor," but he seems like a good dude.
I sat in a chair by the front door and goofed around on my cell phone for about 45 minutes. During that time, I could hear the drill being used to fix what we'd broken.
I turned around to see the van parked neatly back in the lot and watched as the keys were dropped off back at the front desk. Of course, I had to chime in and asked him how all the horrible drilling went. He didn't even flinch and just said, "It wasn't a big deal."
Now, I stood back in front of the cash register, waiting for the blow…
$75 plus tax?! Seriously, that's it?! Chris emptied his tool box and broke several things and it was only going to cost $75 to have it done properly and easily?! Sorry, Chris.
I really wish I could say that I've learned something in this process, but you know how these things go: I'll be breaking more parts trying to do a project in my driveway again in no time.
OK, so Sunday afternoon I was heading to play some beach volleyball here in London. I loaded Maggie the Dog into the back of the van and drove away. As I was driving I realized I'd seen something in the back that didn't seem right but didn't really register. I looked over my shoulder and there was my trailer hitch sitting there in the back. Huh?!
A little panicked, I turned off onto the first side street I hit, pulled over and got out to see what was going on.
My fear was that they'd just mounted one of those hitches that fastens to the bumper itself that you could maybe load a bike rack on, but certainly not a motorcycle carrier.
I crawled underneath to check and was surprised to see an entirely new hitch mounted there. However, this time it was a Curt brand. I'm not hitch expert but this was good or at least as good, I thought.
I double checked that the original was in fact lying there in the van and then it hit me that I now have an extra hitch on my hands. Are you serious?!
So, after I finish my MMC, I'm off to the Hitch Center to return this one to them. No, I'm not going to fire this up on Facebook Marketplace. These guys have been pretty good to me, so I'll gladly drop it off. In fact, I'm kind of looking forward to the reaction in Angry James Taylor's face when I do. Stay tuned…
---
It looks like racing is rolling across Canada more and more, lately. I've just been on the phone with Reece Rendall (not a character in the Ramones movie, "Rock 'n' Roll High School") (Google it, Bowker!) from Nihilo and they were at the Challenge Quebec race over the June 28th weekend.
You can check out results here:
https://speedhive.mylaps.com/Events/1776006
Expert Class (After 2 rounds)
41 Jeremy McKie 22-25
32 William Crete 25-22
118 Christopher Da Silva 16-20
Head over to the above link to check out all the results.
Here's the Challenge Quebec schedule:
Alberta is also getting started, after some horribly wet weather so far this summer. Here's a look at their Alberta Dirt Riders Association (ADRA) schedule:
Round 1 – July 25, Spedden (B3 Motopark)
Round 2 – July 26, Spedden (B3 Motopark)
Round 3 – August 8, Whitecourt (BlueRidge MX)
Round 4 – August 9, Whitecourt (BlueRidge MX)
Round 5 – August 22, Two Hills (ChaosMX)
Round 6 – August 23, Two Hills (ChaosMX)
Round 7 – August 29, Whitecourt (BlueRidge MX)
Round 8 – August 30, Whitecourt (BlueRidge MX)
And from Saskatchewan Motocross:
June 1, 2020
To our valued partners, members, and ridership: At the end of May, the SMA board contacted the Covid-19 business response team in Saskatchewan where we received confirmation that motocross racing would be included in phase 4 of the reopen Saskatchewan plan. At this time, the group size maximums, and dates for phase 4 are to be determined.

We also reached out to our insurance provider for race events who confirmed that without substantial or written approval from government, we would be unable to successfully insure our events.
With this taken into consideration, as well the health, safety, and well being of our partners, members, and ridership we must make the following difficult decisions.
 • SMA sanctioned race events will not take place in June or July of this year.
• A Provincial Championship Series will not take place as a result
• Series points and awards will not be presented in 2020, including the year end banquet
With the above mentioned, we want to assure you that the SMA is still very much committed to working alongside clubs in Saskatchewan. We are continuously reviewing alternatives and unique ways to support the sport during this time. The potential to sanction single events or even a fall series remains a real possibility should we meet the requirements and can be Covid Rule compliant.
For those who have already purchased and obtained their SMA regional membership we will be sending out an email with options for refund or carry forward. With regards to your MRC membership, there may still be opportunities for single events, a fall series, or amateur nationals that would still require an active membership. Further information regarding MRC memberships can be directed to the National MRC office.
We would encourage you to get in contact with your local clubs, as many may still be having member events, riding schools, or other planned activities. The SMA will continue to remain involved and support wherever possible.
Head to their website to find out how the summer will look:
We'll go across the country and post updates from each region. For now, this is all I've got for the MMC.
---
I'll be at Gopher Dunes this coming weekend for Round 3 of the AMO Ontario Provincial Championships (OPC). These guys have been doing everything they can to get racing back here in Ontario. And from what I've seen, it's been going very well.
As we head back to Gopher Dunes this week, remember to go online and register and sign the waiver. Also, remember that, no matter what your thoughts or feelings are on the virus situation, we have to jump through these COVID-19 hoops to ensure that, not only can we keep racing Provincials, we can race our National series, starting June 25-26 at The Dunes! Do your part and follow the rules, no matter how they make you feel. Don't be the jerk that gets us shut down.
OK, it's noon Eastern Time and this column should already be up on the site. I blame Reece for that. LOL.
Have a great week, and remember to stay hydrated. If you haven't already got your riding in for the day…good luck! Riding in this heat will either help prepare you for the likely conditions at the Nationals or beat you down for a few days, so be careful.
I'm off the the Hitch Center to make someone's day…