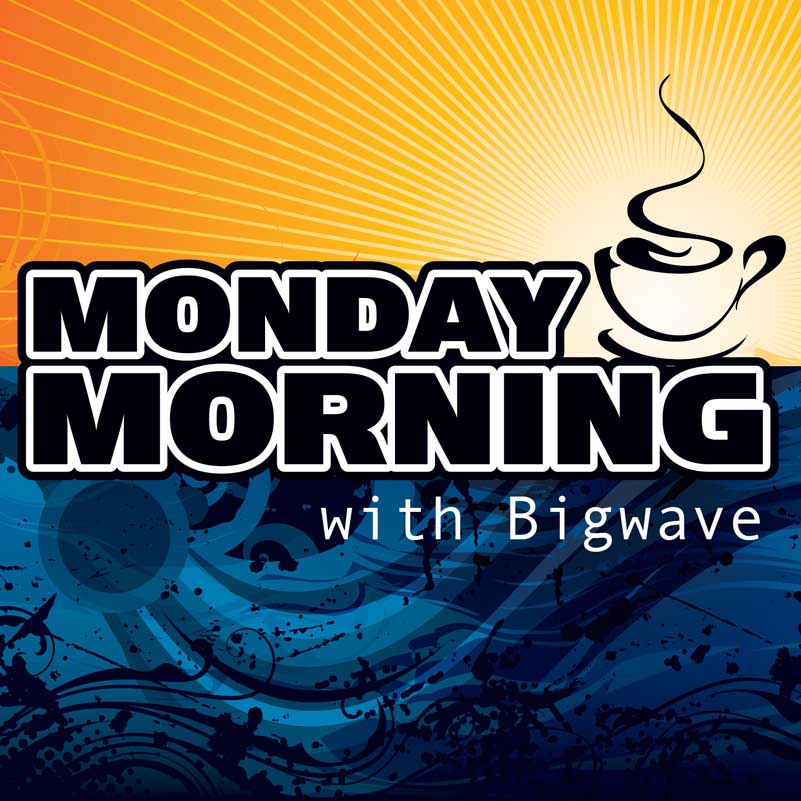 By Billy Rainford
Welcome to what is usually my favourite non-moto week of the year – the week between Christmas and New Year's. It's always a week at home with my family that I spend visiting close friends and their families.
I really enjoy driving around to different homes to visit and have some Christmas "cheer" with buddies and their parents who had to put up with me as a teenager. We've all got those stories that we assume would leave parents hating us, but when we sit and look back while recounting stories, it seems to bring a smile to both our faces. That's a good thing because I really think it could have gone either way in almost every case!
This year was different, obviously. I canceled my flight out to BC to visit my sister and my ailing mom, and I won't be dropping in on any old friends who may or may not be home for the holidays themselves. It's been a really strange season.
A band called 'White Punks on Funk' used to always get together and play a gig at Call the Office every Boxing Day night, but they've since moved on and the club itself has closed its door for bands. All things change, and usually that's fine, but some things just shouldn't.
We've been hunkered down pretty tightly here at the house and we're both starting to go a little stir crazy. I even looked forward to the big snowfall we go on Christmas Eve because it meant I could spend time outside using the neighbour's snowblower to clear off 5 driveways on our crescent. I still hate trying to do that section up by the garage that sits tightly between two of our neighbours' houses. I haven't got my pattern sorted out, yet.
Anyway, all this spare time at home has left me scouring YouTube for old races to watch. I've been caught up watching every Motocross of Nations that I can find. And they're almost all on there!
Some of the resolution is pretty sketchy, but it's good enough to keep me glued to the TV. Also, I'm finding myself wanting to jot down specific years and incidents that happened over the years at the MXON.
For example, can you believe the Ricky Carmichael couldn't keep it on two wheels at the 1999 event? Man, that was difficult to watch.
And when I finally caught a glimpse of a Canadian on the screen at the 2008 event at Donnington Park in England, the announcer simply says something like, "Oh, and there's #30..." He doesn't mention Dusty Klatt's name!
You can go back and watch the year the USA lost for the first time in 13 years in 1994 when Great Britain finally knocked them from the top step. Watching these old races also pointed out just how fast GP announcer (and multi-time GB team member) Paul Malin was back in the day. The dude hailed!
Jeff Ward won the event 7 times!
And I didn't even remember the event going to Brazil (Indaiatuba) in 1999. The track and conditions were…brutal, actually. They over-watered the track and then it was a too-narrow dust bowl of a race.
And watching Stephan Everts effortlessly dominate while standing up pretty much the whole time is something every young rider should check out and learn something from.
If you've got some spare time this week (who doesn't), do yourself a favour and hit YouTube for some classic racing. It's a great history lesson, too. There are some names that land in the top 3 in some of the motos that will have you lying to yourself saying, "Sure, I would have known who they were if you asked me…"
In 2004, Canada finished 8th overall (Blair Morgan, JSR, Dusty Klatt) in The Netherlands. But did you know that we finished 7th in 1964 in England when we were combined with Great Britain? I think we can all agree that the 2004 team gave us our best result as a nation.
Check out the complete winners history:
Motocross des Nations winners
[
edit
]
If you need to kill some time, watching these races will do that for you. You're welcome, and I'm sorry.
As I watch the local news each night here at 6pm, whenever the weather forecast comes on they always show record temperatures on the specific day in history. Every time they show the high record, they show 1984. I remember this Christmas.
It was the year we were still loading up the bikes in the trailer and heading to practice tracks around London. Back then, it was very rare for the area not to have a ton of snow over the holidays, so we jumped on it when we could.
If my dad couldn't go with us, we were side-saddling our bikes through the east end of town and out to the Shaw's Dairy Dell track or way out to the rough track at the Southwinds Gravel Pit farther north on Fanshawe Park Road.
It's funny how, looking back, I somehow thought that not throwing both legs over my bike as I rode down city streets and through the Northland Mall parking lot made it legal.
This was also the year I had my knee problems and a big chunk of bone came off my right knee that is the cause of my more recent knee situation. It was called 'Osteochondritis Dessecans' and I don't recommend it to anyone.
That also reminds me, I also used to have a go kart and would drive that little sucker around our neighbourhood until the police showed up.
We had 3 walkways that connected a few of the streets and crescents in our hood. I always knew that if I were to be chased by the cops, I could easily elude them by using any one or all of these to my advantage.
Unfortunately, 2 of them had a set of 3 stairs in the middle of them. It was fine when I had to tear away on my little KX80, but it was a different story on the homemade go kart.
I remember turning into one with the police hot on my tail and then realizing this was the walkway with the stairs. Uh uh…
Too late, I was committed.
Screw it, I'm going to risk making the jump rather than stop and have to try and talk my way out of a ticket and scolding from my parents. If the Dukes of Hazard could jump rivers in a Dodge Charger then surely I could drop 2 feet in my little go kart!
I made the drop and the kart held together. I made it. But wait…
We had mounted our old 5HP lawn mower engine onto this frame and jury rigged the thing together in a very unprofessional way. I had a hard time keeping the motor running at the best of times, and jumping stairs wasn't helping the situation. It sputtered a little then died altogether.
Unphased, I hopped off and pushed the the dead kart up a friend's driveway and into their backyard and under a shady tree and waited.
Of course, I couldn't stop myself from heading out front to see if they'd go driving by, so I ripped my t-shirt off, threw my ball cap (I wasn't wearing a helmet) on the seat and headed out front all skinny and bare-chested. I wanted to look like a different kid, of course.
Side note: I used to cut my own bangs back then to keep my hair from dropping into my eyes when I rode my dirt bike. My helmet and goggles fit so poorly that the goggles didn't touch my forehead and my hair could just fall in my face. It was a different era, folks!
I sat at the curb with my feet in the street and pretended I was playing with something in the gutter (which was something else we actually did back in the day…) and waited.
Sure enough, here they came ripping around the crescent in hot pursuit of the punk on the go kart.
They slowed right down as they passed me and I looked them in the eye and kept my cool. It was one of those moments that reminds me of any scene in an early-80's kids adventure movie and it was great.
They didn't ask me anything or even roll down a window. I had made it. The only thing left to do was to wait a while and then see if I could get the kart started so I could drive it home and get it in the shed before my parents got home from work.
I rolled it out front and onto the street. I pulled the choke out and gave it a hefty pull. It fired right up, but the throttle somehow stuck wide open, and it took off down the street…without me!
It went pin straight down the right side of the road, gaining speed as I chased it.
It decided to make a sharp right turn and smashed its way up the curb, did some dramatic flips, and landed awkwardly on its side.
I caught up, rolled it over and tried to start the process again without the choke.
It started up, but the right front wheel frame piece was bent straight up into the sky. I wasn't going to be able to drive it home, after all. I wasn't far from home and another friend came out to lend me a hand. We managed to push it back and into the shed.
I hadn't been busted by the cops, but now I was going to have to explain what happened to my dad. At that young age, that was a fate much worse.
To be honest, I don't remember what happened when I told him about the bent kart or if I even rode the thing ever again! Along with the kart itself, the memory, too, is simply gone. Oh well, I never turned into a Formula 1 champ, but the MX continued!
With Christmas over now, we'll try to get back to a more normal time so I can stop boring you all with stories from back in the day. I hope everyone had as good a Christmas as was possible this year.
Next, it's time for our annual DMX Awards! We'l recruit Greg Poisson for his thoughts on this one. Watch for that coming up soon here on the site.
Next time we sit down for a Monday Morning Coffee, it will be 2021. Have a great week and a very Happy New Year! Thanks for all the support this past year.
This was my first Christmas without my dad. He passed away in late March. It's been a roller coaster ride of emotions for us here. For every moment of sadness, I've got hundreds of fun stories about great moto times with him and the travels and adventures we went on together.
I've got a massive photo album filled with photos he took over the years. We never took the sport to the top, but that was never the point for us. No matter what the results were, the deeper meaning was always the time we spent together as a family. Remember that and we'll see you at the races…