$2 Tuesday: 2009 Steel City Photo Report
By Billy Rainford
---
Here's a look back at the Steel City National back in 2009 that I did for MX Forum. Canadians Colton Facciotti and Jeremy Medaglia made the trip to Pennsylvania to line up against the best. Read on to see how their days went…
---
There's an old saying that goes something like, "You lose every race you don't enter." Nike would say, "Just Do It." Bottom line is that you'll never know how you would have done if you don't show up at the starting line.
Our two-time and defending national champ, Colton Facciotti and Jeremy Medaglia made the trip to Steel City in Delmont PA to line up against some of the world's best last weekend at the final round of the Lucas Oil AMA Pro Motocross Championships. The Medaglias were there in the back of their pick-up and Colton and his mechanic Jeff were there in a van and trailer.

The weather was absolutely perfect last weekend; warm in the daytime and cool at night (ideal for sleeping in the back of a station wagon). The six-hour drive from London Ontario went smoothly and the Customs Officer at the border got a kick out of the MX Forum wagon, Carmen. Once around Lake Erie and headed south on HWY 79, the rolling hills of the Alegheny Mountains were a welcome treat. The corn is now ready to be harvested and the leaves are showing the tell-tale signs of the approaching fall.
I arrived around 12:30 Friday afternoon. After making a stop and a Stop N Save and a Beer Distribution Center I headed to the track. Not a whole lot goes on during the day until around 4pm when 'Fan Fest' starts. There was a trials exhibition and then 'Ten Man Push' took the stage. I sat on the side of the hill with a couple malt beverages and listened to the music as track prep went on all around me.

The big temperature swing made things interesting raceday morning as the entire place was covered in a blanket of fog causing the start of first practice to be pushed back half an hour.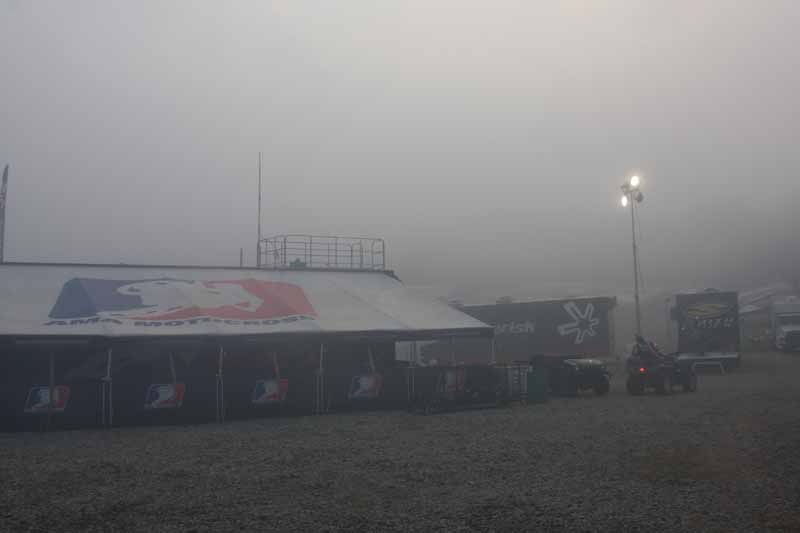 Jeremy Medaglia was out in first practice and went out with new pro Tevin Tapia at the front. It was still foggy and the track was tilled deep so times in this first practice weren't as fast as the following times would be. Jeremy ended up qualifying in 32nd position.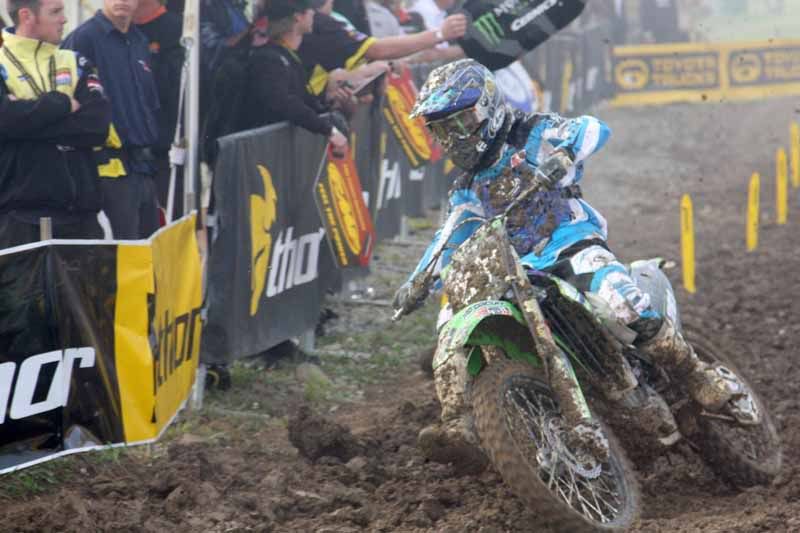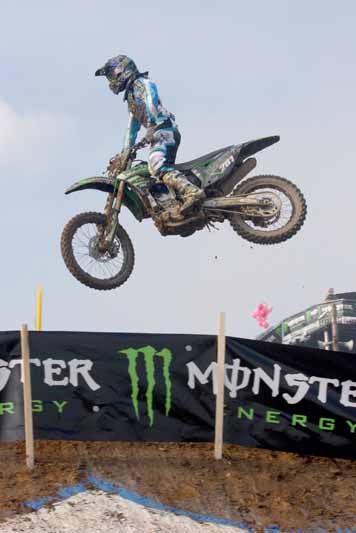 Colton went out for his first practice and was battling with another new pro Christian Craig and Chad Reed. Craig fell down and then Colt pulled off at the mechanics' area. He was going to head back out but it was the checkered flag. In the second timed qualifier, Facciotti came around right by me, pulled off and undid a couple boot buckles and then rode off. Uh oh.
After a trip to see Doc Bodner (note the pink head set in support of the Breast Cancer theme of the weekend) it was determined that no bones were broken but Colt would have to decide if he was fit to race or not.

Speaking of breast cancer support, the entire place was covered in pink.

Now where was I??? Oh ya, Colt didn't even consider not racing. He went out and posted the 21st fastest time.
Here's what the 'MX Forum Mobile World Headquarters' looked like for the weekend. Funny story: So I'm sitting there pretending to do stuff on my laptop like the rest of the media folk when the dude in front of me turns and laughs, "Hey, are you the guy that 'ruined' Canadian motocross?" I laughed and said, "Haha, ya, I guess so." Turns out that 'guy' was GuyB from Vital MX. Then I wandered over by the tent entrance and Davey Coombs came up and introduced himself. He welcomed me, asked where The Wagon was, and made some VERY interesting comments/statements on the situation 'up north.'

I sat between the Transworld Motocross guy and Jeff Kardas from Dirt Rider Magazine. Yikes, I basically just sat there with my jaw on the floor admiring how EVERY pic they scrolled through could have been a 'cover shot!' It was very impressive.
Sean Bowker, from DMX, drove all night Friday and arrived at 7:30 Saturday morning. Imagine this…two guys from Canada sharing a laptop, hanging out and treating each other with respect. Wow, what a crazy world! 😉

Hey, if you're wondering what Honorary Canadian Michael Willard has been up to, I found him. Doesn't look like he had a very good day. He ended up 36th on the day in the 250/MX2 class.

#17 Robbie Reynard was out there and looking pretty 'retro.' He ended up 38th in the 450/MX1 class.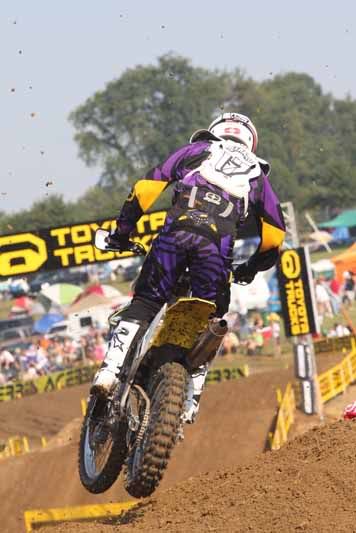 Our MX Forum friend, Jeff Mort #443 was there and tried to qualify. His day didn't go as he had hoped and he had to watch from the sidelines. I shot the breeze with his dad for a while…nice guy.

I'm sorry, what?

Check this out. Erin Bates even has a hot 'umbrella holder girl!'

Ok, let's get to the racing action.

Here's Geico Powersports Honda rider Blake Wharton #61 doing his best Kyle Keast impression before the start.
You can already see the tension between Pourcel and Dungey at the line. It was about to get a little weird.

Wharton went out and finished 3rd.

Great Britain rider Tommy Searle finished in 9th spot.

KTM/MDK/Muscle Milk rider Martin Davalos had a rough day finishing 38th overall.

I also found Ben Evans. Remember him? You can't see it very well in this pic but he is getting completely pelted with rocks. He finished in 22nd place.

I always like the final few races in the States as lots of the new fast kids try their hand up in the pros. Here's #719 Red Bull/Motoconcepts/Honda rider Vince Freise. He finished 21st. There were lots of them out there in Steel City including Tommy Weeck, Taylor Futrell and Blake Baggett.

Speaking of Kawasaki/Pro Circuit/Fox Racing/Monster/Scott rider #579 Baggett, he got the Muscle Milk holeshot money. Here are a couple pics of him receiving the big cheque.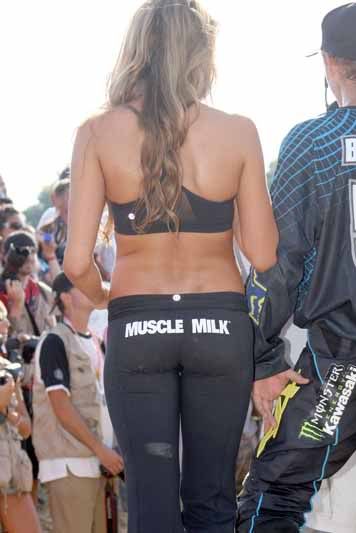 Monster Energy/Pro Circuit Kawasaki rider Christophe Pourcel got out to the lead in both motos with Rockstar Makita Suzuki rider Ryan Dungey having to work hard early to get into second. Pourcel waited for Dungey to catch him and then hoped for the pass so he could have a chance at 'winning' the title. Dungey tried to make a pass a couple times but was happy to sit in second position and take the championship.

The title went to Dungey and the team. Roger DeCoster had a pretty successful season.People in the crowd kept screaming his name and he was happy to look up and wave every time.

You couldn't help but feel sorry for Pourcel. He was smooth and fast all year but the mechanical in Southwick dashed his hopes of the title.

He even had the nerve to walk over and spray champagne on Mitch Payton!?!?

He showed Christophe the correct way to handle a bottle of bubbly.

Pourcel's body language at the press conference told the story.

In the first 250 race, Canada's Ogio/Loudmouth/Dragon/Furious Styles rider Jeremy Medaglia pulled into the mechanics' area after the first lap. I didn't see the fall but it apparently broke the sub-frame and brake lever on Jeremy's bike. Derek kicked it straight a couple times but they could see the race was over and they headed back to the pits.

In the second 250 moto, Jeremy was in around 30th place after two laps and then the bike stalled at the bottom of the last uphill. He sat there struggling to restart the bike until he almost passed out. He was forced to watch the race go by on at the side of the track. His day went DNF-DNF. I think we all know this weekend should have gone better for Jeremy. Racing can really suck sometimes. Anyway, I'm sure that won't ruin his drive to be best for next summer.

Maybe this will cheer him up a little.

The women's race was all Jessica Patterson but the year belonged to Red Bull Honda rider Ashley Fiolek. She might have broken her right collarbone in the first moto and didn't line up for the second but it didn't matter, the title was hers.

The 450 race was pretty interesting too.
#114 Muscle Milk/MDK/KTM rider Justin Brayton pulled the holeshot in the second moto and held on for the win and 3rd overall on the day.

Honda Red Bull Racing rider Andrew Short went 5-5 for 5th on the day.

Monster Energy/Kawasaki rider Tim Ferry went 12-7 for 8th.

New pro Christian Craig finished 15th.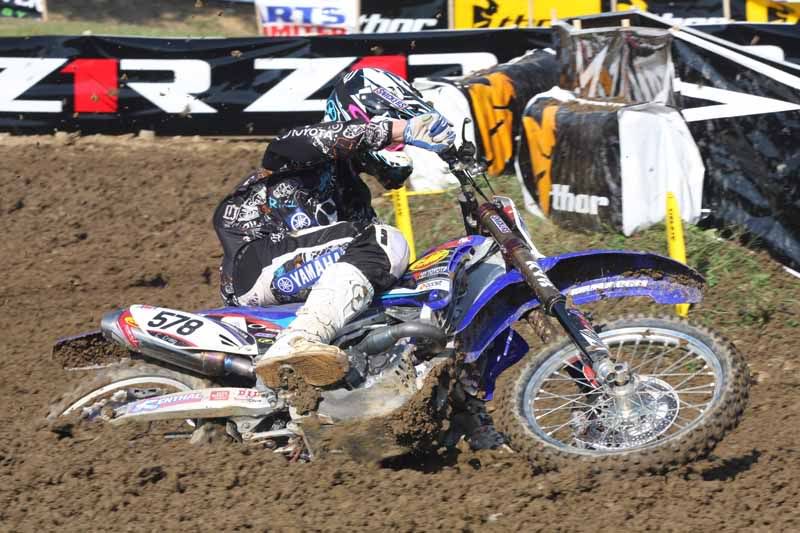 Rockstar Makita Suzuki rider and National Champ Chad Reed went 2-DNF. He rode behind Facciotti for several laps out there in the second moto.

Teammate Michael Byrne went 3-9 and got 6th. He had a big autograph line-up after the races.

#42 Monster Energy Kawasaki rider Jake Moss from Australia finished 10-2. He pressured Brayton for a while in the second but ended up 4th on the day.

But the day belonged to #48 Canidae/Motosport.com/Kawasaki rider Tommy Hahn. He finished 1-4 and took the overall.

So, how'd our champ do? Well, let's just say his day went sorta like our other Canadian's day. Like I said, sometimes racing just sucks! You need these lows to appreciate the highs, right? Whatever.
Anyway, after hurting his ankle in qualifying, Facciotti lined up to give it a go. He was well back after the first turn in moto 1 but somehow managed to squeak his way up to 13th after the next couple corners. Things were looking good until he caught his foot in a rut and decided his ankle was just too sore to race on.

The second moto started off really well. After an aggressive gate drop with Antonio Balbi (as you can see), Facciotti found himself in 4th place! Things were looking good and he battled with a lot of the top US pros, holding his own.

So, as our Blackfoot/Yamaha/Red Bull/Fox hero was battling in the top 7, he came together with #47 Jimmy Albertson over a tabletop before the finish line and went down HARD! He crawled his way off the track and after a few minutes, threw his goggles into the crowd, climbed beck on the bike, picked Jeff up and headed to the pits calling it a day. He officially went 34-33 for 37th overall. He proved he has the speed to run with those guys and, on a good ankle, probably could have done very well.

I don't know if it'll make Colt feel any better but I know it helps me, so here's Erin flexing her right gun.

Here's the Speed TV crew working on the show.

Well, I guess that's it until the MXoN in Italy.
As always, see you at the races…