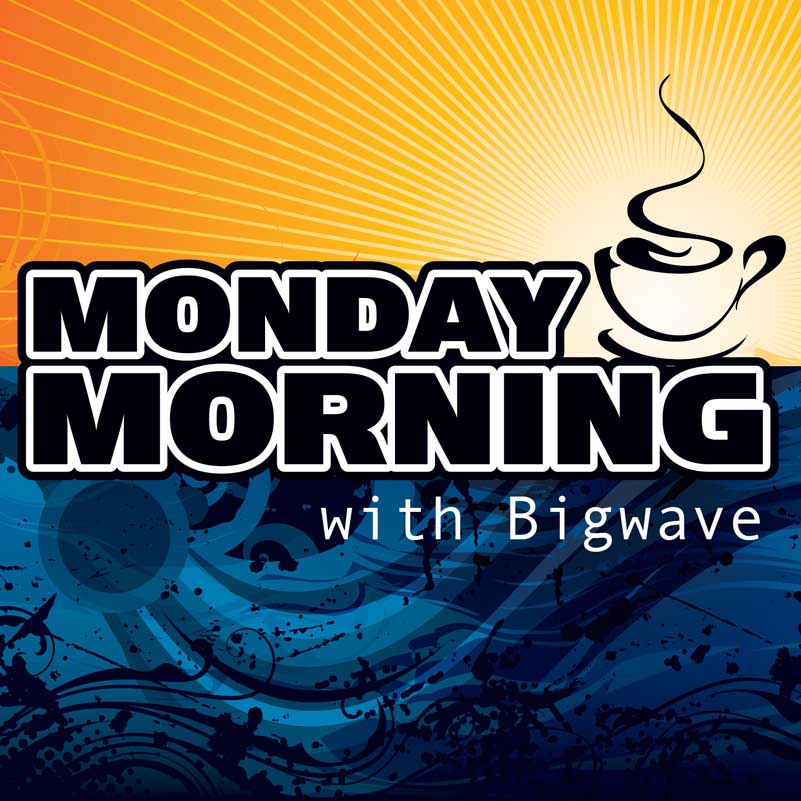 By Billy Rainford
Happy Holiday Easter Monday, everyone. I'm sure many of you are waking up and trying to decide if you should go ride again today or if it would be wiser to let those blistered hands heal a bit before they get any worse. I think we all know the answer.
I was planning on dusting off the Jeff McConkey YZ250 2-stroke DMX test bike today, but the forecast is calling for rain to start in the early afternoon around here, so I guess I've agreed to do head to Waterloo and do a few socially distanced family visit drive-bys today instead.
Growing up, racing always started a little earlier in Michigan, so you could be sure we spent the majority of our Easter Weekends in District 14, most likely at Baja Acres. They used to actually hold qualifiers for the Pontiac Supercross amateur day events and we'd always go there and basically ride for the first time of the year and try to make the cut.
I think they used to have some sort of international loop-hole where you could get in regardless of your qualifying results, but we always tried to earn a way in.
With the harsher restrictions due to the on-going COVID-19 situation, some tracks have decided it best to remain closed until things lighten while others have decided to press on. If done properly, motocross can be run within the guidelines, so please remember these are strange times and do your best to follow the rules and keep the open tracks…OPEN.
Have any of you been hitting the mountain bike trails lately? I went out to my favourite Fanshawe Lake Loop again this weekend. If you read this column regularly, you'll remember the last time I went the lake was up at least 30 feet and you couldn't even get around it. This time it was much better.
Having said that, the ground is still pretty soft and that means you still have to be pushing pretty hard on the pedals to keep the bike moving forward at a reasonable pace. You definitely aren't likely to bust out any KOM segments on Strava right now, but it's really great exercise!
It was an odd numbered day, so that meant we were riding counter-clockwise. I went by myself and there were a ton of people out because it was a perfect weekend.
I caught up to a young kid walking bedside his bike in a bit of a tricky section. He was in his early teens and I gave the usual, "Are you good?" as I rode by. He replied, "Ya, just tired" to which I said, "Ya, that'll happen, but it will get better!" and rode on.
Just up around the next turn I passed his parents who were stopped and waiting for him. They looked at me and said, "It's his first time." I looked back over my shoulder and yelled back to the kid, "…But not today!"
You don't turn into John Tomac in a single day, folks. If you're a young, aspiring, motocross rider, you're going to need to put in the miles on your bicycle. Most of you already are, but, if you're not yet, don't get discouraged when it hurts like hell for a while. Like I told the kid, that'll happen, but it will get better.
Most of our top Pro riders would do very well at a competitive cycle race in almost any discipline. And like I always say, most will find a human-powered, two-wheel sport to race when they stop racing MX competitively. If you're young, just watch. As J-ROC so famously said, "It could happen to you 'cause it happened to me." (Taken out of context and maybe you shouldn't even Google it…Google it!)
I went out to The Pit in Thamesford, ON, just outside London, this past Friday. I wanted to head over and see who was out riding the track I'd actually never been to.
Dario Zecca and Nick Burnside were there all the way from Parry Sound. With the ground still a little too wet to ride up in their area, they made the drive south to ride some tracks.
Dario was asking a couple of the other riders if people actually do the triple down the back straightaway. It's a table to a long flat and then a drop down between a couple huge trees. It's a really big jump of between 150 and 200 feet, depending on where you land.
I was sure I'd heard friends talking about people doing it over the years, but I wasn't 100% sure if they even meant this same jump, so I didn't want to say anything. I texted my friend Jamie Ruddock who rides there all the time and has been for years and he confirmed that he knew of at least two riders who'd done it over the years.
Dario is a Pro racer and didn't want to do it. It's that big.
So, over the next few days, people have been sending over video clips of riders doing it as far back as 2010! Ryan MacFarlan and Josh Shea clips came in, for example.
And then Junior racer #24 Kayden Keller's dad sent over a clip of him doing it with style on Saturday in a severe cross-wind! What is going on over at this place?!
I didn't post that clip up, but then Cam Kochut sent another angle of Kayden jumping it, so we posted it up on our Instagram.
I even went so far as to tag Alex Harvill to put the bug in his ear about this jump. If you aren't sure who that is, hit the YouTube and type his name in. Of course, he'd have to pull the take-off jump back about 100 feet, but still.
Here are the clips we've been posting up on our Instagram, to give you an idea:
Here's where it started with Dario:
The offer is out there for me to pace behind someone else over it when I go out there this week. I'm not sure I can laugh hard enough at this. The nice thing is that I'm not the slightest bit tempted to try it. I don't miss that feeling of getting to a track and having a jump or section in my head every lap. Nowadays, I'm not too proud to roll any jump I want! Don't dare me to roll it because I will! Lol
---
I was messaging back and forth with Reece Rendall from Ottawa last night, and he told me that things are happening over in Quebec. He and #494 Thomas Rendall were at SMX Motocross in Saint Pie on the weekend to get ready for the 2021 season.
He said there were "just over 200 Saturday, 300 today (Sunday)." He also said Jason McKie and the crew had the track in "perfect" condition and that they'd be heading back again on Monday (today).
I had to ask him who looked fast and he replied, "Tim, Tim, Tim." Ya, that always happens. Tim has been one of the fastest riders on the track since…well, since as far back as 2009 and beyond!
The Pro riders who were there included Thomas Rendall, Tim Tremblay, Marc-Antoine Genereaux, Chris DaSilva, and Theo Poirier.
Reece said they'll be back again today and he will bring his camera and take some photos for us. Thanks for the Quebec content, Reeece!
---
Thor Kawasaki Pro Circuit Full Team Announcement
We are pleased to announce our riders for the 2021 season.
MARSHAL WELTIN
DARIAN SANAYEI
DYLAN REMPEL
MARSHAL WELTIN – KX 450
Mechanic: Justin Roney
After successfully winning the 250 Triple Crown Series in 2020, Marshal will now move to the 450 class. He will take over the role of team leader, he also earned career #2 number and is looking forward to success on the new KX450.
DARIAN SANAYEI- KX250
Mechanic: Jadon Brown
After multiple seasons of racing MXGP, Darian returned to the US in 2020 competing in the USA Supercross Series. He then was a fill-in rider for the USA Pro Circuit motocross team before a shoulder injury ended his season early. We look forward to Darian's vast experience as he competes in the Triple Crown Series for 2021.
DYLAN REMPEL- KX 85/100
Mechanic: Christian Huber
New for 2021 is the support from Canadian Kawasaki Motors for Dylan to compete in Canadian Triple Crown Series. Huber Motorsports will also support Dylan as he competes at Walton TransCan along with the E-Can amateur events. The effort from Canadian Kawasaki Motors along with each of our marketing partners believe that Dylan represents the future of Canadian Motocross.
Kawasaki Motor Corp and the entire staff at Canadian Kawasaki Motors have been major supporters for years and the 2021 season we will support Dylan Rempel as a full race team member. Having Dylan aboard the Thor/Kawasaki/Pro Circuit KX85 and KX100 will bridge that gap for those riders who are working with there families and local Kawasaki dealers as they grow into the professional series.
Canadian Kawasaki Motors and the local dealer network across Canada will continue supporting multiple Team Green riders. Huber Motorsports race program will be available for trackside support and guidance at each race weekend and will host a Team Green dinner at the Walton TransCan for all those who can attend with Covid-19 restrictions.
In 2021, Thor/Kawasaki/Pro Circuit will also offer mentoring and trackside support to some of Team Green's rising talent. Those riders will receive mentorship from HMS staff.
The Team Green riders chosen for our Rising Talent program are:
Team Green LEVEL UP Support Riders:
BC
30| Devyn Smith – Intermediate
MAPLE RIDGE MOTORSPORTS
https://www.instagram.com/devyn_smith30/
41| Luke Heppner – 85cc 12-16
BIG TOP POWERSPORTS
https://www.instagram.com/heppnermx/
42 | Jake Heppner – 85cc 12-16
BIG TOP POWERSPORTS
https://www.instagram.com/heppnermx/
39 | Rian Heppner – 85cc 7-11
BIG TOP POWERSPORTS
https://www.instagram.com/heppnermx/
21 | Graeme Laybourn – 85cc 12-16
BIG TOP POWERSPORTS
ALBERTA
226 | Sterling Lofthouse – Intermediate
BLACKFOOT MOTOSPORTS https://www.instagram.com/sterling_lofthouse226/
MANITOBA
27 | BRODY SCHURE – 85cc 12-16
TRANSCANADA MOTORSPORTS SUPPLY
https://www.instagram.com/brodykx_27/
ONTARIO
164 | Wyatt Kerr – Intermediate
INGLIS CYCLE CENTRE
https://www.instagram.com/wyattkerr164/
292 | Payton Morningstar – Intermediate
942 | Preston Masciangelo – Intermediate
https://www.instagram.com/prestonmasciangelo_942/
QUEBEC
148 | Felix Ouellet – Intermediate
Roger Pelletier /PRMX
198 | Antoine Poirier – Junior (2020 Team Green grand prize winner)
Equipements Les Chutes
https://www.instagram.com/antoinepoirier198/
Please visit our media sites
@thorkawasakiprocircuit
---
OK, we're back in Supercross action this coming weekend for our 3-race stay in Atlanta. We'll check in with #300 Casey Keast this week to see how his hand is recovering from Arlington and, well, that whole highway crash thing. Hopefully, there's still a chance we see him and Kevin Urquhart load up the van and head east for another kick at the can.
I hope that got you through a cup of coffee, at least. I'm sure once you got caught up in the Trailer Park Boys YouTube vortex, you went through an entire pot! (No pun intended)
We're off for some Easter Weekend visits now. Enjoy your long weekend.