By Billy Rainford
Grab yourself another cup and let's dive into this Monday Morning Coffee. Emily is still over in Italy until later this week, so that means I'm still at the helm here at the house and trying to help out with a few of the things that Em does here, like house plants and the garden. I don't have the "greenest" thumb so let's just say we may be starting from scratch when she gets back…
I wasn't able to make it out to Salt Lake City for the final round of Monster Energy AMA Supercross this past weekend, so I was watching from the couch like most people. It was Round 17 of 17 and an East/West Showdown but all three titles were already decided and the enthusiasm was definitely not what it has been in the past when riders were still fighting for titles. Not to mention the number of factory 450 riders out with injury!
Eli Tomac, Cooper Webb, Ken Roczen (hurt in SLC), Justin Barcia, Jason Anderson, Aaron Plessinger (returned in SLC but said he wasn't 100%). That's half of the top 10 in points not in the last 450 Main of the season, and that's not even including the high number of other riders who were also out with injuries.
If you scroll social media you'll read many theories as to why this number was so high this season. I'm not sure which theory I subscribe to or if I have one of my own.
The fact that Eli ruptured his achilles in a depression leading to a jump face could point to the advancing ages of our top 450 guys? I don't know. Motocross is gnarly and always has been. Hell, that's a huge part of its allure! However, this season has been too full of injuries for us not to take a closer look at some possible reasons that could lead to some changes.
I've always said there's really no need for the power of a 450 in SX. We used to ride 500 2-strokes but realized there was no need or reason to race those beasts indoors so it stopped. 125's and 250's were the answer. So now we're running 450 4-strokes that have similar power but delivered in a slightly more manageable way. Could that be it?
The elephant in the room for trying to solve our problems with displacement is the fact that not all manufacturers make the same bikes. We can't go back to 125's and 250's, we can't go to 250's and 350's, we can't go to really any combination of equal bikes that would make the companies that run this sport happy. So where do we look next?
What about the tracks?
Track design is the next obvious place to look, but then where do you start? If we dissect each crash and injury, it doesn't always point to a track design difficulty, does it? Some do but most just don't.
We all want to see good racing that puts all of our top riders up against each other every week, but this is Motocross and we're always going to have injuries. If it were easy it would be called snowboarding! Haha That one goes back to my days in the mountains.
Tracks these days are pretty cookie cutter in design, so I think all riders know what to expect and get the chance to ride similar obstacles throughout the week, so I don't really point there. If that were the case, you'd think it would be just travelling privateers getting hurt, but it's not. Maybe a track with nothing but wall jumps is the answer?!
To complete my circular non-explanation, you can get hurt on a 250, 125, supermini, 65, or 50.
Maybe it's the fact that so many of the top riders thought they were capable of taking wins this season, so they were all riding even closer to the edge than normal? Could be that, no?
Everyone wanted to prove that there were more riders on the track than just Eli and Chase Sexton, so they went to a level that had them forcing the pace and taking chances they wouldn't without those two at such an elevated level. This one makes some sense to me.
I think the razor's edge theory may be the one I'm going with here.
Whatever the reason you think may have contributed to this crazy number of top rider injuries this season, the conversation needs to be had at the decision-making level of the sport. We're never going to make our sport a "safe" sport. Say what you will, but racing dirt bikes against a full gate or riders chasing the same checkered flag is just never going to fall into that category, but advancements can always be made and I think that's what we have to strive for.
Did I answer your question? No, but I also don't remember you even asking! Lol
Chase Sexton is the 450 Supercross Champion for 2023. Congratulations to Chase on his first 450 title. We all know Eli would have won it had he not had his problem, but he did and this is what happened this season. I liked the class both teams showed in the situation:
Honda – didn't celebrate in Denver when it was obvious Eli was out and Chase would win the title.
Yamaha – put Eli's bike out on display for fanfest in SLC and switched out the red plates for #1's on white backgrounds.
Chase knows how hard he worked all season and also knows that he was usually the fastest rider on the day. The fact that Eli didn't even crash is the sticking point here. Had he crashed out under pressure it would have been a usual situation, but being taken out without falling makes this one tougher. I think Chase handled the situation with class and is a true champion.
Having said that, this one is going to come up in bench racing sessions all over the world for the rest of Chase's career. There's nothing you can do about that, people are just going to argue it ad nauseam for ages.
Obviously, Eli would have won had it not happened, but it did happen.
Now the big question is whether or not that was the last time we're going to see Eli racing. Personally, I'm leaning toward yes. Like I said before, I can see a few farewell opening ceremony whips and waves next SX season, but I'm not expecting anything more than that. I could be wrong, but that's where my head is at right now. What are your thoughts?
Now we turn our attention to the Lucas Oil AMA Motocross Championships that start in a couple weeks out at Fox Raceway in Pala, California.
2023 Pro Motocross Schedule – AMA Nationals
Round 1
May 27: Fox Raceway National, Fox Raceway at Pala, CA
Round 2
June 3: Hangtown Motocross Classic, Prairie City SVRA, Rancho Cordova, CA
Round 3
June 10: Thunder Valley National, Thunder Valley Motocross Park, Lakewood, CO
Round 4
June 17: High Point National, High Point Raceway, Mt. Morris, PA
Round 5
July 1: RedBud National, RedBud MX, Buchanan, MI
Round 6
July 8: Southwick National, The Wick 338, Southwick, MA
Round 7
July 15: Spring Creek National, Spring Creek MX Park, Millville, MN
Round 8
July 22: Washougal National, Washougal MX Park, Washougal, WA
Round 9
August 12: Unadilla National, Unadilla MX, New Berlin, NY
Round 10
August 19: Budds Creek National, Budds Creek Motocross Park, Mechanicsville, MD
Round 11
August 26: Ironman National, Ironman Raceway, Crawfordsville, IN
---
We've got two awful things we have to mention here:
From Racer X:
Photographer Simon Mitchell Killed at FoxHill in England
Our deepest condolences go out to the family and friends of a member of the World Motocross family, photographer Simon Mitchell.
From BBC.com:
British Motocross Championships: Photographer hit and killed by bike
By Emma Hallett
BBC News
A photographer has been hit and killed by a bike at the British Motocross Championships.
Simon Mitchell, who was in his 50s, died when a rider came off his bike during a jump and the machine crashed through a barrier made of bales.
A marshal, a man in his 60s, also suffered a serious injury at Sunday's event, attended by 10,000 people.
Mr Mitchell's sister, Nikki Dancey, said: "He was photographing, which was his passion, in a place he adored."
She added: "That and motocross came before everything else in life."
His family was "devastated", she said.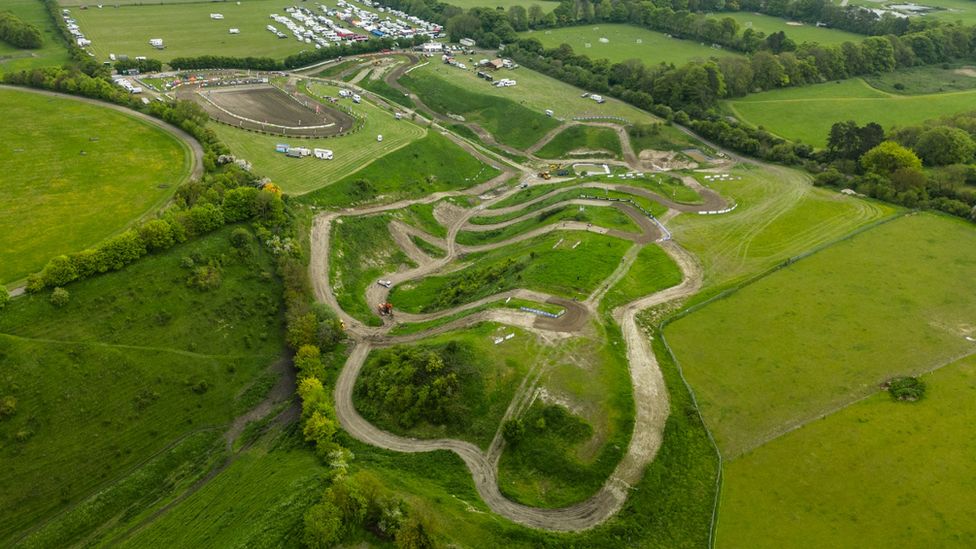 The event was abandoned after the crash at about 14:50 BST.
It happened at the end of the Premier Class Race, a spokesperson for the event said.
Both men were behind a specific marshal point and not with spectators.
The event, organised by Langrish MCC, was stopped immediately. The rider was not hurt in the crash.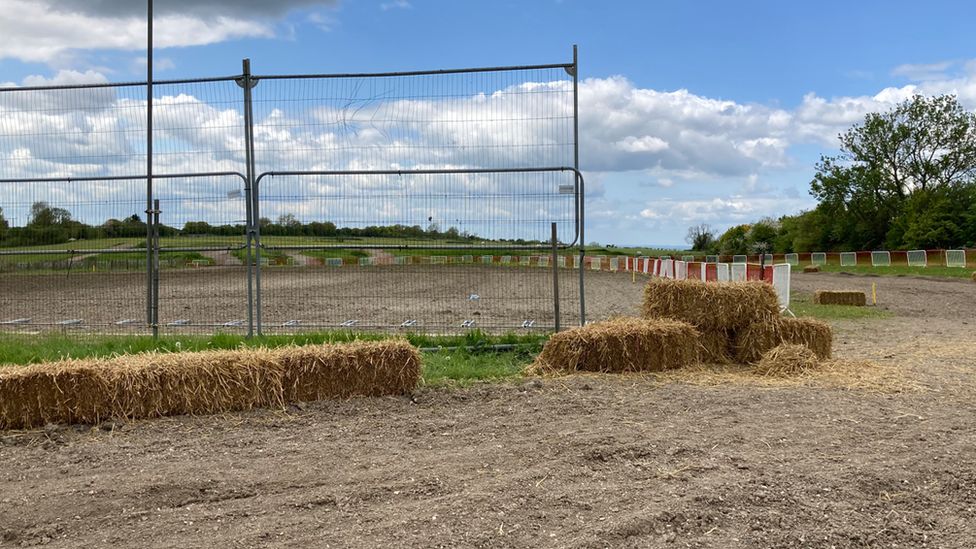 The spokesperson, who has worked in motocross for 25 years, said it was "very rare in motocross" for a non-rider to be killed and that he could "not remember a fatality that wasn't a rider".
In a statement on its website, the series promoter said: "RHL Activities are saddened to announce that this weekend's meeting at Foxhill in Wiltshire has been cancelled.
"At this moment in time we ask that everyone bears with us and any further updates will be made if required."
Gareth Hockey, the event's promoter, added: "It is a massive tragedy. Simon was a popular guy around here."
Mr Hockey said his thoughts were with Mr Mitchell and his family.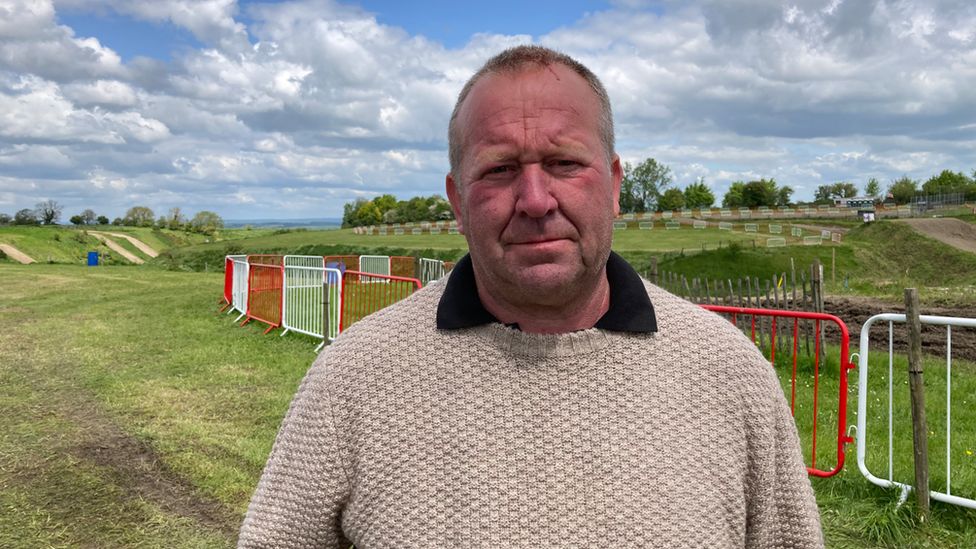 "He had a very strong character," Mr Hockey said.
"He was very happy. This venue seemed to be Simon's happy place.
"He loved taking pictures, he loved the sport, like we all do."
The weekend's event was the third round of the Revo ACU British Motocross Championship.
Foxhill, home to the Langrish MCC, is considered one of the best motocross tracks in the UK and has played host to several events.
The 1.5-mile (2.4km) long track is known for its challenging terrain, steep hills, and technical sections and features a variety of jumps, berms, and obstacles.
---
I'll be heading up to Walton Raceway to check out Brett Lee and his WLTN Kawasaki Seven racing team on Tuesday. It's still yet to be seen how ready #891 Justin Bogle will be for round 1 in a couple weeks (or if he's ready at all) out at RAD Torque Raceway but #84 Tanner Ward and #20 Jeremy McKie are ready for action and are looking good. Be sure to check in Tuesday for photos, videos, and interviews.
I've also just been told that Preston Masciangelo and the Partzilla PRMX team have decided to go their separate ways as we head into a summer of MX racing. We'll be sure to get in touch with Preston to find out what his plans are for this coming season.
---
Have a great week, everyone. I hope you pampered your mom's for Mother's Day on Sunday.